(Minghui.org) May 13 was the 30th anniversary of Falun Dafa's introduction to the public, and the 23rd World Falun Dafa Day. On Saturday, May 14, 2022, practitioners from Berlin, Germany, held a celebration in front of the Brandenburg Gate. They played the waist drums and demonstrated the exercises.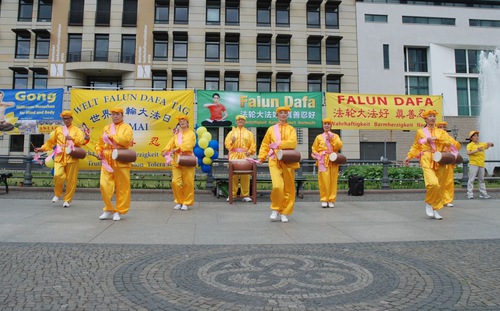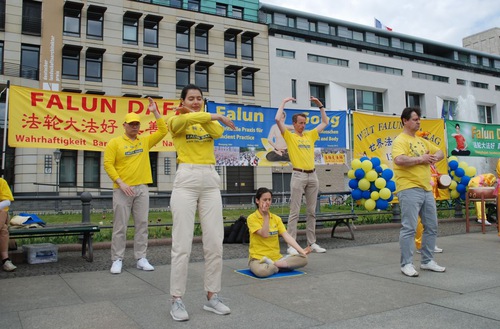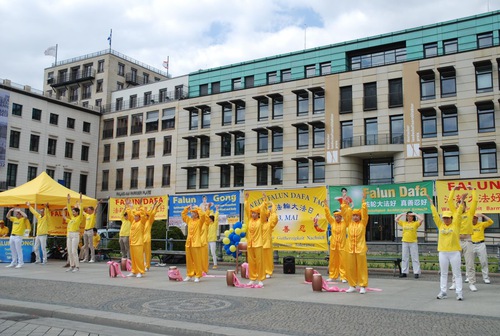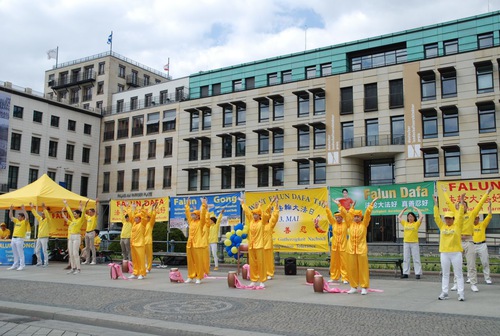 Practitioners celebrate in front of Brandenburg Gate, Berlin, on May 14, 2022.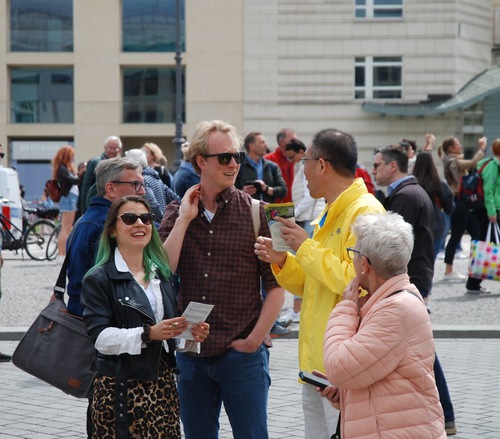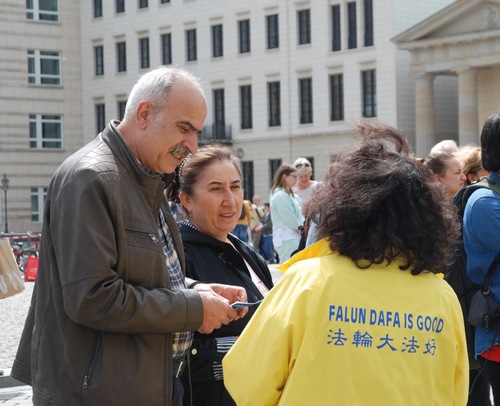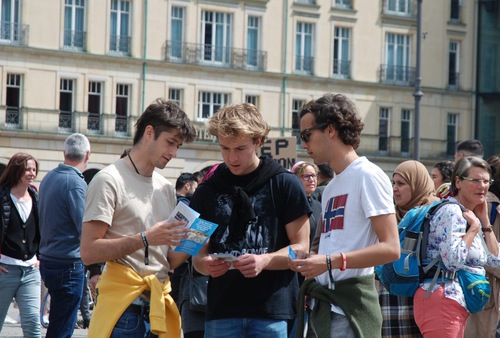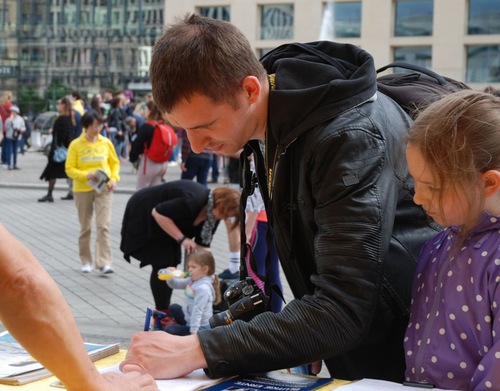 Tourists talk to practitioners, find out about Falun Dafa, and sign a petition calling for an end to the persecution.
Turkish Immigrant: I Found the True Measure of Good and Bad
Fifty-six-year-old Pamuk Alkan, a Turkish immigrant, operates a fast-food restaurant. In the autumn of 2016, she was passing through a park in eastern Berlin when she saw someone meditating. She was very interested in meditation. At that time, she was worried about her health. She not only suffered from gastrointestinal diseases but also had unprovoked fears and worries. Besides, she got nervous easily and had not improved after 12 years of seeing a psychiatrist.
She wanted to understand what meditation was all about. Alcán recalls: "The first time I did the Falun Dafa exercises, I saw many beautiful scenes. I saw myself coming to a sacred and solemn monastery. While doing the second set of exercises, I saw a middle-aged Asian-looking man in orange clothes with a silver pattern on his wide belt there, and I felt that he was there just to make me happy.
"My heart was filled with joy. After I got home, I thought that this Falun Dafa must be a very special and very good practice.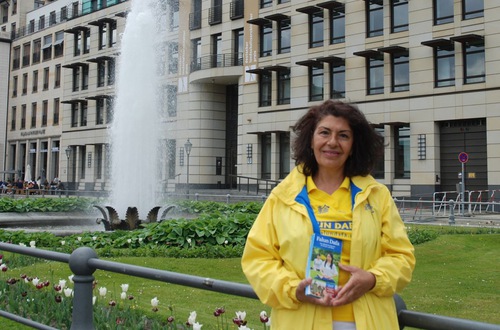 Pamuk Alkan is glad that she found the true standard of good and bad after practicing Falun Dafa.
"When I first started to practice Dafa, I saw flowers, colorful lights, stars, and so on. Later I also saw the Falun. After learning the Fa for about half-a-year, I bought Zhuan Falun, the main book of Falun Dafa, and after reading it, I understood what the author Mr. Li Hongzhi was telling me," Alcán said.
Before practicing Falun Dafa, the daily high-intensity work often gave her insomnia.
"The first thing I used to do when I came home was to take a bath and relax," she said. "Before going to bed, I would also tie my hands with bandages, otherwise they would hurt, and it was better to tie them up and sleep. But I still often could not fall asleep until three or four a.m."
"Since I started reading Zhuan Falun, the insomnia disappeared."
She continued, "Suddenly, one day after cultivating in Falun Dafa, I found that I didn't have to take a bath to relax my body. About six months later, one day I opened the drawer and suddenly found, uh, how come the bandages are still there, not used? Suddenly I realized that I had not been bandaging myself for a long time."
Alcán liked reading Zhuan Falun, because it enlightened her about things that she wanted to know.
She said, "After studying the lectures of Dafa, I understood that the only criterion for measuring good or bad is 'Truthfulness, Compassion, Forbearance.' I understood the truth and dared to say it."
70-year-old practitioner: I am grateful to Master for passing on Dafa to everyone
Ms. Tian Mingzhen, 70, played the waist drum for several hours at the event. She said, "I am not tired at all."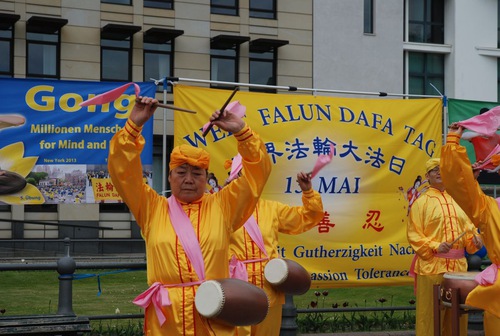 Ms. Tian Mingzhen (first from the left), who is in her 70s, said, "after several hours of waist drum performance, I am not tired at all."
Tian Mingzhen's husband was introduced to Falun Dafa in 1998.
She said, "At that time, my husband tried to tell me the importance of practicing Falun Dafa, but I was not interested at first. We had four acres of apple trees, and the fieldwork was very tiring, so I didn't want to practice.
"However, once, when I was picking sweet potatoes in the field, I couldn't straighten my back." She struggled to get home. All of sudden, she thought, "I can't move anyway, why don't I do the Falun Dafa meditation?"
She sat down, and suddenly heard a short guttural sound behind her back. It didn't hurt. She didn't pay much attention to it and sat for an hour. She said, "After meditating that day, I was able to work in the field again. My back didn't hurt any longer."
Then, when her husband asked her to do the Dafa exercises and read the Dafa books, she did. After a period of time, she recovered from her illnesses – such as headaches, cervical pain, frozen shoulder, lower back pain, and many other of her illnesses.
Now in Berlin, she and her husband go to the Chinese embassy every week to protest peacefully, rain or shine. She was sincerely grateful to Master Li Hongzhi for passing on Falun Dafa to all people.