Charlotte, North Carolina: Celebrating World Falun Dafa Day with Joy and Enlightenment
May 20, 2022
|
By a practitioner in Charlotte, North Caolina, USA
(Minghui.org) Practitioners and their family members celebrated World Falun Dafa on May 1, 2022, at Freedom Park in Charlotte, North Carolina. As the largest city in North Carolina and the second-most populous city in the southeastern United States, Charlotte embraces Falun Dafa and its principles of Truthfulness-Compassion-Forbearance.
"Transcending culture and racial boundaries, Falun Dafa has touched the lives of more than 100 million people in over 100 countries and more people in the United States are learning the practice and purifying their hearts, energizing their bodies, and striving to create virtuous communities," wrote mayor Vi Alexander Lyles in a proclamation that honored May 13, 2022, as "World Falun Dafa Day."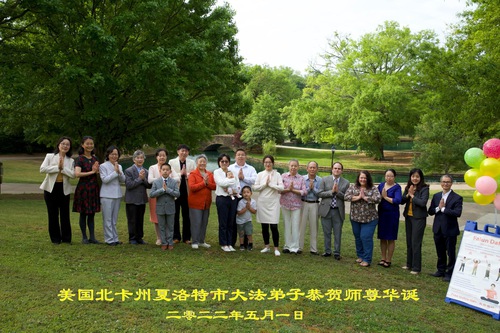 Falun Dafa practitioners celebrate Falun Dafa Day at Freedom Park on May 1, 2022.
Jailed Nine Years for His Faith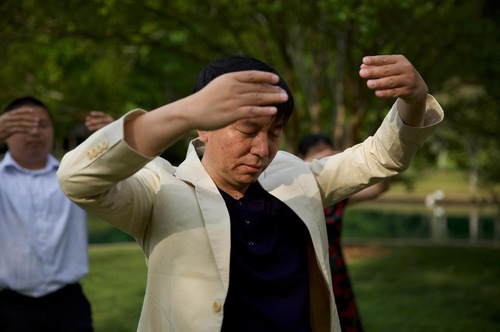 Wang Xin was sentenced to nine years of imprisonment in 2001 for practicing Falun Dafa.
After graduating from the renowned Tsinghua University more than 20 years ago, Wang Xin was accepted into the college's Ph.D. program without an exam due to his excellent performance.
He was an excellent student, but this did not help him after the Chinese Communist Party (CCP) began to suppress Falun Dafa in 1999. He was arrested for his belief and sentenced to a nine-year prison term in 2001.
Despite this massive tribulation that robbed him of some of the best years of his life, Wang did not renounce his faith. In 2019 he immigrated to the U.S. where he now enjoys the freedom to exercise his belief.
A Happy Young Mother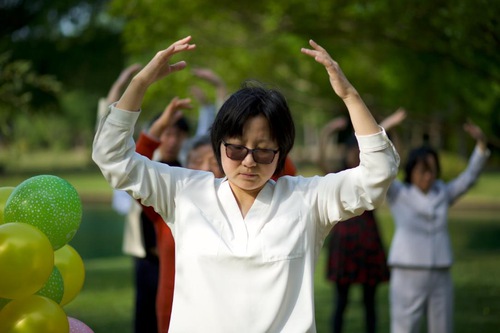 Li Li works for a financial firm.
Li Li is a happy young mother who came to the event with her one-month-old daughter. She was harassed by the CCP for practicing Falun Gong, so she left China 10 years ago. She continued her education at Clemson University, where she graduated with a Ph.D. in economics.
After that Li worked at a financial firm as a statistician. Because of her excellent performance, she was promoted to a department manager position. In addition, she married a practitioner from Taiwan and the two started a happy family.
As a mother of two children, Li said she cherishes the principles of Truthfulness-Compassion-Forbearance very much. "Since childhood, I have seen how the suppression has negatively affected my family and me," she explained, "But the fear did not stop me. Instead, I was able to keep the Falun Dafa teachings in my mind and to always strive to be a good person."
She said the persecution would end someday. "By then, people would have come to know that Falun Dafa is great and practitioners have been wronged," she said.
A Productive Life
Mia works at a large bank.
Mia was born in the 1990s, and she is happy and intelligent. After completing her bachelor's and master's degrees in the U.S., she now works at a large bank.
She had followed her parents in their practice of Falun Dafa since she was a child. She knew the practice would make her a better person, but she was not diligent as a teenager.
After coming to the U.S. for her college education, Mia almost stopped cultivating since her parents were no longer around. Although her life was full of fun on the surface, she often felt empty in her heart.
In the summer of 2016, she attended a Falun Dafa experience-sharing conference in New York where she listened to practitioners' sharing and Master's lectures. "All my questions were answered and right at that moment, I made up my mind to practice diligently," she recalled.
Although she was still alone in the U.S. and studying while looking for a job, Mia was no longer lonely. She felt relaxed, happy, and productive.
Over the past two years of the pandemic, many of her friends have suffered depression from staying at home to isolate. "Some of them asked me if I felt anxious and lonely," Mia explained. "My answer was no. With Falun Gong and the principles of Truthfulness-Compassion-Forbearance, I always feel connected to other practitioners and Master Li, the founder of the practice. Every day is bright."