Brasilia, Brazil: Falun Dafa Practitioners Celebrate World Falun Dafa Day
May 20, 2021
|
By a Falun Dafa practitioner in Brazil
(Minghui.org) To celebrate the 22nd World Falun Dafa Day on May 13, 2021, Falun Dafa practitioners in Brasilia, the capital of Brazil, went to a bustling business district to promote Falun Dafa. They hung up banners, passed out flyers and demonstrated the exercises.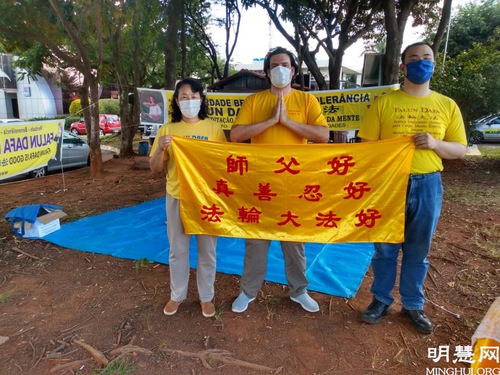 Falun Dafa practitioners in Brasilia celebrate World Falun Dafa Day
Among the practitioners was Diogo, a young man who came across Falun Dafa in 2017. Diogo said the first time he read Zhuan Falun, he was drawn to the principles taught in the book. He learned the exercises through online videos. After practicing by himself for two years, he found local practitioners and began to do the exercises with them.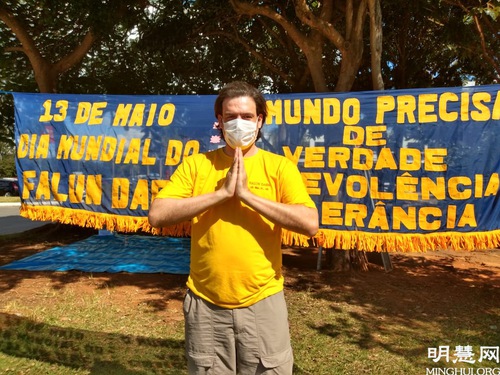 Diogo expressed his gratitude to Master Li, the founder of Falun Dafa
Diogo said that when he was a child, he had celestial vision. As he picked up the bad habits of smoking, drinking and partying like other teenage boys, he gradually lost his celestial vision. But after he began to practice Falun Dafa and quit those bad habits, his celestial eye was opened again.
Now Diogo has started working. He often introduces Falun Dafa to his colleagues and shares the story of how he has benefited from it. In his spare time, he worked with local practitioners to raise awareness about the persecution going on in China. He said this process has helped him to see many of his shortcomings and enabled him to make big improvement in his cultivation.
On the special occasion of World Falun Dafa Day, Diogo said he thanks Dafa for revealing the truth of the universe to him. He is grateful for Master's salvation and he'd like to wish Master a Happy Birthday, which falls on May 13, the same day of World Falun Dafa Day.
Visiting Stores to Raise Awareness about Falun Dafa
Since the coronavirus pandemic broke out, Falun Dafa practitioners in Brazil have also visited stores and shared with people the health benefits of Falun Dafa.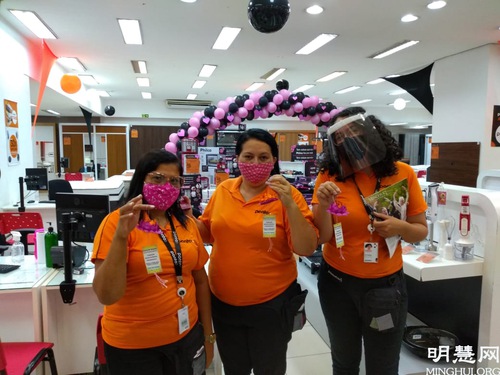 Sales representatives of PontoFrio electronic store love the lotus flowers given out by the practitioners
Vitoria of the PontoFrio electronic store (right in the photo) told the practitioners that she was very interested in oriental culture and Falun Dafa's meditation. She said she would search for more information about it after work.
Wenson, the owner of a hair salon, said, "I've tried to do meditation for years, but it only helped me to calm down for a very short period of time." He was interested to learn about the spiritual teachings of Falun Dafa and would try to join the practitioners in the park.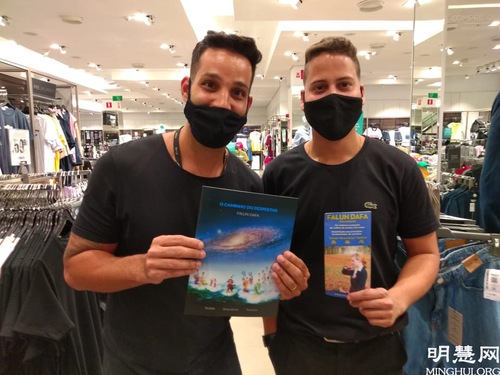 Roque (left), manager of clothing store Riachuelo
Roque, the manager of clothing store Riachuelo, likes the universal principles "Truthfulness, Compassion, Forbearance" of Falun Dafa. "It's so important to improve people's morality." he said.
In addition to introducing Falun Dafa to people, the practitioners also shared with some store managers about how the Chinese Communist Party covered up the pandemic with similar tactics as it employed in the persecution of Falun Dafa. They explained to the locals that the Chinese Communist Party doesn't represent China and the Chinese people themselves are also victims.
Anderson, another store owner, was outraged to learn about the forced organ harvesting of Falun Dafa practitioners in China. He said he would share the information on his social media and let more people know about the evilness of the Chinese Communist Party.