(Minghui.org) Mr. Guo Qing started practicing Falun Gong, a mind-body practice also known as Falun Dafa, in 1996. His headache from cerebral artery dilation disappeared six months after he picked up the practice. Because of his faith, he has been arrested and tortured repeatedly since the Chinese Communist Party (CCP) started to persecute Falun Gong in 1999.
Cerebral Arterial Disease Gone
With excellent grades, Mr. Guo, a resident of Chengdu City, Sichuan Province, was admitted to Chengdu Aviation Vocational and Technical College in September 1993. He was 18 years old at the time. He started to have severe headaches a few months later. The pain attacked almost every week and lasted three to four days each time.
He was diagnosed with cerebral arterial disease. He had relied on ergotamine caffeine tablets to relieve the pain, causing tremendous financial pressure on his family. His grades started to fall, and he almost had to drop out of college.
Mr. Guo started to practice Falun Gong in August 1996 when his disease worsened and no medical intervention seemed to help. By following Falun Gong's principles of "Truthfulness, Compassion, Forbearance," Mr. Guo learned to be patient. He did not strike back when beaten or scold back when sworn at. He became considerate of others when conflicts arose and kindly explained any misunderstandings.
About six months after starting his practice, Mr. Guo realized his repeated headaches had disappeared. Also gone were other health problems such as colds, oral ulcers, and constipation. He regained his health, and his grades improved greatly. When he graduated from college in 1997, he was at the top of his class.
Arrested for Appealing in Beijing
In July 1999, the month the persecution started, Mr. Guo was arrested at his workplace. The police ransacked his dormitory without a search warrant and confiscated his many Falun Gong materials, including books and CDs.
In June 2000, Mr. Guo was arrested for speaking out for Falun Gong in Beijing. Within one month, he was detained at several places, including Shijingshan Detention Center and the office for the Chengdu government in Beijing, Huangtianba Drug Rehabilitation Center, Jiuru Village Detention Center and Wangping Street Police Station.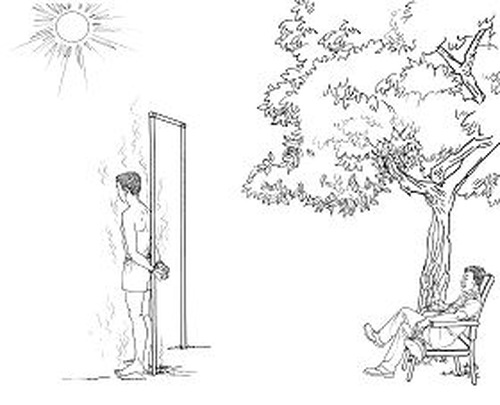 Torture illustration: Exposure under the sun
He was beaten and forced to stand under the scorching sun in Beijing. He was also extorted out of 5,000 yuan by Wangping Street Police Station.
Persecution in Several Detention Facilities
On August 27, 2001, police officers of Chengdu City broke into Mr. Guo's apartment and took away personal possessions including his ID card, books, cell phone, and other items. The confiscation of his ID card caused many difficulties in his life, and an ID is required for almost everything. On the same day of his arrest, Mr. Guo and several practitioners were taken to the detention center of Chengdu Police Department. He was then detained in Jianshe Road Police Station and Huaiyuan Police Station for one month.
During this period, Mr. Guo was handcuffed behind his back for several days, with one hand up and one hand down as shown in the picture below.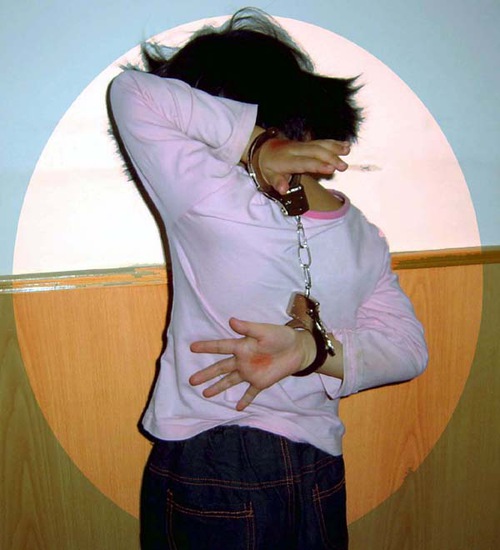 Torture Reenactment: Handcuffing behind the back
Mr. Guo was taken to Chongzhou Detention Center on September 30, 2001. He was forced to reveal his bank account information, from which two prison guards stole 5,000 yuan.
When he was released, he was forced into displacement to avoid further persecution. However, the police officers never gave up hunting for him. They even went to search for him in his hometown in the nearby Hubei Province.
On December 27, 2004, officers from Chengdu Police Department broke into Mr. Guo's apartment in Pengzhou City, Sichuan Province to arrest him. They ransacked his home and confiscated Falun Gong books, a cellphone, computer, CD burner, and videotapes. They also took away his bank deposit books.
To cover up their illegal acts, the police claimed that Mr. Guo was involved in a criminal gang stealing bikes.
Mr. Guo was secretly taken back to Chengdu and held in a detention center until July 1, 2005. During that period of time, he was interrogated night after night and not allowed to sleep for a long time. Mr. Guo refused to renounce Falun Gong and was later taken back to his hometown in Hubei Province. It's not clear whether he was subjected to further detention after that.