(Minghui.org) To celebrate the 2021 Chinese New Year, Vietnamese community leaders in Australia sincerely wished the founder of Falun Dafa, Master Li Hongzhi, and Falun Dafa practitioners around the world, a happy Chinese New Year.
One community leader said that he believes that Falun Dafa practitioners have had a positive impact in China and around the world. He hopes that Falun Dafa will continue bringing hope to the world. 
Falun Dafa Practitioners' Efforts to Raise Awareness Have Made a Positive Contribution to the World
Mr. Vo Tri Dung, former Vietnamese Community Australia president, 2012-2016, has been attending events with local Falun Dafa practitioners in Australia and especially in Sydney since 2004. He said that he also saw their activities in Hong Kong and New York. He commended practitioners and said they are, "disciplined, peaceful and polite." He added that they have had a positive impact on society and the world. "They especially have positively contributed to people's health and cultural awareness," he added.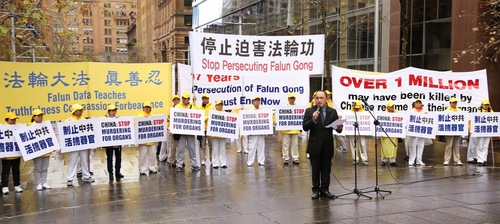 Mr. Vo Tri Dung, former president, Vietnamese Community Australia spoke at a Falun Dafa practitioners' rally in Sydney on July 20, 2016. He condemned the Chinese Communist Party's persecution of Falun Dafa.
In today's difficult and uncertain times, Mr. Vo Tri Dung said, "Like with any authoritarian regime, people around the world should closely monitor their actions, and continue to assert a strong stance in defending and protecting human rights, freedom and democracy. We could do our bit, no matter how small we may think it is, and together we can all make a difference. People and organizations that positively contribute to the world and do great things definitely bring hope to the world."
Mr. Vo Tri Dung hopes that Falun Dafa practitioners will continue their efforts to share the benefits of Dafa. He said, "I take this opportunity to wish Master Li Hongzhi, all local Falun Dafa practitioners, and those around the world, a very happy, healthy and safe new year! I hope you all continue to positively contribute to society and the world, and continue to bring hope to people especially during these difficult and uncertain times."
Falun Dafa's Principles of Truthfulness-Compassion-Forbearance Are Humanity's Basic Foundation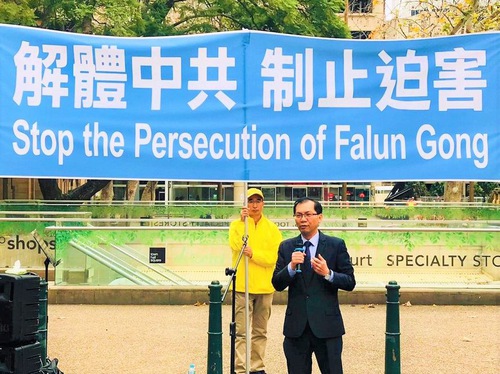 Mr. Paul Huy Nguyen, president of the Vietnamese community in Australia, spoke at a rally held by Falun Dafa practitioners' on July 17, 2020. The event marked the 21st anniversary of peaceful efforts to end the persecution. 
Mr. Paul Huy Nguyen, president of the Vietnamese community in New South Wales, Australia said he first learned about Falun Dafa when he passed near a park and noticed practitioners doing the exercises. Mr. Nguyen said, "I felt it was a good practice for health. When I did some research, I learned that Falun Dafa practitioners have been persecuted by the Chinese Communist Party (CCP) since 1999. Practitioners are people who just want to improve their spiritual values and peacefully do the exercises. I had sympathy and decided to support them. The Falun Dafa practitioners whom I've interacted with come from a variety of backgrounds. What they all have in common is their wish to become better people by practicing Falun Dafa's principles of Truthfulness-Compassion-Forbearance."
Mr. Nguyen said the CCP is an inhuman regime, noting that communism destroys human morality and causes people to behave badly. He said, "We can see very clearly how moral behavior has been destroyed under the CCP rule. Falun Dafa teaches people Truthfulness-Compassion-Forbearance—these principles are the basic foundation of humanity. Communism is opposite of whatever is good and beneficial to society, so the CCP suppressed Falun Dafa."
After Mr. Nguyen learned about the CCP's forced organ harvesting of prisoners of conscience, he felt that he must speak up as a human rights advocate. He said, "I feel very sympathetic to the practitioners' losses and pain. The organ harvesting carried out against Falun Dafa practitioners is the CCP's most atrocious crime in human history. The Chinese Communist Party has gone beyond the worst practices of kidnapping and killing innocent people. It has far exceeded any moral boundaries in human history.
"After I learned the extent of the brutal crimes committed by the CCP against Falun Dafa practitioners, I wanted to do something to help the victims and their relatives who have no voice. This is the very least I can do. I will continue to provide whatever support I can in the future. As human rights advocates, we cannot be indifferent and we have to speak up."
As the president of the Vietnamese community in New South Wales, Mr. Nguyen has helped practitioners promote films and presentations about the CCP's organ harvesting to the Vietnamese community. He said, "I must continue to speak up. I hope that those who are not yet familiar with Falun Dafa will pay attention. When they dig deeper they will realize Falun Dafa's upright principles. Falun Dafa is not a political organization or party, instead it offers guidance and shows people how to become good people."
Mr. Nguyen called upon those who do not know or are still indifferent to the persecution of Falun Dafa practitioners. He said they should investigate and learn the truth. He said that learning about the truth is an act of a person who holds fundamental human rights concerns. When people have seen the cruelty of the Chinese Communist Party in persecuting Falun Gong practitioners, they will know this issue is a fundamental human rights issue. 
He said, "An ordinary person may feel that this persecution is not his business. But you cannot ignore it when you know innocent people are having their organs harvested and you do nothing. You should speak up and let more people know about this crime."
On the occasion of the upcoming new year, Mr. Nguyen expressed his best wishes. He said, "I would like to wish Master Li Hongzhi a New Year filled with health and happiness. And I hope that [Falun Dafa practitioners] continue to fulfill their missions well. I hope they will continue activities to expose the CCP's crimes in the new year. Wishing all Falun Dafa practitioners a peaceful and healthy New Year!"