(Minghui.org) While serving a prison term of three years and two months for refusing to give up her faith in Falun Gong, a 69-year-old woman was prohibited from using the restroom, doused with cold water in cold weather, and forced to sit on a small stool for long hours each day.
Ms. Dang Yanhua has been harassed, arrested, and detained multiple times ever since the Chinese communist regime started to persecute Falun Gong, an ancient spiritual discipline also known as Falun Dafa, in 1999. In addition to her recent prison term, she also served a forced labor camp term with unknown length.
Ms. Dang was arrested with another practitioner, Ms. Sun Yingjun, in May 2018. After 18 months of detention, they were each sentenced to three years and two months in prison.
Ms. Dang was admitted to the Jilin Provincial Women's Prison on November 19, 2019. While she was there she suffered unimaginable humiliation and torture.
Prison officials put Ms. Dang in a cell on the first floor and directed the inmates to force her to write guarantee statements to give up Falun Gong. She refused and tried to tell the inmates the facts about the persecution, but they didn't listen to her.
She was moved to a cell on the second floor the next day and continued to be hounded to write statements to renounce her practice. She still refused to comply. The inmates forced her to sit on a six-inch-tall small stool. The torture became even more unbearable when she was wearing a thick winter jacket and pants. It was difficult for her to sit down and she said she could hardly breathe when sitting so low and so uncomfortably. Yet the inmates still forced her to sit with her legs together, hands on her lap, and eyes looking straight, every day from 4 a.m. to 9 p.m.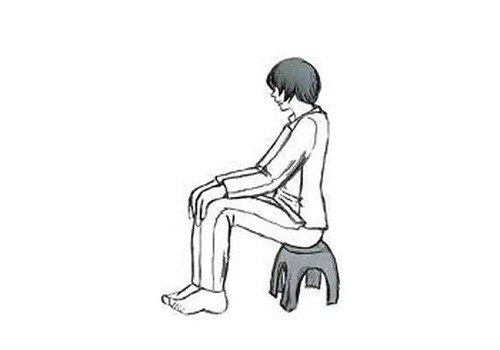 Torture Illustration: Forced to sit for long hours without moving
By the sixth day, her buttocks were torn and she could no longer sit. The inmates then made her stand for long hours.
They put a piece of paper between her legs and ordered her not to let the paper fall. She was forced to stand for 16 hours a day. After four days, her legs and feet swelled so much that she could not put her shoes on or squat.
The inmates then forced her to sit on the small stool again.
Twenty-six days later, the inmates ordered her to sit on a stool higher than the previous one. It had rivets on the surface and caused enormous pain.
The inmates also did not let her use the restroom. When she could no longer hold it, they forced her to relieve herself on her comforter, mattress, towel, or pillowcase. They even forced her to collect her urine in her lunch box and then used the same container to serve her meal without washing it. Sometimes she was forced to relieve herself in her pants and then the inmates used her clothes and towels to clean the floor.
The guards found three additional inmates to help the existing four torture her on August 12, 2020. One inmate rode on her, while the others stripped her clothes off. Then they pulled her hair, pinched her inner thighs, pulled her pubic hair, and squeezed her breasts in an attempt to force her to sign the guarantee statements. They also took turns monitoring her and didn't let her sleep for three days.
These inmates tried to force her to sign five pieces of blank paper on August 16, 2020. Three of them held her down and two rode on her. They tried to press her thumbprints on the paper. Ms. Dang made a tight fist, so they then tried to force her to open it by sticking a pen into her hand. But she refused to sign. They then said that they would write the statements on her behalf and sign for her. She didn't acknowledge what they wrote.
The inmates again tried to "transform" her on October 14, 2020. Three inmates dragged her along the corridor to the restroom, one of them stabbing her with a fingernail. They called in another inmate to help and stripped her upper body naked.
Then they poured cold water over her, basin after basin. They also stuffed the floor-cleaning mop into her mouth to prevent her from shouting. They forced her to sit on a small stool and opened the window. It was so cold that the inmates, who were wearing winter coats, still cried due to the cold, but they left the half-naked elderly woman in the cold for a whole night.
Ms. Dang suffered psychologically and physically every day. The inmates once refused to let her use the restroom for 19 hours. The longest time she was denied a shower was nine months. Also, she was not allowed to do laundry or wash her face or brush her teeth for a month. She was once given rice only with no vegetables for nine days.
The prison kept her in the prison hospital for 50 days for her to recover so that her family wouldn't see her injuries.
The eighth ward of Jilin Women's Prison specializes in persecuting Falun Gong practitioners and is recognized by the communist regime as a "model unit."
According to information gathered by Minghui, at least 29 Falun Gong practitioners have been persecuted to death in the Jilin Women's Prison.
People who participated in the persecution of Ms. Dang:An Tongyu (安彤宇), head of Jilin Province Women's Prison: +86-431-85375001Qian Wei (钱伟), head of the eighth ward: +86-431-85375045, +86-431-85375098Yuan Tingting (苑婷婷), guard
(More perpetrators' contact information is available in the original Chinese article.)
Related reports:
Changchun Women's Prison Instigates Inmates to Torture Falun Gong Practitioners
How Guards in Jilin Province Women's Prison Torture Falun Gong Practitioners
Two Jilin Women Imprisoned for Their Faith Are In Declining Health