Macau: Falun Dafa Practitioners Commemorate 21st Anniversary of Peaceful Appeal on April 25th
April 28, 2020
|
By a Falun Dafa practitioner in Macau
(Minghui.org) Falun Dafa practitioners in Macau solemnly commemorated the 21st anniversary of the April 25 Appealon the afternoon of April 25, 2020. For 21 years, practitioners around the world have persevered in peacefully raising awareness of the Chinese Communist Party's (CCP) persecution of Falun Dafa.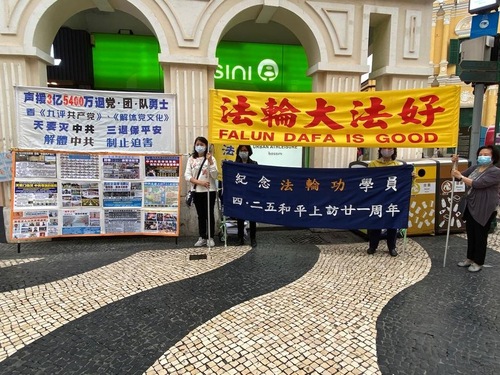 Practitioners in Macau gather in solemn commemoration of a peaceful appeal by Falun Dafa practitioners in China 21 years earlier.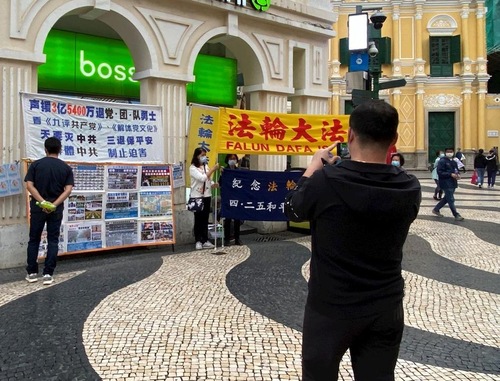 People read the display boards and take photos.
Macau has nearly been cut off from the rest of the world due to the CCP virus (also known as the coronavirus) pandemic. With no more tourists from China or other countries, the usually busy street by St. Dominic's Church is now quiet.
Local residents have always treated Falun Dafa practitioners with kindness. During this pandemic, only 45 Macau residents were infected. The virus did not spread within communities, and no one has died from it. People have now resumed their normal activities, although schools still remain closed.
Practitioners in Macau have distributed informational materials about Falun Dafa and the persecution since the CCP started to persecute the spiritual discipline on July 20, 1999. Most residents have expressed their sympathy and support for practitioners.
Since tourists stopping traveling to Macau after the 2020 Chinese New Year, practitioners distributed information to more local residents. They handed out information on the streets, including CCP Virus Special Editions and MinghuiWeekly.
They found that many Macau residents had joined the Young Pioneers (a CCP youth organization) when they were children. Practitioners advised them to withdraw from the CCP and to remember two auspicious phrases, "Falun Dafa is good" and "Truthfulness-Compassion-Forbearance is Good."
A young man took out his cell phone and told practitioners, "I visit your website every day. I also recommend it to my friends." An increasing number of young people say they often visit the Minghui website and encourage practitioners' efforts to raise awareness.
A man from Hong Kong stopped in Macau on his way home. He gave practitioners a thumbs-up and said, "I support you!"
Over 100,000 workers from various Chinese cities had to stay in Macau because they could not return home during the pandemic. One worker from Shandong Province told a practitioner that he lived in Beijing during the 1989 Tiananmen Square Massacre. He was 19 years old then and witnessed with his own eyes the CCP army killing students. He said he knew the Party's crimes very well, and he and three other workers all agreed to withdraw their memberships in the CCP.
Many Macau residents stopped to watch the practitioners' activity and learn about the latest in the persecution. Practitioners said that they hope all people in Macau and around the world can avoid the virus and look forward to a bright future.