(Minghui.org) A former English teacher passed away on December 11, 2019, after suffering years of persecution for her faith in Falun Gong. She was 53 years old.
Falun Gong, also known as Falun Dafa, is an ancient spiritual and meditation discipline that has been persecuted by the Chinese Communist Party since 1999.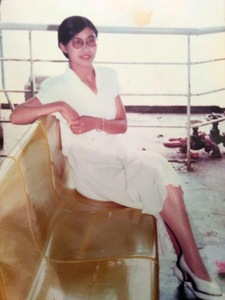 The late Ms. Li Fengmei
Ms. Li Fengmei, of Yingkou City, Liaoning Province, had been repeatedly arrested and detained for her faith. Following one arrest in July 2002, when she was two months pregnant, she was sent to a hospital for an abortion despite her strong resistance. She managed to escape from the hospital before the operation, only to have her unborn baby die in her womb due to the harsh living conditions during her displacement. Her husband divorced her after Ms. Li was later sentenced to a four-year prison term, and she was fired from her job.
While Ms. Li was on the run, the police also arrested her two sisters for practicing Falun Gong.
Traumatized by their three daughters' arrests, their mother, Ms. Wang Fuqin, had a stroke and died in March 2004 at the age of 69.
Her husband, Mr. Li Kunlian, experienced a mental collapse after Ms. Wang's death. Every day after dusk, he would grab a knife or stick to scare away "imaginary bad guys" who he thought were coming to take away his loved ones. He died five years later, at the age of 71.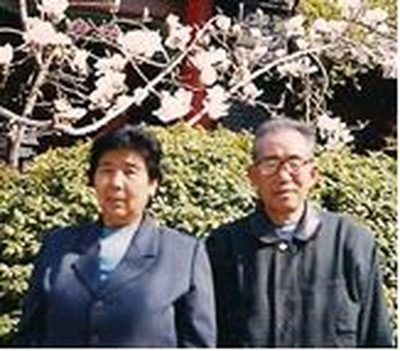 The late Ms. Wang Fuqin and Mr. Li Kunlian
A Well Respected English Teacher
Ms. Li Fengmei used to suffer from health issues and was troubled by her strained relationship with her parents-in-law.
Her life changed in 1997 when she began to practice Falun Gong. The gentle exercises improved her health, and the principles of Truthfulness-Compassion-Forbearance turned her from being a quick-tempered person to a kinder and more considerate one.
With these changes, Ms. Li's family lived in harmony and was happy. Her performance and ethics at work also earned her respect and the title of an exemplary teacher.
Fleeing to Avoid Involuntary Abortion, Losing Baby While on the Run
Local police took Ms. Li to Yingkou Brainwashing Center on July 20, 2002, the first day of summer break. An officer said they arrested Ms. Li because of her eloquence and her good reputation—reasoning that if she could be made to renounce her belief, officials could then use her to transform other practitioners.
Ms. Li refused to yield. The officials planned to send her to a labor camp but found out she was two months pregnant. They ordered a doctor to perform an abortion, but the doctor refused. Ms. Li was taken to a hospital on July 25 for forced abortion, which left Ms. Li with no choice but to flee later that night.
But the police did not give up. Since they could not find Ms. Li, they went to arrest her two sisters, Ms. Li Fengzhen and Ms. Li Fengzhi, also Falun Gong practitioners. The two sisters were also forced to stay away from home, and upon returning they were taken to a brainwashing center.
Because Ms. Li had to switch places from time to time and led a difficult life, her fetus died soon afterward.
Tortured in Detention Center
Ms. Li and another practitioner were arrested on August 21, 2003. One officer beat her and interrogated her. She refused to answer questions unless the handcuffs were removed. Seeing her unwilling to put the handcuffs back on, three officers covered her with a blanket and severely beat her.
She was then held at Bayujuan Detention Center for 13 months, where she was severely tortured. On the day of her arrival, Ms. Li went on a hunger strike to protest the arbitrary detention. Guard Zhao Wei slapped her hard on the face, causing her left ear to bleed profusely.
Three days later, a deputy director and several officers from the Domestic Security Bureau came to interrogate her. Because Ms. Li did not yield, these officers and a guard surnamed Zhu took turns torturing her. They knocked her shoulder hard against the wall, pushed her abdomen forcefully with their knees, pulled her hair, and slapped her in the face over 30 times. This left Ms. Li dizzy, coughing, and in pain all over. She also had rashes all over her body.
After the beating, one officer told the deputy director that no interrogation record had been made. "Cases related to Falun Gong are easy to handle," replied the director, "You can write down whatever you want to make up."
Seven days into Ms. Li's hunger strike, detention center head surgeon Gao Rizheng force-fed Ms. Li while guards Zhao Wei and Zhang Xingqiang held her tightly in a chair. Zhao intentionally added more salt to the force-feeding mixture of milk and saline to increase the pain. Because the tubing through the left nostril caused injury, the right nostril was then used. This caused vomiting and Ms. Li later had bleeding in the lower body, accompanied by stomach pain.
Ms. Li once had a severe stomachache with a fever. She was sweating due to the pain and her body was shaking. A doctor at the Bayujuan Hospital declared that her condition was life-threatening, and asked Gao to notify Ms. Li's family. But Gao ignored the doctor.
Another time when Gao was giving Ms. Li an intravenous injection, a doctor saw it and asked, "How could you give such a high dose? What if she dies?" One director in the hospital heard about this and ordered an ultrasound. Gao ignored it and secretly sent Ms. Li, who already had a high fever, back to the detention center. Ms. Li subsequently suffered from memory loss, leaving many to believe that the drug administered by Gao earlier could have been nerve-damaging.
After Ms. Li's mistreatment was exposed on the Minghui.org website, guards and officials instructed inmates to torture Ms. Li. Sheng Ying, an inmate who was in the detention center for a second time, slapped Ms. Li hard in the face on September 24, 2003. This left bruises on her face and ruptured her left eardrum.
Repeated beatings and other types of torture caused swelling on Ms. Li's head, face, and lymph system. She had a constant fever with nausea, coughing, and dizziness. The force-feeding also led to organ injury in her digestion system, which caused an intestinal obstruction, and she almost died. Although Ms. Li had been sent to Bayujuan Hospital four times for rescue, officials blocked the information and prohibited family visitation.
Prison Refuses Admittance Due to Poor Health
Officials at the Bayujuan Court secretly sentenced Ms. Li to four years of imprisonment in early March 2003. After her arrest, Ms. Li had refused to answer the police's questions or sign any documents. Her family did not hear about her court hearing until her sentence was pronounced. They hired an attorney to appeal her case, but officials threatened the attorney not to accept the case. Soon afterward, Yingkou Intermediate Court upheld the original sentence.
Fearful of Ms. Li's possible death, officials at the detention center requested medical parole on her behalf. But doctor Gao blocked the parole request. He added nerve-damaging drugs to Ms. Li's food and to intravenous injections. This led to Ms. Li's memory loss, hair loss, breathing difficulty, inability to walk, incontinence, and loss of function in her sensory organs. She was on the verge of death several times.
Gao and a guard sent Ms. Li to Liaoning Women's Prison at 5:00 a.m. on May 15, 2004. On the previous night, Gao forcibly injected Ms. Li with an unknown drug. The prison refused to accept Ms. Li, suspecting that she had lymph node tuberculosis. Gao had no choice but to send Ms. Li for examination, which confirmed the tuberculosis diagnosis. After Gao brought Ms. Li back to the detention center, the unknown drug injected one day earlier began to work, leaving Ms. Li in bed, with breathing difficulty, memory loss, and more organ failure.
Nine days later, on May 24, Gao and two other officers again took Ms. Li to the prison. By then, Ms. Li could hardly stand or walk. Prison officials again refused to accept Ms. Li because of her health, unless a doctor could confirm she was free of tuberculosis. Gao went to a university hospital, asking for a letter claiming that it was a lymph node mass, not tuberculosis. A professor confirmed that it was tuberculosis. In the end, Gao had to take Ms. Li back. She lost consciousness several steps out of the hospital.
Ms. Li's health worsened day by day. She was unable to take care of herself and could only drink water and eat some soup. Noticing that unknown substances were added to the soup, she stopped eating it. The medical bail requested by the detention center was approved, but Gao still refused to release her. Instead, he and two other officers took her to the prison for the third time on September 22, 2014, and through personal connections, managed to leave her there.
Brutality in Prison
Jiang Zemin, the former Communist Party leader who began to suppress Falun Gong in July 1999, once gave an order to defame practitioners, bankrupt them financially, and destroy them physically. This was fully implemented in Liaoning Women's prison. Guards and inmates restricted practitioners' access to the toilet. When practitioners used the toilet without permission, guards often stopped the practitioners' food or water.
In addition, practitioners were not allowed to speak with anyone other than those assigned to watch them. They were also prohibited from family visitation, making phone calls, writing letters, or purchasing daily necessities. Despite these restrictions, they were forced to work. Inmates who mistreated or reported practitioners were rewarded, while those who helped practitioners were reprimanded in public or given other types of punishment.
Inmates also physically abused Ms. Li. One evening, a guard instructed three inmates—two murderers and an arsonist—to take her to the bathroom for force-feeding with unknown drugs. They also read books slandering Falun Gong to her and grabbed her hand to force a signature on a prepared statement that renounced the practice of Falun Gong.
In addition, they forced her to stand motionless until 4:00 a.m. the next day. When Ms. Li protested and tried to return to her cell, another guard stopped her and sent her back to the bathroom for continued mistreatment. To stop Ms. Li from calling out, inmates taped her mouth shut and Ms. Li lost consciousness as she struggled. By 5:30 a.m., when it was time to do hard labor, inmates dragged her all the way to work.
Despite the mistreatment, Ms. Li always tried explaining what Falun Gong is to guards and inmates and debunked the Communist Party hate propaganda. She also helped other practitioners who were being persecuted in the prison.
Forced Labor
Ms. Li was diagnosed with severe myocardial ischemia during a physical examination in 2006. The doctor recommended hospitalization. Ms. Li's health worsened due to malnutrition and long-term pressure. Her entire body ached and she had difficulty working.
But Ms. Li was forced to keep working every day, producing IC cards (also known as smart cards). One technician from the vendor once commented that this kind of work was harmful to one's health, especially for women. Inside the prison, detainees often lost consciousness due to fatigue at the work unit.
Ms. Li later had lymph node swelling as well as reddish swelling all over. In addition, her bones ached throughout her body. The medical diagnosis indicated lymphoma, with lymph nodes swelling all over. She was again in life-threatening condition.
The persecution also hurt Ms. Li financially. Right after her arrest, her employer terminated her job and stopped her income. Her husband was under pressure and divorced her, leaving her with nothing.
After Ms. Li returned home from prison, her employer refused to hire her back and did not pay her any money. Ms. Li had to rely on help from relatives and make some money from tutoring.
After living years in tremendous agony from the persecution, Ms. Li passed away in late 2019.
Related reports:
Husband and Wife Die Five Years Apart After Three Daughters' Arrests for Refusing to Renounce Falun Gong
Prison Doctor Gao Rizheng Injects Unknown Drugs into Practitioner Li Fengmei
An Outstanding Teacher in Yingkou City Is Persecuted in Liaoning Provincial Women's Prison
Ms. Li Fengmei Barbarically Persecuted at the Women's Prison of Liaoning Province
Persecution of Model Teacher Li Fengmei at Gaizhou City, Liaoning Province