Rallies in Washington, D.C. Demand a Fair Election
Dec. 15, 2020 | By Minghui reporter Li Yanbai
(Minghui.org) On Saturday, December 12, 2020, hundreds of thousands of Americans once again gathered in Washington, D.C., attending rallies and marches on the National Mall, outside the Supreme Court, and at the Freedom Plaza, to express their strong demand for a fair election.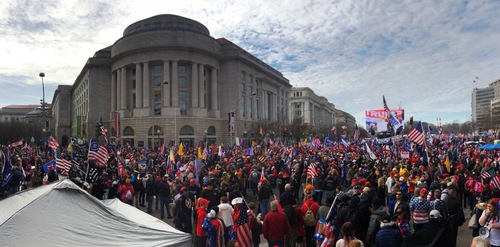 On December 12, 2020, hundreds of thousands of people held massive rallies in Washington, D.C., protesting against election fraud.
Congressman-Elect: Fairness in Elections Is What America Was Founded On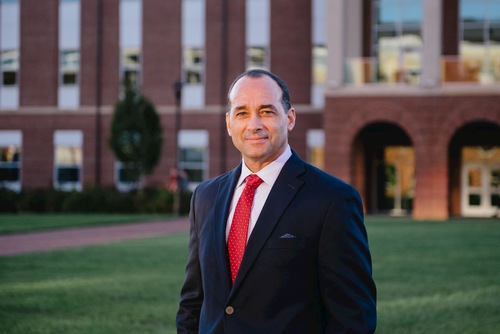 Bob Good, U.S. Representative-elect for Virginia's 5th Congressional District
Bob Good, the congressman-elect for Virginia's 5th Congressional District, said in an interview with NTD that he attended the events because he supports President Trump. He said: "He is the best president I've ever met in my lifetime. I don't know a president more deserving of a re-election. So I'm here to support him and I'm also here to support election integrity, to make sure we count every legal vote and we investigate every accusation of illegal vote or improper voting."
He called for an investigation of election fraud. "Election integrity is the foundation of our republic. If we don't have election integrity, not just this election but future elections, we don't have a republic. So we've got to root out fraud, cheating, stealing."
"Some Leaders of This Nation Lost Their Way"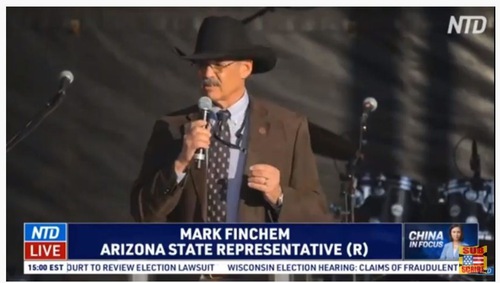 Arizona Congressman Mark Finchem
Arizona state representative Mark Finchem, one of the nine representatives who hosted the election integrity hearing on November 30, said at the "Let the Church Roar" rally, "Apparently, there are some leaders of this nation who've lost their way. They don't understand. In fact, I'd like to reintroduce them to a document that says 'We the People' in order to form a more perfect union. So, who put us in office? Who do I work for? It seems that we got some folks who have forgotten that."
"So yes, we had a hearing. Actually the governor of the state called it just a meeting. But at the end of the day, it was to serve our constituents, not to serve the high and mighty elected officials. We uncovered eleven hours worth of testimony, speaking to everything from voting centers' improprieties to electronic fraud, to fractional voting, to fictitious voting."
He asked people to pray to God. "Satans and minions will be bound up, that the fraud will be found out. And we will have a transparent election process return to this country. Because, quite frankly, it is anything but transparent right now. We've got people in the courts and in the executive branches who do not want you to know the truth. It's high time that we put sunshine on this disease."
Communist China Wants to Use Marxism to Subvert America
In another NTD interview, Frank Gaffrey, vice chairman of the "Committee on the Present Danger: China," pointed out that the Chinese Communist Party (CCP) is the black hand behind the election fraud. He said that the United States is facing internal and external troubles. In the election, the CCP wanted to get the person they could control – the democratic party's candidate – elected, to replace the person they were unable to control and defeat – Trump.
Gaffrey said that we must identify the CCP as a transnational criminal group because this is its nature. It enslaves the Chinese people, Hongkongers, and Mongolians. It's realizing its ambitions through the "One Belt One Road" initiative. Its efforts to subvert the U.S. with Marxism must be thwarted.
He said that the CCP is using unrestricted warfare to attack the U.S., through stealing the general election, unleashing the biological warfare (the CCP virus), creating instability, inciting street riots and revolution, destroying the economy, stealing intellectual property, and killing innocent people. Its fundamental goal is to rule everyone.
He said that in fact neither the people of the Democratic Party nor the people of Communist China want to fall into communism, and that it is time for the U.S. to become a nation of faith again. He is confident that God is in charge of everything, and he is hoping to see the rebirth of freedom. Without freedom, we cannot survive because it is given by God.
Stand Up and Unite To Fight for Truth and Freedom
Kimberley Fletcher, founder of "Moms for America," is the wife of a retired military officer. She said she's fighting for a better future for her eight children and five grandchildren.
She acknowledged that this has been a difficult year for American families, and a really bad year for freedom. The Democratic Party used the pandemic as a power grab tool and shut down schools and churches. They also canceled American families' Thanksgiving gatherings, and are now trying to cancel Christmas. But "our rights come from God, not government."
"We are rallying across the county to ensure the integrity of that vote. We've been flooded by emails and phone calls by moms, we encouraged to go out and vote, asking, did our vote count? Can we ever trust the election process again? We can if we stay together united and continue to fight this fight."
Ms. Fletcher said she did not vote for Trump in 2016, but she proudly voted for him in 2020. "Because he is someone who cares about America more than he cares about his own self, his own business, his own reputation. He got up every day and fought the good fight for our values, our principles, that made us the freest nation on this planet."
Ms. Fletcher also said, "We mothers are battle ready. We are prepared to defend legal votes, legitimate actions, our Constitutionally protected rights in our love for America. We will not allow government to divide us. We will not allow them to steal our freedoms. We will not allow them to steal our votes. And we will not allow them to steal Christmas. It is not a time to conform. It is not a time to give in. It is not a time to go to sleep. We need to unite for truth and freedom. We may lose a few battles, but this war is ours to win."