(Minghui.org) Having good health is everyone's dream, but many suffer from ailments that even modern medicine cannot cure. Falun Dafa, however, has enabled many of its practitioners to recover from incurable diseases. Based on the principles of Truthfulness-Compassion-Forbearance, Falun Dafa was introduced to the public on May 13, 1992. Over the past 28 years, practitioners in more than 100 countries have improved their health, uplifted their moral character, and become better citizens.
Back in 1998, six years after the introduction of Falun Dafa, China's General Administration of Sports organized health professionals to conduct a total of five surveys on the healing effects of Falun Dafa. Nearly 35,000 practitioners in Beijing, Wuhan (the capital of Hubei Province), Dalian (a metropolitan city in Liaoning Province), and Guangdong Province participated.
Results showed that 98% of the participants had experienced improved physical health and saved an average of about 20 million yuan (or $3 million) in medical expenses per year for their employers.
Zhuan Falun, the main teachings of Falun Dafa written by its founder Mr. Li Hongzhi, was published in China in late 1994. Two years later, it became one of the top-ten bestsellers in China. Currently translated into over 40 languages, it is the Chinese book that has been translated into the most foreign languages.
This series is a collection of experiences about Falun Dafa practitioners who have benefited tremendously by reading the book and living by the principles of Truthfulness-Compassion-Forbearance.
* * *
(Continued from Part 3)
Despite modern medicine, some diseases just keep recurring. Probably only those who have had them can truly understand the pain of knowing that a cure is impossible. Fortunately, as many Falun Dafa practitioners described in testimonies submitted to the Minghui website, they recovered from their chronic and stubborn ailments.
The ongoing persecution in China, on the other hand, has made their lives and the lives of their families wretched.
Gynecological Problems
Ms. Xu Hongli, 51, was responsible for managing medical records at Xinxiang Women and Children's Hospital in Henan Province. She used to have severe menstrual pain even as a teenager. She would be in agony for about 48 hours, and every minute was such torment that she wanted to die. On top of that, she vomited everything—food, water, gastric juices, and bile. She also threw up the pain-relief tablets right after taking them, so nothing could help alleviate the pain.
In addition to visiting many hospitals and seeing many gynecologists, she tried folk prescriptions and secret recipes, but to no avail.
The pain spread to her skull. She felt swarms of bugs crawling on her temples, and she heard a constant buzzing sound in her right ear. During her last semester in high school, her brain suddenly stopped functioning. She could not remember how to write common words. She had to drop out of school even though her teachers had expected her to be admitted to a prestigious university.
She returned the next year and graduated. She was admitted to a technical secondary school and worked at Xinxiang Women and Children Hospital after graduation. She reached out to all the resources in the hospital, including the experts, directors, and attending physicians. They proposed various treatment plans, searched for secret prescriptions, and reached out to experts in other parts of the country. Finally, experts at the renowned Peking Union Medical College Hospital announced that her condition was incurable – a miserable life sentence!
After witnessing the amazing changes in her mother after she started to practice Falun Dafa in early March 1998, Ms. Xu decided to practice, too. Not only did the severe menstrual pains go away, but she also recovered from 20 years of other ailments, including athlete's foot, low back pain, hip pain, and insomnia. She was extremely grateful to Falun Dafa.
After the persecution of Falun Dafa began in 1999, however, Ms. Xu was fired from her job because she refused to renounce her faith. She was forced to leave home to avoid persecution and did not have an identification card, a stable job, or a permanent residence.
Menstrual Troubles
Ms. Xu was not alone. Ms. Yu Shuxian from Fushun City, Liaoning Province, had menstrual troubles since she was young. Her period lasted for more than 20 days every month, which caused severe anemia. She had to take medicine every day. She visited many Liaoning Province specialists but to no avail.
After she married, she had four miscarriages, all in the third month of pregnancy. The physical and mental pain were enormous. She also had headaches and heart disease and decided life wasn't worth living.
Ms. Yu came across Falun Dafa in September 1996 and took up the practice immediately. She was amazed to recover from all her ailments in only a month of practicing. She sincerely thanked Falun Dafa for giving her a second life.
For telling others about the benefits of the practice, she was arrested multiple times over the past 20 years and was jailed twice. Her father passed away, grief-stricken and angry at how unjustly she was treated.
Family Almost Bankrupt Searching for a Cure
Ms. He Lianchun, 50, is a farmer from Mengzi County, Yunnan Province. Menstrual pain plagued her and long-term constipation caused anal bleeding. She also had an irregular heartbeat and asthma. Sciatic nerve pain made walking difficult.
Her mother took her to many hospitals across the province. Neither Chinese or Western medicine had any effect. Her family nearly went bankrupt, and she had to drop out of school and go to work.
Ms. He was fortunate to come across Falun Dafa in June 1996. She recovered from her ailments after practicing Dafa. She found the true meaning of life and often told others how she'd recovered her health. She got married and had a child, and they were happy.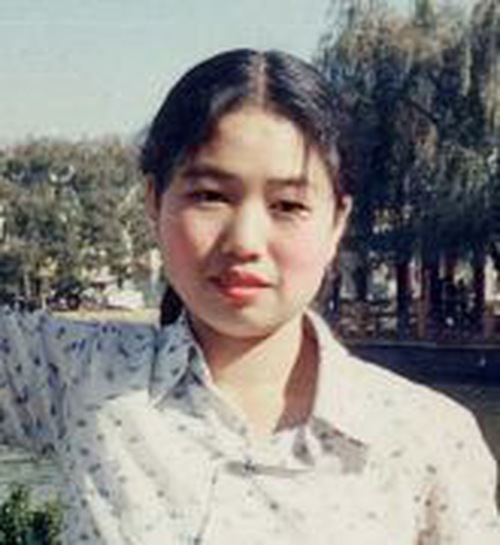 Ms. He Chunlian
Happy, that is, until they were separated when the persecution of Falun Dafa began. Ms. He was sentenced to prison twice for a total of 17 years. In Yunnan Province Second Women's Prison, she was beaten, forced to wear shackles, held in solitary confinement, force-fed, and humiliated.
Skin Diseases
Ms. Wang Meirong, in her 50s, is the deputy director of a community bank in Pingdu City, Shandong Province. Humble and kind, she was often praised for her glowing skin. She told people, "My skin when I was younger was not as good as it is now." She would tell people how she suffered from psoriasis before she started practicing Falun Dafa.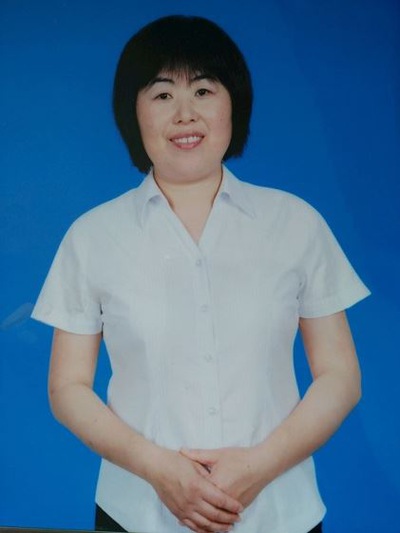 Ms. Wang Meirong
She once had psoriasis over her body. It would crack and bleed and itch so terribly that she couldn't sleep or eat. "I scratched so much my fingernails were always worn down," she recalled. "Life was not worth living."
Ms. Wang spent all of her savings on Chinese and Western treatments and folk remedies, but nothing worked. She often thought of ending her life.
When things were desperate, she obtained a copy of Zhuan Falun in October 1998. She took it with her wherever she went. The itching began to diminish. She also strictly followed the teachings of Falun Dafa, Truthfulness-Compassion-Forbearance, to be a good person.
Within three months, she'd recovered from the psoriasis. Happiness returned to her family. All of her relatives and colleagues witnessed her amazing recovery.
Nearly Dead from Hereditary Hepatitis
Mr. Zhang Guoqing is a retired teacher from Mancheng County, Hebei Province. Many of his relatives suffered from hereditary hepatitis. In fact, three out of his four brothers had died of it. He was diagnosed with severe hepatitis B in 1993.
His health was getting worse. He couldn't eat much due to a bloated stomach and was emaciated; he did not have the energy to walk and was bedridden most of the time, causing him to develop many bedsores. The whole village knew that he was dying.
While he waited for death, a relative told him about Falun Dafa and brought him two books and audio lectures. He had no energy to read the books but could listen to the recordings. He felt very good as he listened and understood a lot of things that he hadn't known. As he listened day and night, he regained his appetite, could read the books, sat up, and could stand up. After a while, he was able to take a few steps and began to have some energy.
All that happened in just one month. Amazed that listening to recordings could cure him, he decided to join a practice group.
Two days after the 1999 Chinese New Year, Mr. Zhang went to a practice site with his family's help. He dressed warmly but he was still very weak, and his complexion was dark. He had to hold onto a stool to watch others do the exercises. He and his family also studied the teachings with the group in the evening. He considered that day as his official start to practicing Falun Dafa.
His wife came with him every day and also participated. After 12 days, he went to attend activities that introduced Falun Dafa to others. "Look at this old man. He was about to die, and now he is doing the Falun Dafa exercises," said a boy who knew him well.
After the persecution of Falun Dafa started in 1999, Mr. Zhang decided to go to Beijing to appeal for the right to practice Falun Dafa by telling of his personal experience. He was arrested and taken to Baoding Forced Labor Camp. He was shocked with electric batons and hung up. Although this nearly took his life, he refused to give up his faith.
Depression and Insomnia
Ms. Zhai Jinping, in her 50s, is a doctor from Tai'an City, Shandong Province. She was frail and had numerous illnesses since childhood. She suffered from insomnia and an irregular heartbeat since the age of 12. In May 1996, she suffered an allergic shock after an injection of penicillin and was hospitalized for an abnormal heartbeat.
She then came down with an inflamed gallbladder, arthritis in her knee, inflammation of the cartilage in her ribs, and ringing in her ears. She always had a long face and often suffered heartburn. Doctors told her that she was severely depressed and was incurable.
One day, she came across Zhuan Falun and began to read it. "I always wanted to be a good person but didn't know how," she recalled. "This book is really helpful because it explains everything." While holding the book close to her heart, she had a feeling of peace and security after the long nightmare of insomnia and depression.
From that moment on, she began to cultivate Falun Dafa. Noticing her improvement, her mother joined her, and the two of them have never given up their faith
Recovery from Depression and Arrest for Sharing the News
Mr. Song Yucen, 25, is from Shenyang City, Liaoning Province. In 2006 when he was 11, his father had a stroke, and his mother lost her job. He felt inferior to others and depressed. He had psychological counseling in college.
After graduating from college, he was swindled out of 40,000 yuan looking for a job, worsening his depression. He was fired from his job in January 2019 due to incompetence. He tried many things to cure his depression but to no avail. He attempted suicide and ran away from home many times. The whole family suffered with him.
In despair, he remembered Falun Dafa. When he was little, his grandfather told him about the beauty and preciousness of Dafa. Shortly after taking up the practice, he began to think sensibly and speak normally and got over his depression.
Happy and excited, he went to the hospital to tell other patients about his experience. The police arrested him on March 29, 2019, for doing that. He was indicted in the Heping District Court in December 2019.
Insomnia Cured
Ms. Zhao Fuqin, 68, from Mancheng County, Hebei Province, suffered from severe insomnia for 20 years. When she occasionally fell asleep, she had nightmares and yelled, often waking up family members. She also had many other ailments, such as stomachaches and severe leg and back pain. She was emaciated and had no strength.
After she started to practice Falun Dafa in 1996, Ms. Zhao became healthier. Especially when doing the second exercise, she was tired and sweaty from holding her arms up. However, she felt light afterward. All of her illnesses disappeared. Her whole family witnessed the power of Falun Dafa and all supported her in her belief.
Numerous Long-Term Ailments Gone in a Short Time
Ms. Guan Xiumei, in her 50s, of Shenyang City, Liaoning Province, was emaciated and always in pain.
Because she had abnormal bone marrow, she could never be given anesthesia. During a C-section, even the doctor couldn't bear to see her suffering. He condition also caused nerve and bone pain.
She also had hyperplasia in her spine, which was so painful that she had a hard time sleeping. Because of her stomach problems, she couldn't eat much solid food. And every month she suffered from severe menstrual pain.
Her mother suffered from all kinds of health problems, too, especially severe asthma. She went to work in a tobacco factory at the age of 14 and became addicted to cigarettes. However, all of her ailments and her addiction to smoking were gone two months after she started to practice Falun Dafa. But she was persecuted for her faith and passed away in 2006.
Ms. Guan gathered up all of her mother's belongings related to Falun Dafa and took them home. She began to read Zhuan Falun, took up the practice, and recovered from her ailments.
Following the principles of Truthfulness-Compassion-Forbearance, Ms. Guan is considerate of others and always willing to help. Her optimism, confidence, and kind heart have impressed her colleagues and relatives.
Growing Younger
Ms. Li Yingeng, 80, from Baoding City, Hebei Province, used to have hepatitis, liver ascites, gynecological problems, heart disease, and rheumatoid arthritis. She was always in and out of hospitals. Intermittent heart failure made her life miserable.
When she retired, the managers where she'd worked were relieved since they no longer had to worry about her ailments. She tried several qigong practices, but nothing brought relief.
At the end of 1994, someone recommended Falun Dafa to her, and she became interested. She went to the Falun Dafa practice site the next morning and took up the practice. Doing the exercises every morning and studying with the group in the evenings, she recovered from all of her ailments.
Noticing that she appeared younger, with fewer wrinkles on her face and fairer skin, her husband asked if she'd had cosmetic surgery. "No," she replied. "But I've changed more than that: I am now full of energy and feel like someone is pushing me while I ride a bicycle. Falun Dafa's Master Li saved me." Her family saw the power of Falun Dafa and all supported her practicing it.
Removed Breast Regrows
Ms. Chen Huimin, 73, from Changsha City, Hunan Province, was a workaholic when she was young. By the time she turned 40, she had migraines, a slow heartbeat, atrial fibrillation, low blood pressure, low platelets, anemia, and much more. Nothing helped, and she had to retire 10 years early, in 1993.
She was diagnosed with breast cancer a year later and had her right breast and the surrounding muscle and tissue removed. But she had complications and had to endure painful treatments every day.
Ms. Chen began to practice Falun Dafa in August 1996. She studied the Falun Dafa teachings and did the exercises every day. She recovered from all her ailments. She discarded all her medicines and medical equipment and truly experienced the joy of being free from illness. To her surprise, her right breast gradually grew back.
However, during more than two decades of the persecution of Falun Dafa, Ms. Chen was persecuted. She was once tortured during forced feeding in the labor camp and was on the verge of death. Her family experienced long-term harassment. and her son and daughter were traumatized.
(To be continued)