(Minghui.org) Falun Gong practitioners regularly participate in local community events to introduce the practice to the public and to raise awareness of the Chinese Communist Party's (CCP) ongoing persecution. At these events, practitioners demonstrate the exercises, clarify the truth, and hold signature drives. They ask people who want to condemn the persecution, especially the state-sanctioned organ harvesting from living Falun Gong practitioners, to sign a petition.
The following are reports on recent events in Belgium, Germany, and Portugal.
Belgium: People Happy to See Falun Gong at Peace Festival
Falun Gong practitioners were invited to participate in a peace-themed cultural festival held at the city of Sint-Niklaas, Flemish Province, Belgium, September 6 to 8, 2019. They demonstrated the Falun Gong exercises and collected signatures calling for an end to the CCP's persecution.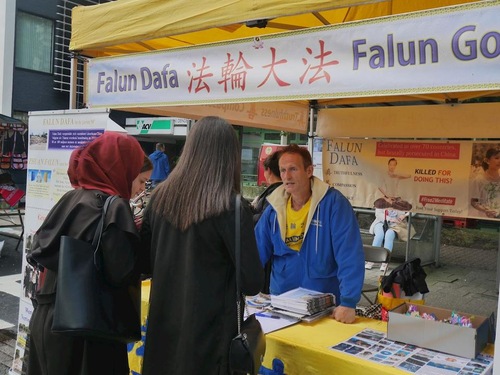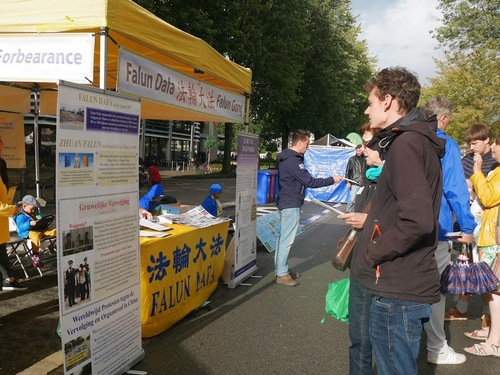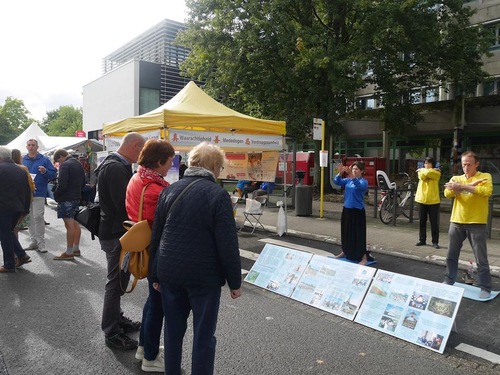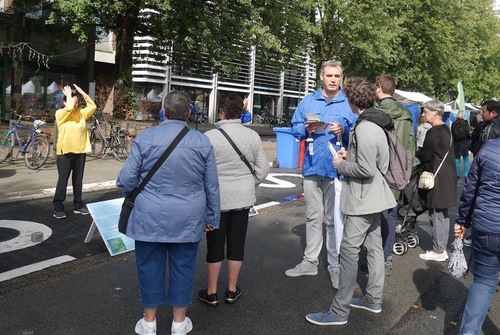 Falun Gong practitioners participate in the peace festival. Many people paused to learn about Falun Gong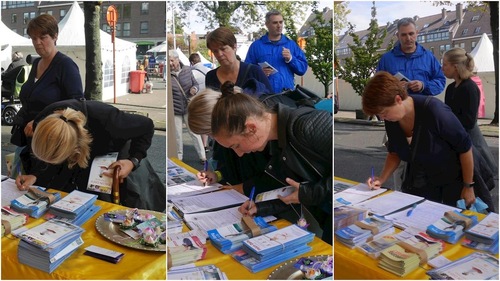 People sign the petition protesting the CCP's persecution
Interested in Learning Falun Gong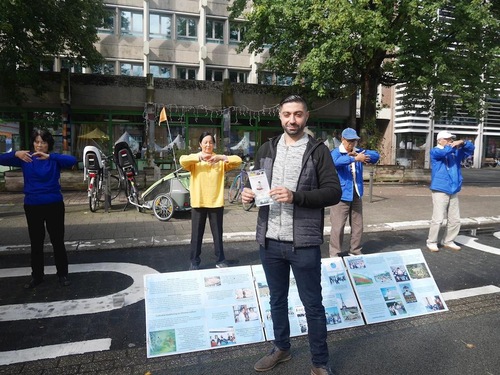 Sahen watches the exercise demonstration.
Passerby Sahen watched the exercise demonstration and said he'd never heard of Falun Gong before. He said, "The Falun Gong exercises are slow and calm, making one feel relaxed, peaceful, and serene."
He placed his hand on his chest and said, "I feel strong energy."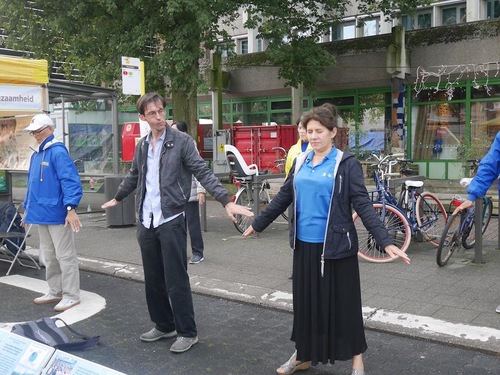 Luis (middle in front row) imitates practitioners' hand gestures.
Luis watched the exercise demonstration, then stood beside the practitioners and imitated their hand gestures. He said, "Truthfulness-Compassion-Forbearance is wonderful. These principles help one maintain a peaceful mind."
One man studied the poster with information on the CCP's organ harvesting from living practitioners. He chatted with a practitioner to learn more about Falun Gong. He said his job had business connections with China. He asked for some informational materials and wished the practitioners success in their efforts.
In addition to a variety of booths and entertainment, there were exhibitions about World War II to remind people not to forget their painful history.
Munich, Germany: Falun Gong Popular in the City's Autumn Festival
Falun Gong practitioners participated in the Autumn Festival in Munich, Germany, September 7 and 8, 2019. The 2019 Munich City Autumn Festival (Corso Leopold) was held on Munich's famous Ludwigs and Leopold Streets. The activities extended from Concert Hall Square to the front of the University of Munich to the Siegestor [Victory Door] and over to Munich Freedom street.
Exhibitors included political organizations; municipal government departments; non-governmental organizations; cultural, arts, and human rights groups; animal protection agencies; and environmental protection groups.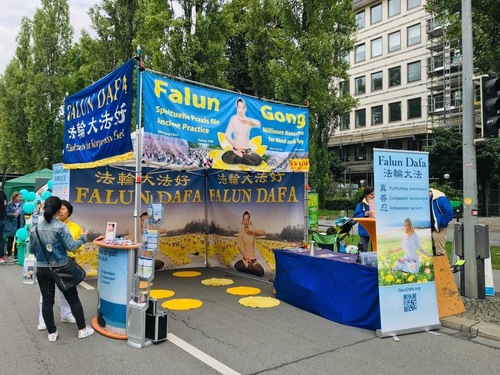 A Chinese woman talks with a practitioner.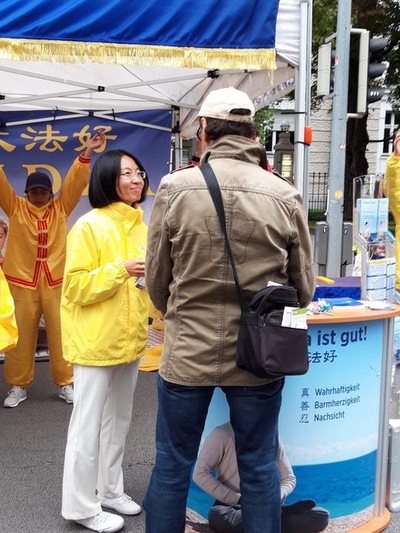 Passersby ask practitioners for information about Falun Gong.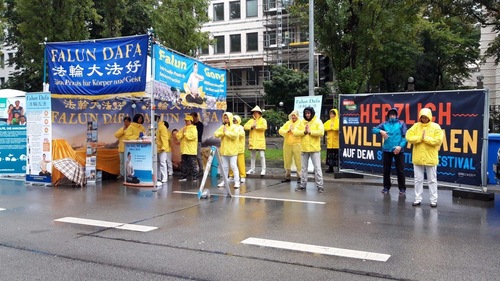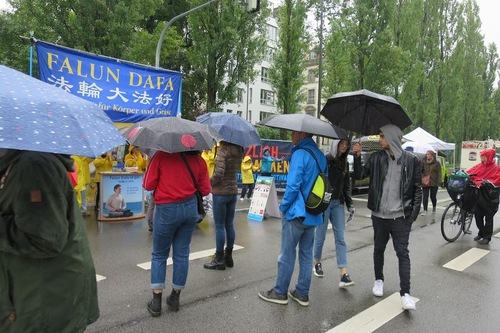 People watch practitioners demonstrating the exercises in the rain
A man who lives near Munich said that he would go to the practice site in the English park to learn the exercises. He said, "The principles Truthfulness-Compassion-Forbearance are very good. The CCP is so stupid. They should try it themselves."
When he learned about the CCP's organ harvesting from living Falun Gong practitioners, he signed a petition protesting the persecution.
Many people were actively interested in Falun Gong and kept the practitioners busy.
A young woman with a child watching the exercise demonstration said that she knew about Falun Gong. She had been involved in an accident and tried to find a cure on the Internet. That was how she learned the Falun Gong exercises. She had never seen so many practitioners doing the exercises together. She was very pleased to know that there is a group practice site where practitioners meet on Sundays.
It rained all day September 8, but that didn't stop the exercise demonstration, which surprised passersby. Many paused to watch.
A young man was indignant about the CCP's persecution of Falun Gong and signed the petition condemning the persecution.
Lisbon, Portugal: Introducing Falun Gong at an Exhibition
Falun Gong practitioners participated in an exhibition held in Lisbon, Portugal, September 6 to 8, 2019. Many people learned the Falun Gong exercises.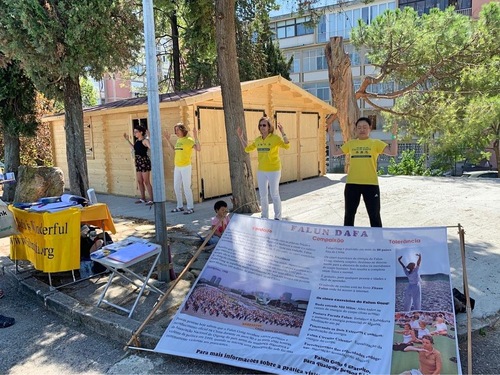 Falun Gong practitioners demonstrate the exercises at the exhibition in Lisbon.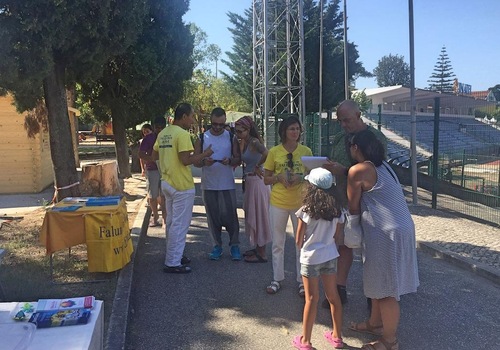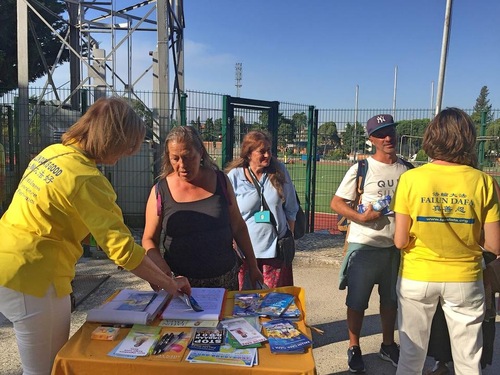 Practitioners collected signatures and talked with passersby about Falun Gong and the persecution.
Miguel from Lisbon said that he was very much in favor of the Falun Gong principles. He thought the music was very calming and projected a powerful energy.
A woman with a child took a flier and quickly left. She returned later to sign the petition. She said that she was shocked to learn about the CCP's organ harvesting from living practitioners. She supported the practitioners' efforts to protest the persecution.
Relevant articles in Chinese: Munich, Germany; and Portugal.