California: Falun Gong Rally in LA Receives Wide Support
August 08, 2019
|
By a Minghui correspondent in Los Angeles
(Minghui.org) Falun Gong practitioners and supporters from Los Angeles held a series of activities at the Santa Monica Beach on July 21, 2019 to commemorate Falun Gong's twenty-year-long journey of resisting the Chinese Communist Party's (CCP) persecution. The practitioners performed the Falun Gong exercises and talked to people about the persecution in the morning. A rally was held in the afternoon. Several human rights leaders gave speeches at the rally and sent letters expressing their support.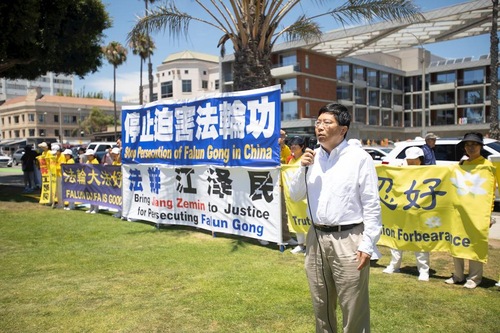 Dr. Yingnian Wu, spokesperson for Falun Gong practitioners in Los Angeles, gives a speech during the rally held on July 21, 2019.
Dr. Yingnian Wu, UCLA professor and Spokesperson of Falun Gong practitioners in the greater Los Angeles area, recounted how the ancient spiritual practice was introduced to the public, brutally persecuted by the CCP, and described Falun Gong practitioners' tireless efforts in calling for an end to the persecution over the past 20 years.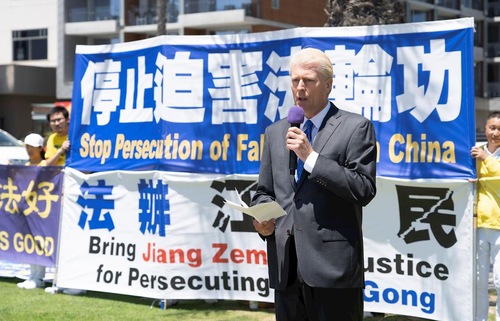 Dr. Dana Churchill, a representative from Doctors Against Forced Organ Harvesting (DAFOH), talks about the CCP's crimes of harvesting organs from living Falun Gong practitioners.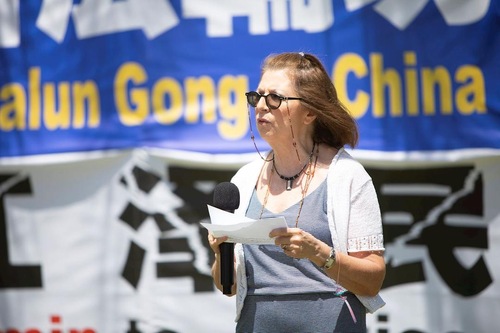 Ginny Hatfield, vice-president of membership of the United Nations Association (UNA) Southern California Branch, speaks at the rally.
Ginny Hatfield, vice-president of membership of the United Nations Association (UNA) Southern California Branch, said the world has grown increasingly concerned about the persecution of Falun Gong practitioners.
Ms. Hatfield said that over the years, Falun Gong practitioners have been repeatedly subjected to detention and torture, including sleep deprivation, brainwashing, and harsh slave-labor conditions inflicted by the CCP. Countless others have also met death through the regime's practice of organ harvesting, in which the organs of healthy prisoners are harvested and sold for profit.
Hatfield said, "Truthfulness, compassion, and tolerance are the core beliefs espoused by Falun Gong. We, as advocates for their human rights, need to tell the world the truth about what has been happening and continues to happen to Falun Gong; we need to express our compassion for their plight; and we need to educate all peoples to be tolerant of those who may differ from us."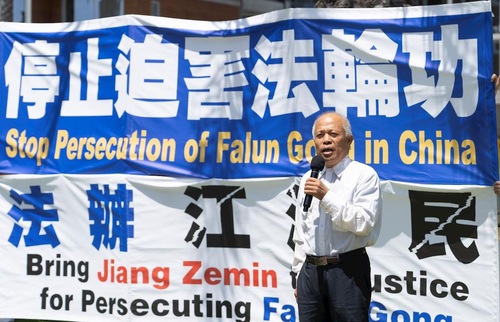 Liu Yinquan, chairman of the Chinese Social Democratic Party, said, "The persecution of Falun Gong is a disaster for mankind and justice."
Liu Yinquan, chairman of the Chinese Social Democratic Party and former professor of history at Weifang College in Shandong, China, shared his and his colleagues' deep respect for practitioners of Falun Gong and their belief in Truthfulness-Compassion-Forbearance.
He said, "Twenty years have passed, and those children are now adults, but the CCP's persecution has not yet ended. This is a disaster for mankind and justice. Anyone with a conscience should come out against it."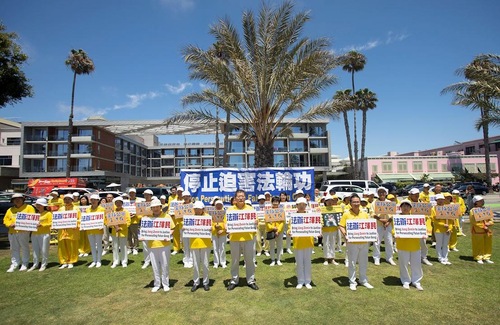 Falun Gong Practitioners call for bringing former CCP head Jiang Zemin to justice.
Letters of support were also sent from community members who could not attend the event. Dr. Noah Arthur Bardach, co-founder of the non-profit organization Universal Human Rights Initiative; Dr. Soraya Fallah, human rights activist; Dr. Huu Dinh Vo, president of the United Council of Vietnamese Homeland and Overseas and assistant clinical professor at Touro University; and Ann Lau, chair of the Visual Artists Guild, all called on the CCP to stop persecuting Falun Gong and uphold the importance of human rights.
Dr. Vo wrote in his letter, "In order to end this horrific crime of killings and harvesting organs from the innocent Falun Dafa practitioners, we request support from the United States and our allies to pressure the Chinese Communist government to release all Falun Dafa practitioners, and let them practice their peaceful spiritual belief."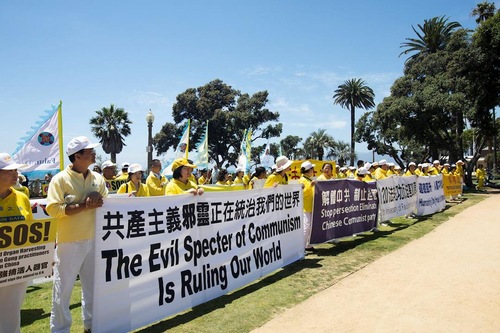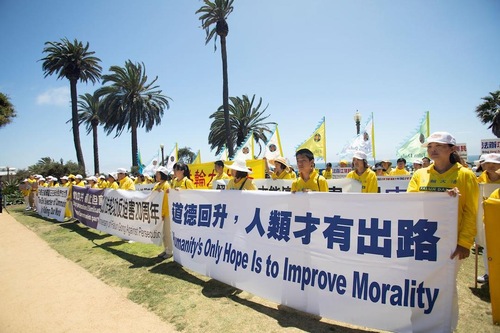 Several people stopped to watch the rally and learned about the on-going persecution in China.
Local residents and tourists who watched the rally expressed their support. A tourist named Mary wanted to make a donation. Falun Gong practitioners told her that they didn't take donations. Mary said, "Thank you for all you have done! You have told us a terrible thing that the Chinese government has done! God is with you!" A local resident named Fred took several photos of practitioners meditating, and said he planned to find out more about Falun Gong from the Internet. He said, "They are beautiful and peaceful!"