California: Tian Guo Marching Band Shines in San Jose's "Rose, White and Blue" Parade
July 07, 2019
|
By a Minghui correspondent
(Minghui.org) The San Francisco Falun Dafa group's Tian Guo Marching Band stood out as the only marching band in the "The Rose White and Blue Parade" in San Jose on July 4, 2019. Over 92 groups participated in the parade, held as part of the city's events to celebrate the nation's birthday.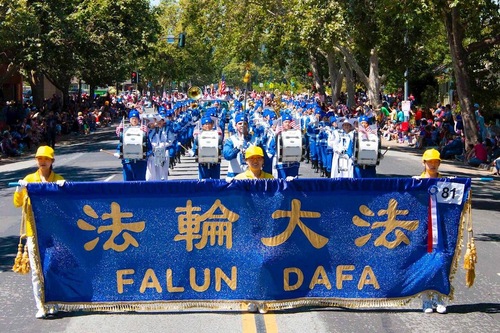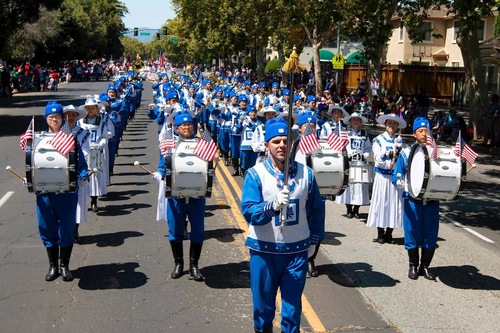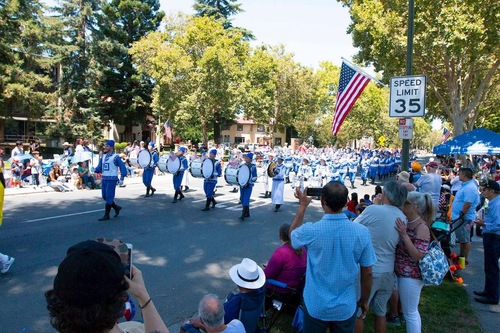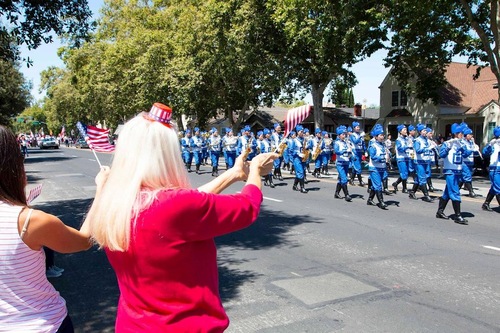 The Tian Guo Marching Band was warmly welcomed during the Rose White and Blue parade held in San Jose on July 4, 2019.
Parade organizer Susan Hennessy particularly liked the band's performance of "The Stars and Stripes Forever." "It was encouraging," she said, "It's the 4th of July, and it's wonderful to hear this song!"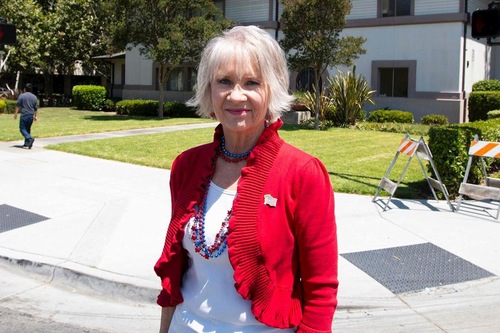 Susan praised the Tian Guo Marching Band and said, "They are my favorite!" She said she appreciated the principles of, "Truthfulness, Compassion and Forbearance," and feels that, "These values can hold the country together."
Susan admired the marching band's members' skills and said, "I used to play clarinet, so I know it's difficult. But they play so well while marching. They're great!"
Susan also praised the principles of "Truthfulness-Compassion-Forbearance" that practitioners try to follow. "It's really beautiful," she said. "Any group that promotes peace, harmony, and freedom of belief is great."
She added, "It brings peacefulness to the spectators, and these values can hold the country together."
Susan was saddened to learn of the ongoing persecution of Falun Dafa practitioners in China, especially the state-sanctioned organ harvesting. "Anything is possible in a communist country," she said. She remembered the Tiananmen Square Massacre decades ago and said, "I know that the Communist Party is very brutal."
"Everybody should have freedom of belief," she added.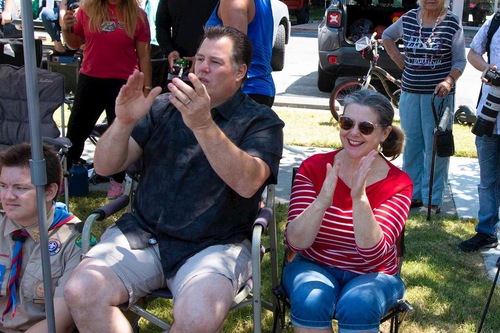 Stephen and his wife Emily applauded the band members, and said, "They are excellent. We really enjoy the band's performance!"
Another parade attendee Jimmy said, "The band is great! The principles are wonderful!" He asked where he could learn more about Falun Dafa, saying, "I'd like to improve my mind and body."