Rally and Candlelight Vigil in Montreal Commemorate 20 Years of Falun Gong's Resistance Against the Persecution
July 20, 2019
|
By a Minghui correspondent in Canada
(Minghui.org) Falun Gong practitioners in Montreal held a rally and a candlelight vigil at Place d'Armes on July 13, 2019, marking the 20th year of Falun Gong's peaceful resistance against the Chinese Communist Party's (CCP) persecution.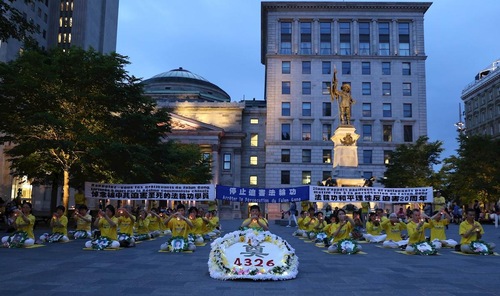 Candlelight vigil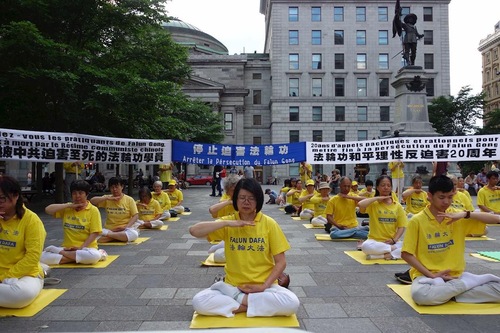 Performing the Falun Gong exercises
Several Falun Gong practitioners gave speeches at the rally, recounting their own experience with the persecution. Practitioners mourned their fellow practitioners who had died from the persecution with a candlelight vigil.
The activities started at 6 p.m. and lasted until 9 p.m. There were many spectators, and the Falun Gong activities became the focus of attention at this famous tourist site. Many passersby asked for information and signed a petition condemning the CCP's atrocities. Some tourists from China took this opportunity to withdraw from the Communist organizations they had joined.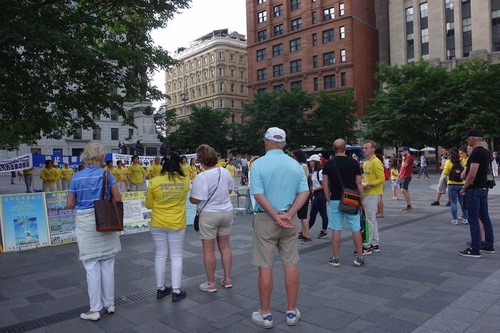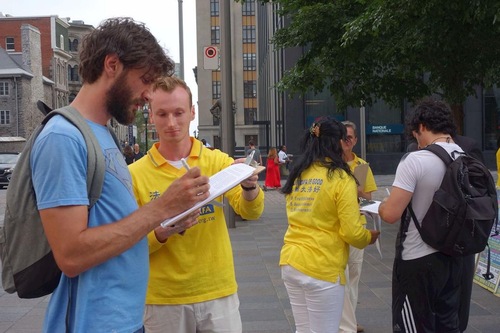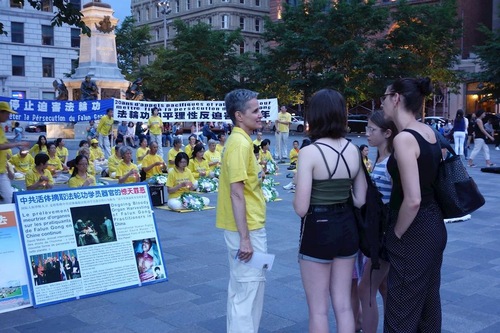 Many people showed their support for the Falun Gong practitioners' efforts to end the persecution.
Karen, a Falun Gong practitioner, collected signatures on a petition calling for the rescue of her mother, Chen Yan, who had been imprisoned for practicing Falun Gong in China. Mrs. Chen was an outstanding teacher in Shijingshan District of Beijing for 30 years. She was recognized as one of the best teachers by her students and their parents. In late 2018, Mrs. Chen was arrested and her home searched for distributing calendars that contained facts about Falun Gong.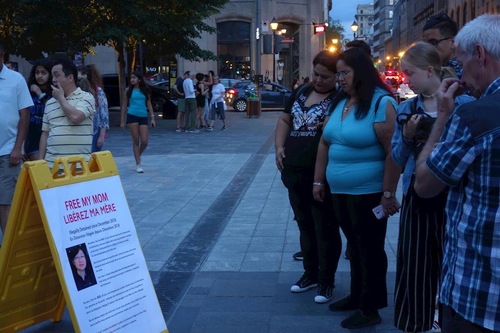 Passersby read information about the imprisoned mother of a practitioner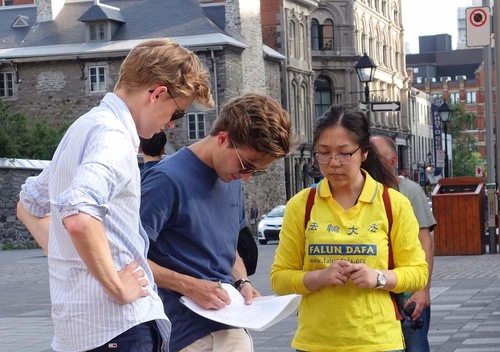 Signature collection calls for the release of Falun Gong practitioner Chen Yan.
Passersby Support Falun Gong
Many people wanted to help rescue Mrs. Chen, so they signed the petition. Some were moved to tears upon hearing about her experience. Some planned to spread the information through social media. Many expressed their sympathy to practitioners and expressed opposition to the CCP's suppression of the Chinese people.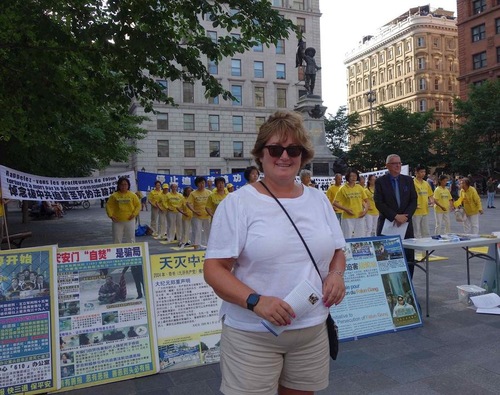 Ms. Carolyn Lawless from Ireland
Ms. Carolyn Lawless from Ireland said, "The persecution should stop immediately. I'm shocked to hear about this horrible persecution. It's hard to believe it's still happening today. People don't know what's happening behind the scenes in China. Everyone should spread the news. The persecution must stop. Everyone needs to show support."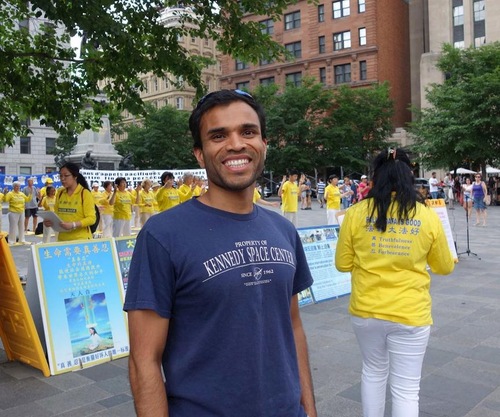 Chirag from Halifax
A young man named Chirag was angry with the CCP upon hearing the experience of Karen's mother. He said, "It's not surprising that the Communist government did such things to people. Her mother's detention makes me mad. It's disturbing. People have the right to choose what they believe or not believe." Chirag said that he supports the Falun Gong practitioners' efforts.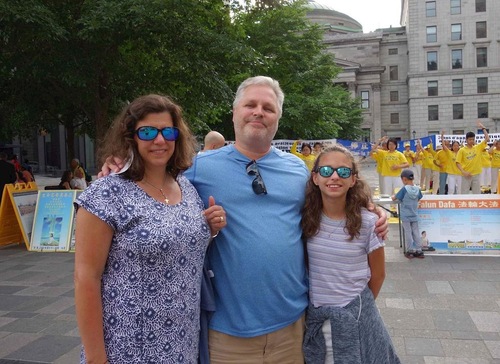 Mr. Steve Hecht and his family praise Falun Gong's campaign against the persecution.
American tourists Mr. Steve Hecht and his family read the Falun Gong display. Pointing at a painting depicting a girl calling for an end to the persecution, while standing in the rain, Steve's younger daughter said, "It's so sad this is happening somewhere in the world."
Steve said, "It's sad when people are persecuted for their beliefs." His whole family knows about the persecution of Falun Gong because Steve's older daughter had studied in Beijing for a year. She told her family about the CCP's control of the people. She personally admired the Falun Gong practitioners' unyielding spirit. Steve encouraged the practitioners, saying, "I support your activity. It's very powerful!"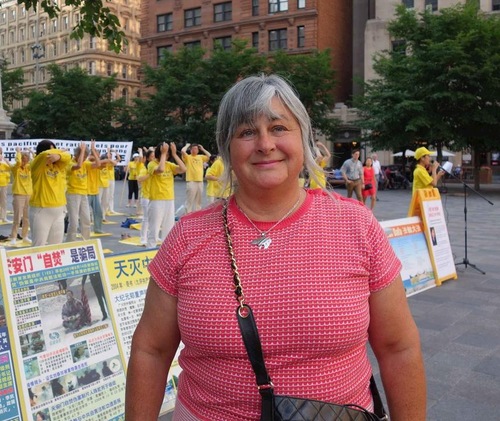 Ms. Ellie Bomar condemns the persecution.
Ms. Ellie Bomar from Texas listened to the experience of Karen's mother with tears in her eyes. She said, "No one should be deprived of their rights to do these exercises. The whole world is watching. I hope China will treat their people better and more fairly. She knew that the recent protests in Hong Kong were an example of the people's resistance to the Communist Party's dictatorship. Communism is terrible!"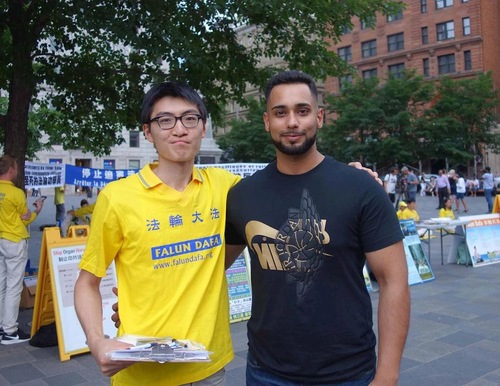 Gasbreet (right) shows his support of Falun Gong.
Gasbreet, a young man from Ontario, was fascinated by the Falun Gong exercises. He approached practitioners to sign the petition. He said, "Meditation is good for everyone. It improves health, elevates the spirit, and gets you closer to the divine and spiritual peace." He said, "I'm opposed to the persecution. Everyone should say 'no'."
As it turned dark, practitioners lit candles and mourned their fellow practitioners who had died from the persecution. The twinkling candlelight and the song Sit Next to Me touched many hearts. It was a ray of hope, brightening the journey to achieve justice.