Taiwan: Teachers and Students from Taiwan Minghui School Introduce Falun Dafa at Ali Mountain
July 16, 2019
|
By a Minghui correspondent in Taiwan
(Minghui.org) During their summer break, students and their teachers from the Taiwan Minghui School went to Ali Mountain on July 6, 2019, and talked to tourists about Falun Dafa. They also did the exercises and took a group photo to send their greetings to Master Li Hongzhi, the founder of Falun Dafa.
Students and their teachers from the Taiwan Minghui School take a group photo as a memento of the day's events and sent their greeting to Master.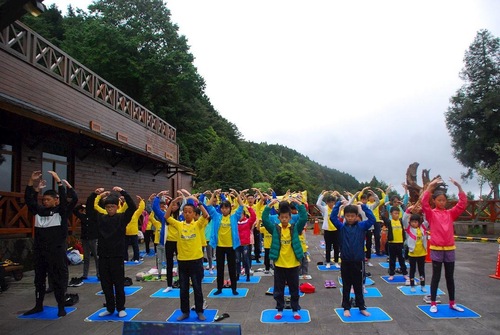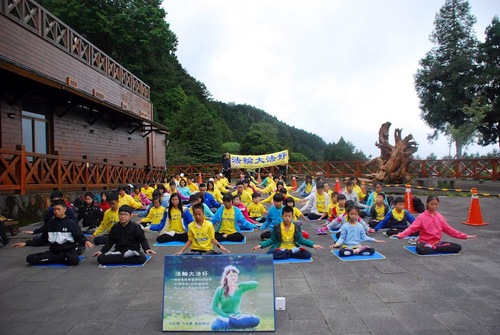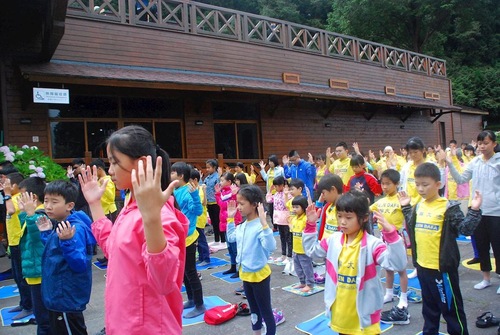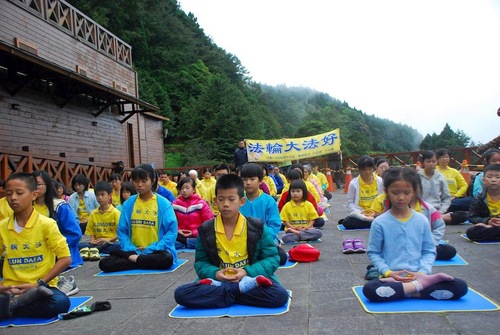 The students do the Falun Dafa exercises at the Ali Mountain Bus Station.
Despite the drizzle, many tourists stopped to watch the practitioners demonstrate the exercises. They were pleased to receive information about Falun Dafa and the paper lotus flowers practitioners made.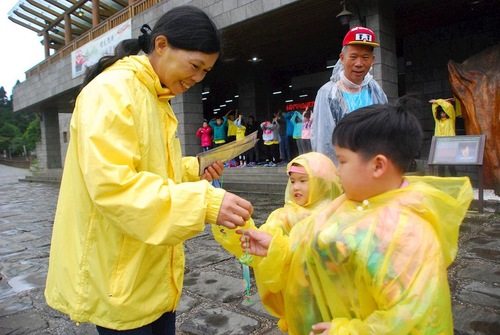 A practitioner distributes introductory flyers and lotus flowers.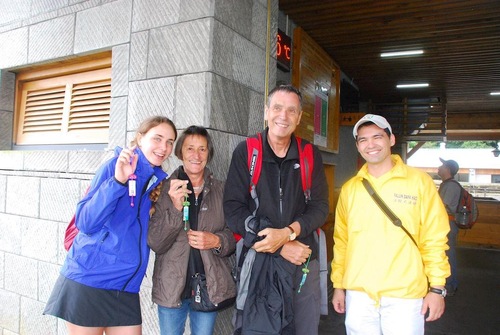 Three tourists from Belgium stopped to talk to a practitioner and asked several questions. They gave practitioners a thumbs-up and said, "Falun Dafa is good!"
Practitioners also demonstrated the exercises and talked to people in front of Shouzhen Temple, a popular tourist spot at Ali Mountain.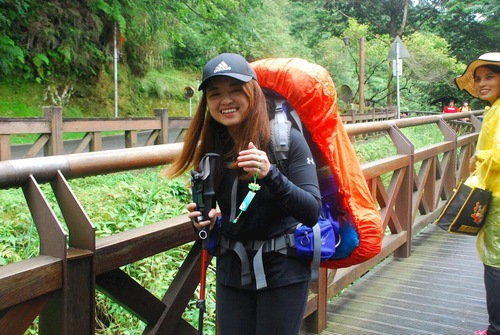 A tourist happily accepts a lotus flower and information about Dafa.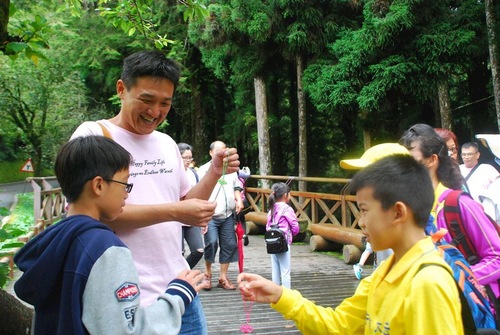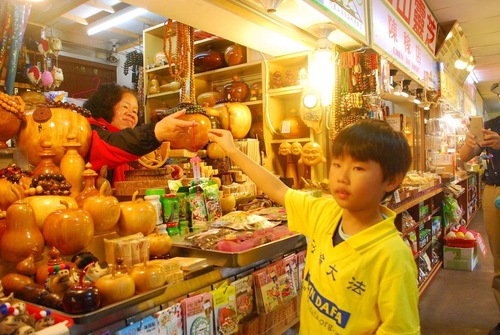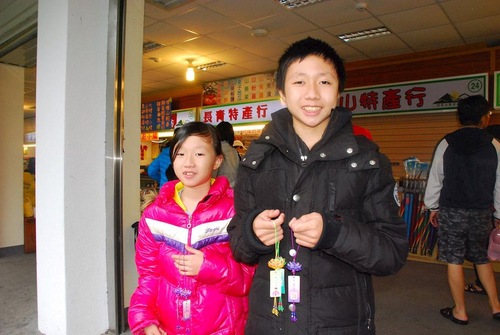 Young practitioners from the Minghui School distribute flyers and lotus flowers.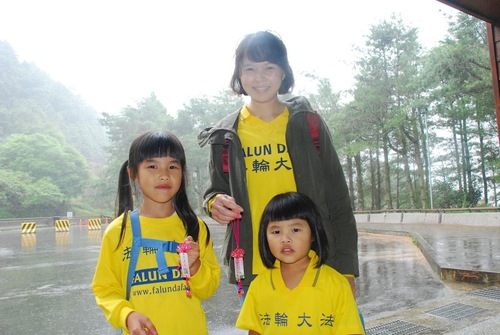 Ms. Wu Lihua and her daughters were excited to participate in the day's activities and talk to tourists.
The young practitioners were happy to participate in the day's activities. One student said, "If more people followed Falun Dafa's principles, the morality in our society would improve." Another said, "I told tourists that Falun Dafa is good!"
Huang, a middle-school-age student, began practicing Falun Dafa with her mother when she was in kindergarten. She said, "Cultivation helps me concentrate better and that has improved my schoolwork. Also, I now remember to put others first in everything I do. I thank Master for giving me wisdom. I'm happy to be here, and I hope to let more people know about Falun Dafa."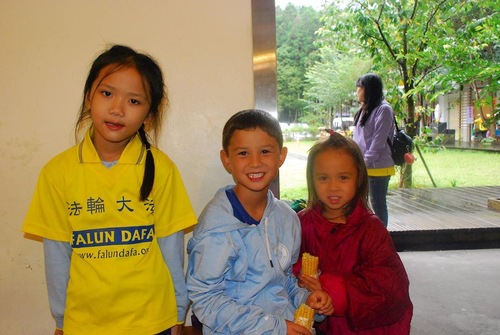 Sijia (first from left), shares lotus flowers with two young tourists.
Mr. Hou Bingchen, an English teacher at the Niao Song National High School, brought his son and daughter to the activity. Bingchen began practicing Falun Dafa when he was in college 19 years ago. He said, "After I began following the principles of Truthfulness, Compassion and Forbearance, I found it was easy to let go of my attachments. When I place others' interests first, I've discovered the situation improves. We're here on our summer break to tell people about Falun Dafa. Many tourists from mainland China come here, and we'd like to clear up any misunderstandings they have. We also want them to know that the self-immolation on Tiananmen Square was staged."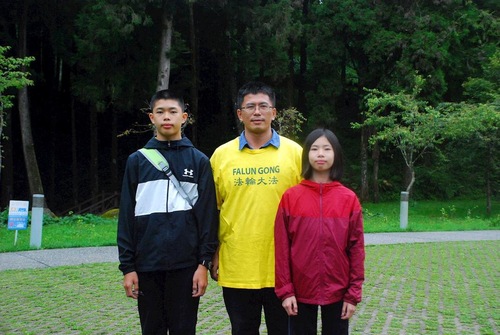 Mr. Hou Bingchen, his son and his daughter.
Mr. Lai Weicheng is an elementary school teacher. He and his wife Ziyi brought their sons to the activity. Mr. Lai said, "Master told us to look within ourselves whenever we encounter problems. Any challenges we encounter in our lives are tests to see if we've let go of attachments. One day, I had symptoms of a stroke, and I was sent to a hospital. I continued to do the exercises in the hospital. Thanks to Master's help, I was able to pass this test."
Mr. Lai Weicheng and his family.
Hong Qingsheng, his wife Jian Shufen, and their two sons started practicing Falun Dafa together. Mrs. Jian said her sons used to get sick pretty often but not as frequently after they began practicing. Her younger son was four when he began practicing, and she was amazed that he no longer needed to take medicine. The couple also noticed that everyone in their family got along better after they began following the principles of Falun Dafa.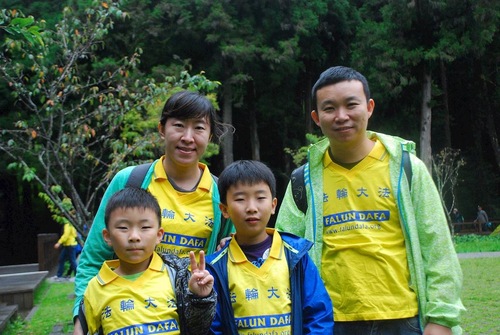 Mr. Hong Qingsheng, his wife Jian Shufen and their two sons. The couple noticed that following the principles of Falun Dafa made their family happier.
Mrs. Jian added, "Participating in these activities gives us and our children an opportunity to tell others how wonderful Falun Dafa is. It's one way we can thank Master."