Practitioners Tortured in Suzhou Prison, Anhui Province
June 27, 2019
|
By a Falun Gong practitioner in China
(Minghui.org) Suzhou Prison has a developed a reputation for its depravity in torturing Falun Gong practitioners, people who live by Truthfulness-Compassion-Forbearance.
There are reports on the Minghui website about the persecution in Suzhou Prison. Because I was imprisoned there, I have first-hand knowledge that I want to share.
Hanging Torture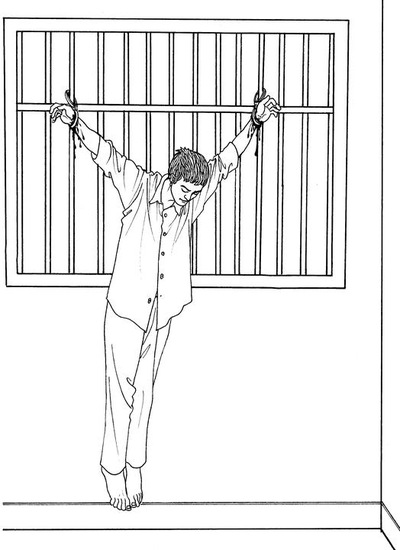 Torture reenactment: Hanging
Mr. Jie Jiaqi, a practitioner from Fuyang City, has been imprisoned in Suzhou Prison twice, once for eight years.
During an inspection by the provincial forced labor bureau, Mr. Jie called out, "Falun Dafa is good! Truthfulness-Compassion-Forbearance is good!"
The guards handcuffed Mr. Jie and hung him from the metal bars of a window for more than 10 days. At the time, Mr. Jie was over 70 years old. Although he grew weaker and weaker, they refused to release him.
The doctor in the prison clinic was ordered to change Mr. Jie's medical record to indicate that, instead of being "healthy," he'd had a "serious illness." They wanted to conceal the fact that they had murdered Mr. Jie, but they were unsuccessful.
Beatings Result in Death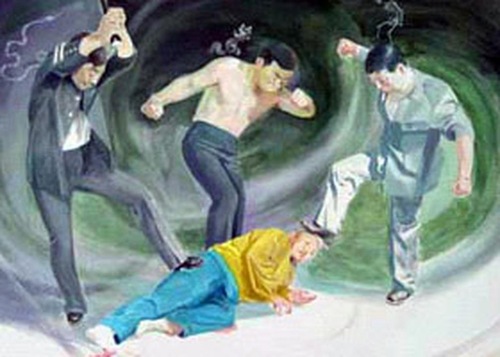 Torture reenactment: Striking and kicking
Mr. Bai Jie from Bozhou City was detained in Suzhou Prison from March to April 2017. Several convicted criminals were ordered to monitor him.
He was not allowed to talk to other practitioners or sit on the bed at night. The inmates often beat him, which elevated his blood pressure to dangerous levels.
He fell in the restroom and was taken to the prison clinic in the afternoon on April 2017. No one there did anything for him. The next morning, the guards saw that he was still unresponsive, so they transferred him to the Suzhou hospital. The efforts to revive him were too late, and he died that day.
While the guards deliberately caused Mr. Bai's death, they used surveillance footage to claim that they had tried to save him. In fact, the video was taken the next morning, after Mr. Bai had been transferred to the clinic. The inmates commented, "The CCP is so ruthless. Bai Jie was actually murdered."
Falun Gong practitioners were often put into solitary cells.
A newly-arrived practitioner like Mr. Li Jikong, who was over 70, would be placed in an isolation cell. Mr. Li, from Bozhou, was sentenced twice to prison for more than 10 years. He was held in solitary for 90 days during his first term and about 9 days during his second term.
There are about 20 male Falun Gong practitioners currently detained in Suzhou Prison. They are being tortured relentlessly.
Call for Information
Anyone who has been detained there and knows additional details, please provide them to the Minghui website. We must help stop the torture in this prison.