(Minghui.org) I am a 70-plus-year-old Falun Dafa practitioner from Finland. I attended the 2018 European Fa Conference in the Czech Republic, where I learned a great deal from fellow practitioners, who inspired and encouraged me.
Registering to Participate in the Grand Parade in Switzerland
On the last day of the conference, there was a meeting regarding raising awareness of the persecution of Falun Dafa and the importance of quitting the Chinese Communist Party (CCP) at a scenic spot. Practitioners shared their experiences, dedication, and perseverance, which left me with a great impression.
Before closing, it was announced that there would be a grand parade in Zurich, the largest city in Switzerland, on October 5, 2018. They encouraged more practitioners to attend and said the more the better. I thought that this was an important event, and since I was retired and did not have to hurry back to work, I was the first one to register.
A fellow practitioner who knew me asked, "I thought you already purchased the flight back to Finland. If you go to Switzerland, you would have to purchase a new flight and waste the other ticket. Plus, the parade is going to be long, can you handle it? Things cost a lot more in Switzerland, is it worth it? Are you aware of all that?"
I believed the fellow practitioner's inquiries were to firm up my righteous thoughts. I am a Falun Dafa practitioner, helping Master to rectify the Fa. What should I prioritize? Should I focus on saving sentient beings or consider what it would cost me? Master arranged for me to come to the Czech Republic. As I have a monthly retirement income, it is for me to do well the three things. Thus, the answer was clear.
Would I be able to handle the hours-long parade? I believed I could. Even though I am in my 70s, I get up at around 3:50 a.m. every day to do the Dafa exercises. Then, I send forth righteous thoughts and study Zhuan Falun. After that, I go to tourist sites or the Chinese Embassy to clarify the truth about Dafa and the persecution. After I return home, I study the Fa and send forth righteous thoughts again. I study the Fa with other practitioners at night. Because I am disciplined and keep to my schedule, I am always energetic. I had just participated in a parade in the Czech Republic where we went up to a mountain top and then back down. Besides, I was able to carry a box of Dafa informational materials with me.
After the practitioner listened to my schedule, she said: "You're right. You can do it. I support you."
Meeting Predestined People
Master said, "Validate the Fa with rationality, clarify the truth with wisdom, spread the Fa and save people with mercy..." ("Rationality", Essentials for further advancement II)
Whenever I see Chinese people, I try my best to clarify the truth to them. I would not easily give up on them.
When I arrived in Switzerland and waited in a long line for a bus ticket, I met a young couple from northeastern China. I greeted them and mentioned Falun Dafa. They first said that they did not want to listen to me. Then, the young man asked what the "Tiananmen self-immolation" was about. I told him the it was staged by the Communist Party to slander Falun Dafa and incite hatred toward Falun Dafa practitioners. I pointed out that Falun Dafa prohibits killing and suicide, it self-immolation would go against its principles.
When I opened my banner, several people became interested and listened to me. They took pictures of my banner, and several asked for informational materials about Dafa. During my 30 minutes in line, 10 people took materials, and 8 quit the CCP and its youth organizations, including the young couple.
The young man purchased my ticket for me. Their feedback was moving: "I finally learned what Falun Dafa is about. We were deceived by Jiang Zemin's propaganda. Falun Dafa is good. No wonder people practice it in over 100 countries! Thank you. I will practice it when I return." Some people encouraged me with thumbs up.
Master Helped Me Find the Parade
After I got the bus ticket, I asked people how to get to the parade site, but most were tourists and could not help me. An hour passed, and I wondered what to do. I had many bags with me. If I took a taxi, it would cost 100 euros, but if I took a train and a bus it would be less than 20 euros. I did not speak the language and felt helpless.
I calmed down and asked Master for help, as I had to get to the parade on time. Then, an elderly man appeared. I showed him the address, and I also called a Swiss practitioner on my phone to help translate. The man helped me find my bus but noticed that my ticket was expired, so he purchased another one for me. He then stayed with me through the train and bus rides all the way to the parade site! I was deeply moved and gave him Dafa informational materials in both languages.
I arrived to see a practitioner who had come to pick me up. Everyone was gathering for the parade, which would start in under half an hour. I felt that Master was always by my side.
Tourists Learn About Dafa at the Lion Monument
The next day, the Tian Guo Marching Band went to perform in a most beautiful city–Lucerne. Some of us also went there. We distributed Dafa brochures, talked to people about Dafa, and persuaded Chinese people to quit the CCP. I walked toward the Lion Monument while holding my banner.
Around noon, the band finished its performance, and we planned to go to another tourist attraction, the snowy Titlis mountain. Several of us practitioners took a cable car up. There was a lake in the middle of the mountain, and one could rent a boat. However, we took another cable car up to the peak, which was more than 10,000 feet high. One could only see clouds around the mountain. It was my first time being on such a high mountain. There were many tourists from China, and we told them about the persecution of Falun Dafa.
On the third day, the practitioners went home, and I was the only one left. I went to the Lion Monument again. There were groups of tourists, and I opened my banner and put brochures on the side. Many tourists took the fliers, learned about the persecution, and agreed to quit the CCP. A tourist from Taiwan said I was doing a good thing and wanted to take a picture. I gave him my phone, and he took great pictures. He told me that he was a professional photographer!
There were many tourists from two to eight o'clock. A local practitioner saw me and was deeply moved. We had dinner together at my hotel.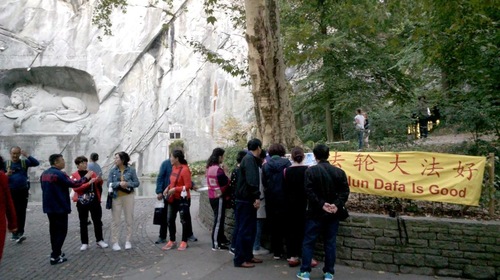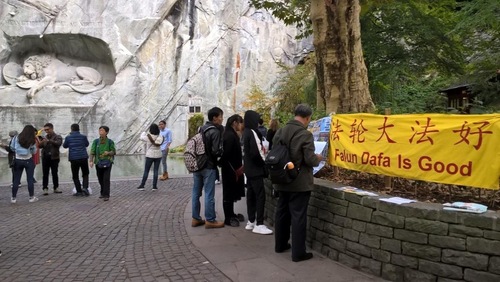 Tourists read exhibit boards at the Lion Monument in October 2018.
I went there again at around 8 a.m. the next morning. Many tourists were already there. I hung up my banner and put out my brochures. Many Chinese people read the banner "Falun Dafa is good" and said, "Wow, Falun Dafa is here too? You are brave. You would be arrested if you were in China!"
I replied, "Folks, welcome to this tourist site. Please take your time to learn the truth about Falun Dafa. Falun Dafa is practiced in over 100 countries. It is only persecuted in China. It teaches people to live by the principles of Truthfulness-Compassion-Forbearance. Don't be deceived by the CCP's propaganda."
A tour guide came to look at the banner. I greeted him told him the basic facts about Falun Dafa. I asked him to encourage his tourists to learn the facts and take the materials. I also wanted to help him quit the CCP. He told me that he needed to learn a little more before he would make his mind. He also told me that he would return tomorrow. This was his first time to hear the facts since he became a guide for Chinese tourists.
My hotel was close to the monument, so I went there at 8 a.m. and went back to the hotel around noon. I went back out around 2 p.m. and returned to the hotel after 8 p.m. Since it was October, there were a lot more tourists from China.
On the last day, the tour guide indeed returned! He told me that he had learned the truth and wanted to quit the Communist Youth League with his real name. I was delighted and helped him. I asked him to bring more tourists so I could help them as well.
A middle-aged woman said, "I don't dare to do that. What if they arrest me when I return home?" I told her, "I can help you quit the CCP with an alias. You made a vow when you joined the Party that you would give it your life. You don't want to be the scapegoat for all the crimes it has committed. That is why I want to help you."
She was once a member of the Youth League, so I made a pseudonym for her, "Golden Phoenix." I told her, "Remember 'Falun Dafa is good' and 'Truthfulness-Compassion-Forbearance is good.' You are a golden phoenix, and no matter where you go, you will have the blessing and protection of Buddhas."
A tourist said: "Is it that simple? Then count me in, my name is so-and-so." Another added, "My name is Liang, and I am a Party member. Help me quit too." And more: "Add me in please, my boss just did it."
Someone asked the tour guide, "Hey, did you quit?"
He smiled and said, "I was the first one!"
"Oh, how come you didn't tell us?"
"It's not too late. I heard it before but couldn't find the person to help me. Now we have the opportunity. Don't miss it."
I got busy all of a sudden. The tour guide helped me write down the names of the people who wanted to quit the CCP–16 in total!
The trip was well worth it. I stayed several more days in Switzerland and spent a few hundred euros, but I gained so much along the way! Thank you, Master, for making it possible for me!