Chinese Regime Withholds New Passport from Falun Gong Practitioner in Denmark
June 14, 2019
|
By Wei Zaiqun, a Falun Dafa practitioner in Denmark
(Minghui.org) My name is Wei Zaiqun. I am a Chinese who married a Dane in 2004 and have since moved to Denmark. I was introduced to Falun Gong in 2006 and became a practitioner then. I benefited tremendously from practicing Falun Gong and introduced it to my family. My mother and two sisters became practitioners. However, such a wonderful practice is persecuted in China and the persecution has extended overseas; the Chinese Communist Party has refused to give me a new passport.
Chinese Embassy in Denmark Refused to Issue a New Passport
I went to the Chinese embassy in Denmark on March 22, 2018 to apply for a new passport, as my current one will expire soon. I was given a receipt to collect the passport on April 12, 2018. I received a phone call from the embassy and was asked to go there for a chat. I met with officials and told them how I started to practice Falun Gong and the health benefits I experienced. I used to suffer from many illnesses, but after practicing for three months, all my ailments disappeared. For 13 years, I have not had to take a single pill or visit a doctor. After the conversation, I was told to go home and wait for further notice.
I made many trips and phone calls to the embassy to inquire about the matter. I was told my passport was not ready and that they'd report the matter to their superiors. I also made several phone calls to speak to the senior officer. The staff member who answered my calls either said the officer was too busy or out of the office.
In December 2018, I finally managed to speak to a supervisor named Qu. He said, "You are not entitled to a new passport according to the law." When I asked him for a reason, he replied, "You should know." He did not tell me which law I had violated or give me any formal documentation. According to Chinese law, practicing Falun Gong is not illegal. They still have not sent me any formal documents stating their refusal to issue a new passport.
Brother-in-law Tortured to Death, Mother Passed away from Trauma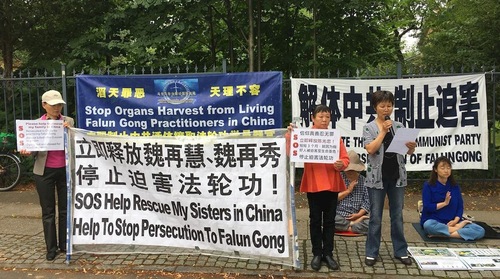 Ms Wei Zaiqun (front row, first on the right) takes part in a protest outside the Chinese embassy in Denmark.
My mother, two sisters and brother-in-law began to practice Falun Gong after seeing the changes in me. They, too, became healthy and peaceful soon after taking up the practice.
Unfortunately, around two dozen police broke into their house in May 2015 without an arrest warrant. They confiscated personal belongings, Falun Dafa books, brochures as well as cash, a computer, printer and other electronic equipment. My sisters and brother-in-law were arrested.
My sisters were sentenced to seven years in prison in February 2017. My brother-in-law was sentenced to three years in prison. They were brutally tortured and interrogated while in custody.
My brother-in-law died in prison from torture just three months after he was arrested. My mother, who is in her eighties, and my brother-in-law's mother became bedridden after learning about my brother-in-law's death. Both of them passed away in 2018.