Falun Gong at the Hats Off Day Parade in Burnaby, Canada
June 11, 2019
|
By Zhang Ran, a Minghui correspondent in Vancouver
(Minghui.org) When Falun Gong practitioners in Vancouver, Canada participated in the Hats Off Day Parade in Burnaby on June 1, 2019, spectators praised the peaceful energy and universal values of Truthfulness-Compassion-Forbearance they displayed. Many people said the message was exactly what society needs.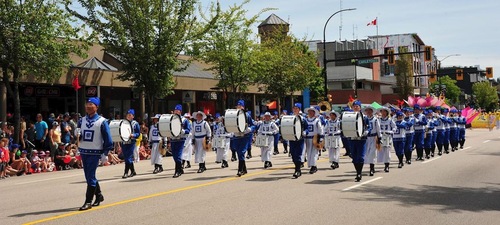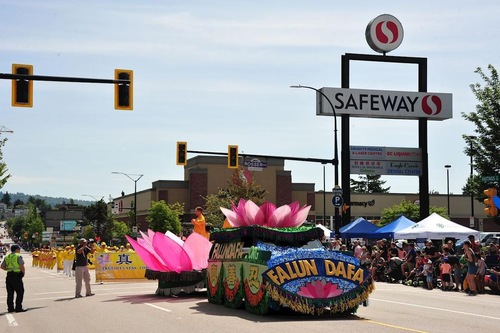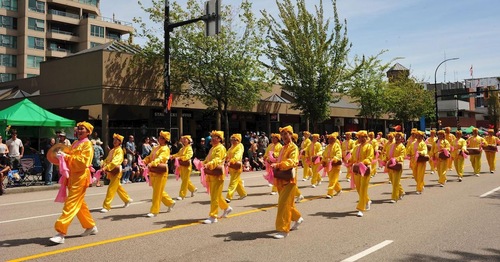 Falun Gong practitioners participate in the Hats Off Day Parade in Burnaby, Vancouver on June 1, 2019.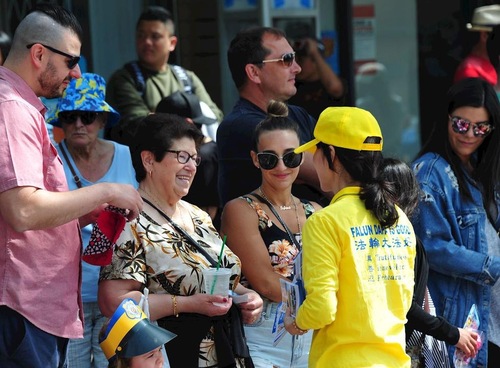 A Falun Gong practitioner distributes flyers to spectators.
Clear skies and warm temperatures brought many people out to watch the parade on Saturday, including many Chinese spectators. Falun Gong practitioners have participated in the parade in previous years, and many people recognized them. People in the crowd could be heard saying, "Falun Gong is coming!" "Their music is great!" "Beautiful float!" and "There are so many people in Falun Gong!" Many people started reading the Falun Gong flyers as soon as they received them.
The Tian Guo Marching Band, the waist-drum troupe, an exercise demonstration team, and a float were all part of the Falun Gong practitioners' procession. Their performances received warm applause throughout the parade route.
Ms. Marie-Josee Lepine, a local resident who volunteers at the city government, said Falun Gong practitioners had a large team and an amazing band and brought traditional Chinese culture to the event, which was very valuable. She appreciated their efforts and said the spectators could feel their peaceful energy.
"The values of Truthfulness-Compassion-Forbearance are so important and applicable today. The modern society has a lot of hatred and pain. The peaceful message of Falun Gong is exactly what we need," she said.
Mr. John Simpson, another local resident, cheered for Falun Gong with a big smile. "Gorgeous! It's great, isn't it?" he said. "They are very outstanding in the parade. The float is beautiful. The drum dance is exciting. I can tell they are promoting peace and beauty. Truthfulness-Compassion-Forbearance are great values. We need them. The more Falun Gong, the better! Their smooth exercise movements look perfect!"
Mr. Vassam is an immigrant from the Middle East. He clapped warmly for Falun Gong as the procession passed. He told the reporter, "It's the first time I have seen Falun Gong in a parade. Their bright colors bring joy. It's beautiful! I really like it. Their slow and smooth exercises look calming. And their belief in Truthfulness-Compassion-Forbearance is great!"