(Minghui.org) May 13, 2019 marks the 20th World Falun Dafa Day and the 27th anniversary of Falun Dafa's first introduction to the public. It is also the birthday of Master Li Hongzhi, the founder of Falun Dafa.
In honor of this occasion, Falun Dafa practitioners in Hong Kong held a rally and parade, in which they spread the message that "Falun Dafa is good" and "Truthfulness-Compassion-Forbearance is good."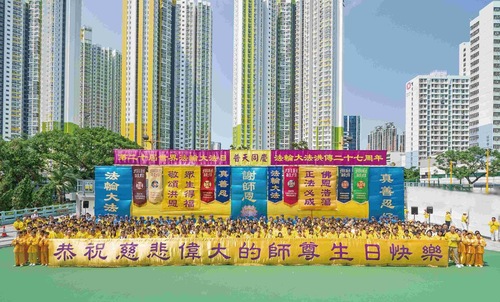 Practitioners rally at the Cheung Sha Wan Playground in celebration of World Falun Dafa Day and the birthday of Master Li Hongzhi.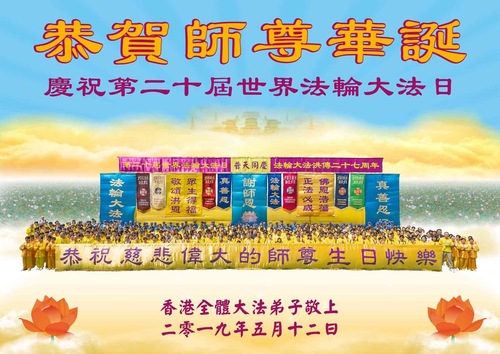 Greeting card presented to Master Li from Hong Kong practitioners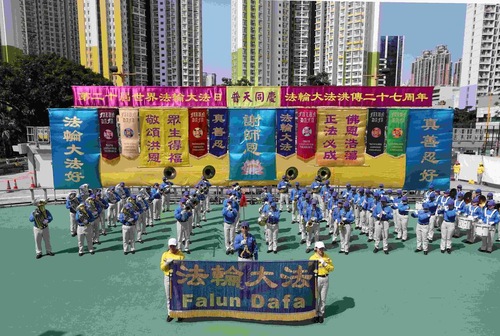 Tian Guo Marching Band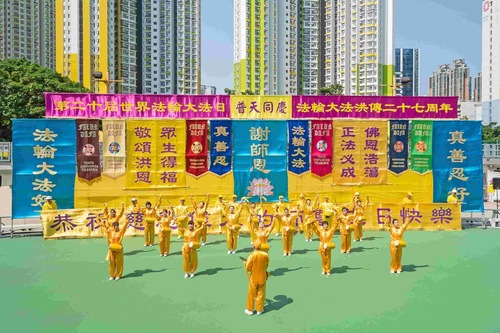 Waist drum team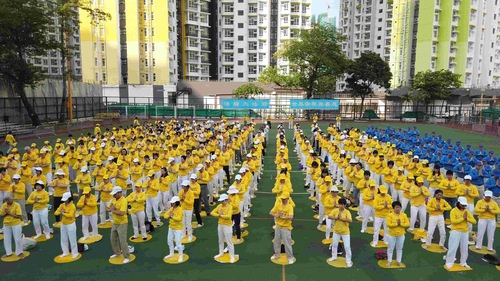 Demonstrating the Falun Dafa exercises
Parade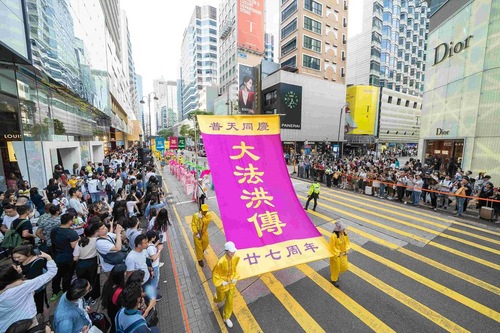 The banner reads, "Dafa Spreads Far and Wide" and "Celebrating Together"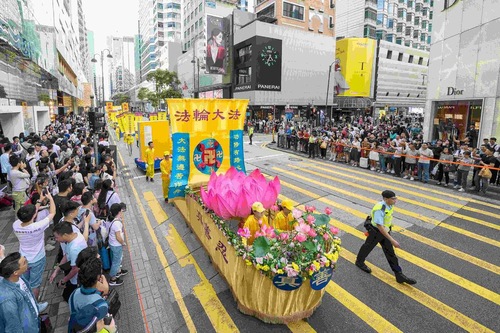 Flower boat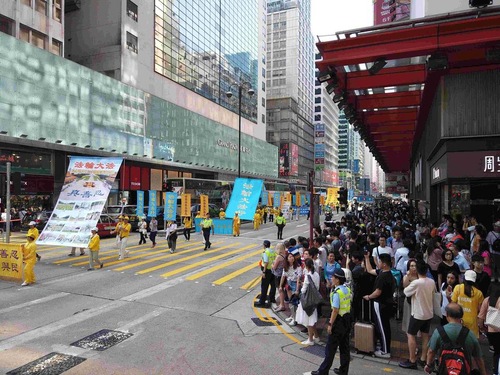 The parade passes through Mong Kok, a bustling business area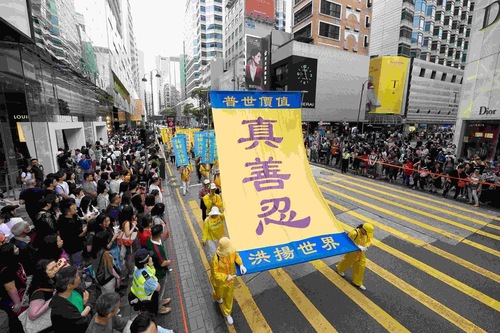 The banner reads, "Truthfulness-Compassion-Forbearance" and "universal values appreciated worldwide"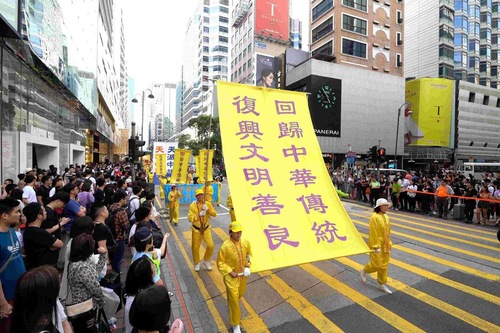 The banner reads, "Return to Chinese traditions, restore civility and kindness"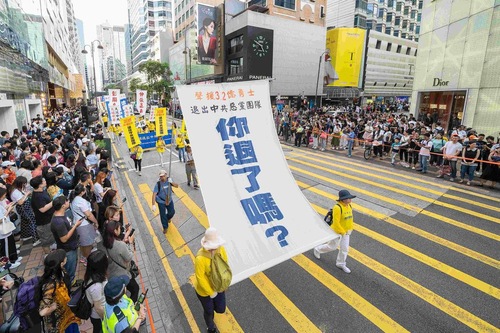 "Have you quit?"–The white banner calls for people to quit the Chinese Communist Party (CCP) and its youth organizations.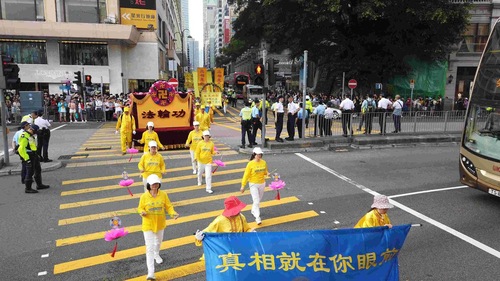 Practitioners carrying lotus flowers
After a week of rainy weather, the celebration ushered in a sunny day. Practitioners went to the Cheung Sha Wan Playground in the early morning to do the Falun Dafa exercises as a group.
The Tian Guo Marching Band and waist drum team kicked off the celebration rally at 9:30 a.m.
Practitioners gathered to wish Master Li Hongzhi a happy birthday before singing songs composed by practitioners.
Recounting Physical and Mental Improvement After Practicing Falun Dafa
Many practitioners talked about how Falun Dafa improved their physical and mental well-being. Their families and friends witnessed their amazing changes, and some of them decided to start practicing Falun Dafa themselves.
Xue Mei began practicing Falun Dafa in 1998 while in poor health. After a fruitless search for a cure, her health improved dramatically. She also recalled that following Dafa's principles Truthfulness-Compassion-Forbearance allowed her to let go of her bad temper. Her family also started practicing Dafa after they saw the changes in her. Xue said she was grateful to Master Li Hongzhi for teaching Falun Dafa to the public.
Elected Officials Congratulate Dafa
Three elected officials expressed their good wishes and appreciation for Mr. Li Hongzhi and Falun Dafa practitioners in honor of World Falun Dafa Day. Their recorded remarks were played at the celebration rally.
Wu Chi-wai, chairman of the Democratic Party and member of the Legislative Council of Hong Kong, thanked Falun Dafa practitioners for their perseverance and sacrifice in pursuit of the universal values of Truthfulness, Compassion and Forbearance for so many years. He hoped that with everyone's concerted efforts, people can truly enjoy freedom of speech, freedom of the press, freedom of assembly, personal safety, and people in China can live without fear.
Lam Cheuk-ting, a Legislative Council member, said all Falun Dafa practitioners should have an environment that gives them freedom of religion and freedom of speech. He also wished Mr. Li Hongzhi a happy birthday and good health.
Richard Tsoi Yiu-Cheong, deputy chairman of the Alliance, hoped that more people would practice Falun Dafa. He praised practitioners for upholding the principles of Truthfulness-Compassion-Forbearance while facing years of suppression by the Chinese Communist Party. He wished Mr. Li Hongzhi a happy birthday.
Tourists from the Mainland Recognize Truthfulness-Compassion-Forbearance
The parade started at 2 p.m. Led by the Tian Guo Marching Band, the procession featured different types of banners, followed by the waist drum team, practitioners dressed as celestial maidens, and other practitioners demonstrating the Falun Dafa exercises.
Because it was a holiday, many citizens and tourists from China stood along the parade route. Some took photos and videos of the parade to share with their friends and relatives.
Many said it was their first time to see a parade by Falun Dafa practitioners. "Impressive! The event is so big!" said a young mother pushing a baby carriage with her friends.
Some Chinese tourists announced their withdrawal from the Chinese Communist Party (CCP) during the parade. According to Ms. Tan, a Falun Dafa practitioner who volunteers to help people quit the CCP and its youth organizations, many people read the banners, understood the reason for quitting the Party, and readily agreed to quit after she talked to them.
The parade ended at Tsim Sha Tsui Star Ferry Pier at 5 p.m., ending the day's celebrations.