(Minghui.org) More than 10,000 Falun Dafa (also called Falun Gong) practitioners from over 50 countries held a series of activities in New York City last week, celebrating the 27th World Falun Dafa Day. The activities included a grand parade, group exercises, a character formation, and an experience sharing conference. Practitioners from various countries and cultural backgrounds shared their cultivation stories.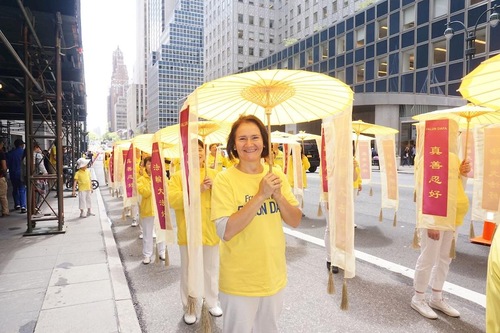 Isabelle from France participated in the parade on Thursday in Manhattan. She says practicing Falun Gong made her family life harmonious.
Isabelle Meyer began practicing Falun Gong 20 years ago. She said that the practice has taught her many things and helped her see what is important in life.
Isabelle said that in today's society many couples become separated or divorced, and family structure is out of balance. As a mother and wife, her family members have a great relationship with one another and she believes that this is because she practices Falun Gong. In this chaotic society, Falun Gong taught her children the values of Truthfulness-Compassion-Forbearance and Isabelle feels this is very important.
"Cultivation has helped me become mature," said Isabelle. "I am very happy to be here so that I can tell people about the benefits that Falun Gong has blessed me with over the years."
Isabelle is also glad to have a chance to expose the persecution of Falun Gong. She said that New Yorkers and the entire world should know about the persecution, especially the state-sanctioned organ harvesting in China. She believes that Falun Gong benefits all of mankind and that it is very sad that the Chinese Communist Party is persecuting practitioners and misleading the Chinese people.
"I hope that they will stop listening to the Chinese Communist Party's lies about Falun Gong," she said.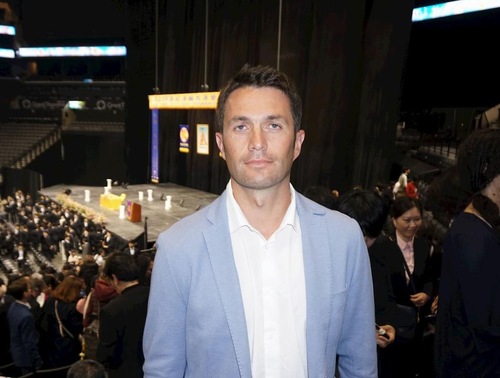 Marc Antoine, 39, is from the Brittany region of France. He used to be very anxious before he found Falun Gong 22 years ago, and is grateful for all the positive changes he's experienced.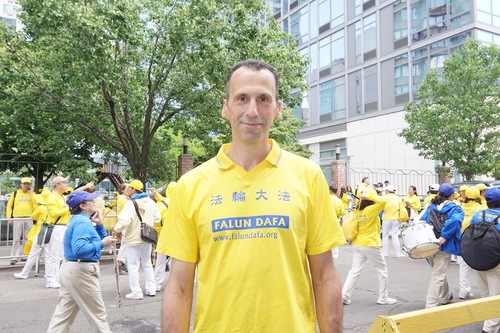 Sami started practicing Falun Gong in 2008. He used to be very introverted and lonely. After he began practicing, he became outgoing and cheerful. His mother was very happy to see these positive changes.
Sarita Modmesaip from Guadeloupe said, "Falun Gong is the most beautiful thing in the world. It is the treasure of mankind. The Chinese regime must stop persecuting practitioners. I hope that all Chinese can understand the truth."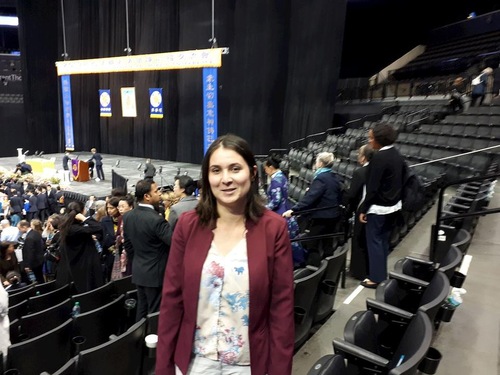 Camille from France said that practicing Falun Gong helped her to become calm and peaceful. Her once hot temper has disappeared.
Camille Avias began practicing Falun Gong two years ago. She said that she noticed dramatic, positive changes almost immediately. She now feels energetic and light.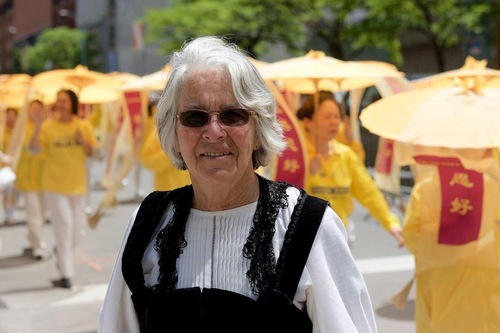 Ruth from Switzerland hopes that more Chinese people can know what Falun Gong really is. "It's wonderful to be here in New York and tell everyone about Falun Gong," she said.
Ruth Ulrich from Switzerland was excited to participate in the grand parade and said, "I feel really good. I feel an incredibly powerful energy field. It's wonderful to be here in New York. Along with practitioners from around the world, I've come to New York to tell everyone about Falun Gong and our peaceful resistance," Ruth said.
Ruth had always looked for something spiritual and 22 years ago her son introduced her to Falun Gong. She has felt happy practicing ever since.
Ruth and Ursula, another Swiss practitioner, have been holding events at a famous tourist spot in Luzern for the last five years to tell people about Falun Gong and the persecution in China.
Ursula said, "I have learned a lot by organizing these events and talking to tourists. I feel that Chinese tourists' attitudes have begun to change. The tourists from mainland China used to avoid us in the beginning. Now they are open to us, and I can talk to them. But unfortunately many Chinese people are still deceived by the Chinese Communist Party and have misunderstandings about Falun Gong. This is really sad."
Ursula hopes that the Chinese people can open their hearts and see the true situation. "We are not against China. We just want to tell people about the persecution of Falun Gong."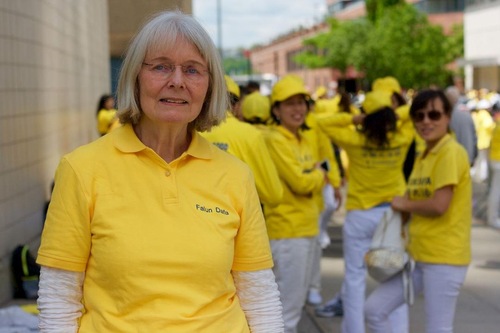 Christine from Germany said, "I hope more people can know how great Falun Gong is and how many countries it's practiced in." Despite being 68 she said she felt very energetic after the parade.
Christine Riese, 68, is a retired speech and language therapist from Germany. "We hope to let more people know about Falun Gong, and how great and diverse it is," she said. "This parade is truly spectacular! Many passersby stopped and watched with great interest."
Christine began to practice Falun Gong in 2002. She explained, "After I began following the principles of Truthfulness-Compassion-Forbearance my family members noticed great positive changes in me."
She often participates in various events held in Germany, and said, "We need to let more people know about Falun Gong and expose the persecution. We also need to let people see the beauty of Falun Gong, and learn about the principles of Truthfulness-Compassion-Forbearance. People listen to us very seriously during our events. They can feel our peacefulness. It feels wonderful."
Christine feels sad that many Chinese people still don't understand Falun Gong. "Please learn the truth. Please look at Falun Gong's websites. Don't be deceived by the Chinese regime's lies," she said.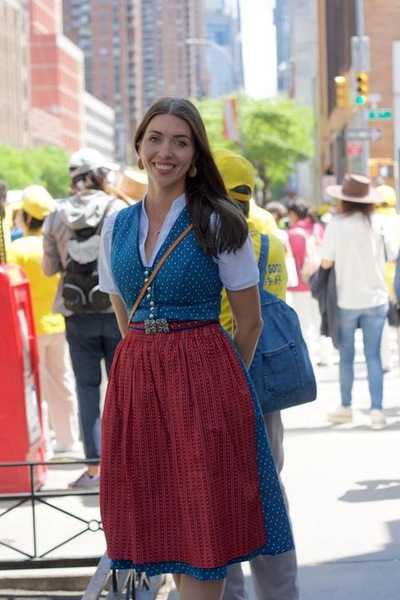 Johanna Schwaiger from Austria said, "I feel particularly fortunate to be here today! I'm wearing a traditional Austrian costume to represent all Austrian practitioners in this parade. People watched as we passed. Everyone waved to us, and we waved at them. The parade is very beautiful."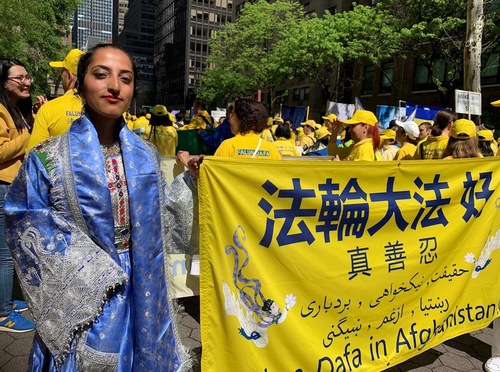 Jeela Jamili from Afghanistan has been practicing Falun Gong for 13 years. She said that the principles of Truthfulness-Compassion-Forbearance are very powerful.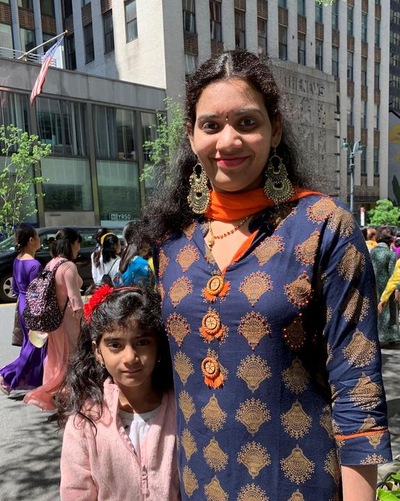 M. Suneela from India just began practicing and said, "I now feel at peace and relaxed. My husband, who has practiced for a long time, introduced Dafa to me. When I do the exercises, my heart is full of joy and positive energy."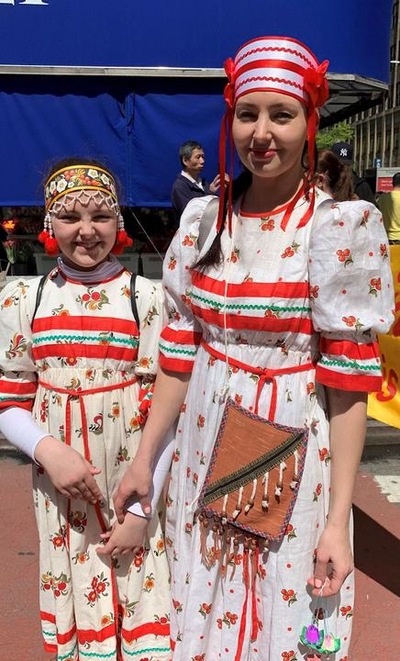 Ksenya and her daughter Yana from Russia have practiced for more than a decade. "Cultivation has improved the relationship between me and my husband," Ksenya said. "When I changed and became compassionate, I noticed that he also changed. I am so fortunate to have found Dafa."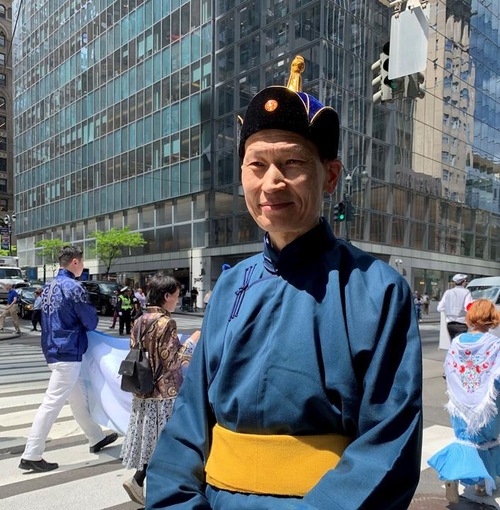 Bayar from Mongolia started practicing in 2007 and said, "Dafa has significantly improved my health and my outlook on life." He looks forward to the day when the persecution ends. "My fellow Mongolians are persecuted if they practice Dafa. Freedom of belief is very important."
Rakeshi Nayak from India said, "A few years ago my wife mailed me a special gift from the U.S. It was a copy of Zhuan Falun (the main book of Falun Gong). When I began reading it, I could not put it down. As soon as I opened the book, I saw the words Truthfulness-Compassion-Forbearance. I knew I'd found what I had been looking for. My family and I need these principles."