(Minghui.org) Falun Dafa (also called Falun Gong) practitioners in Ukraine, Russia and Poland celebrated World Falun Dafa Day on May 13 to commemorate the 27th anniversary of Falun Dafa's introduction to the public, and to wish Master Li Hongzhi, the founder of Falun Dafa, a happy birthday.
Ukraine: Kiev, Kharkiv, Odessa
The celebrations in Ukraine were held in Kiev, Kharkiv and Odessa on May 11 and May 12.
Practitioners in Kharkiv were invited to participate in an art performance in a cultural theme park in downtown Kharkiv. They presented a colorful World Falun Dafa Day celebration on stage with a waist drum dance, and an introduction as to how Falun Dafa and traditional Chinese culture has brought change to the world.
Their performance received warm feedback from the audience. Many took pictures and videos of this joyful celebration.
Children learned how to fold paper lotus flowers, and listened to practitioners' explanation about the meaning of the lotus flower in Chinese culture. They were excited to see the dragon dance and wanted to take pictures with practitioners. The sponsor of the event invited practitioners to come again next year.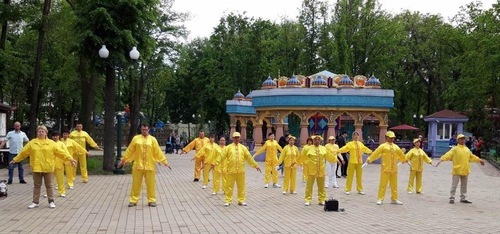 Falun Gong practitioners in Kharkiv demonstrate the exercises.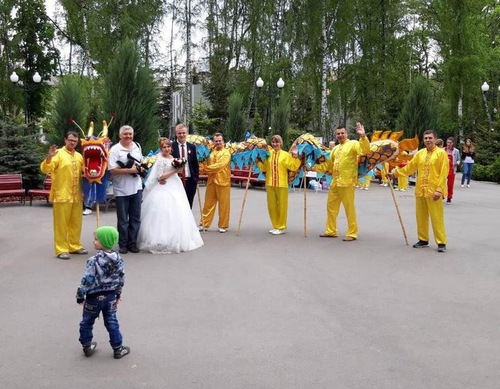 A bride and groom take pictures with Falun Gong practitioners.
Falun Gong practitioners' waist drum team picture was put on the website of the event organizer.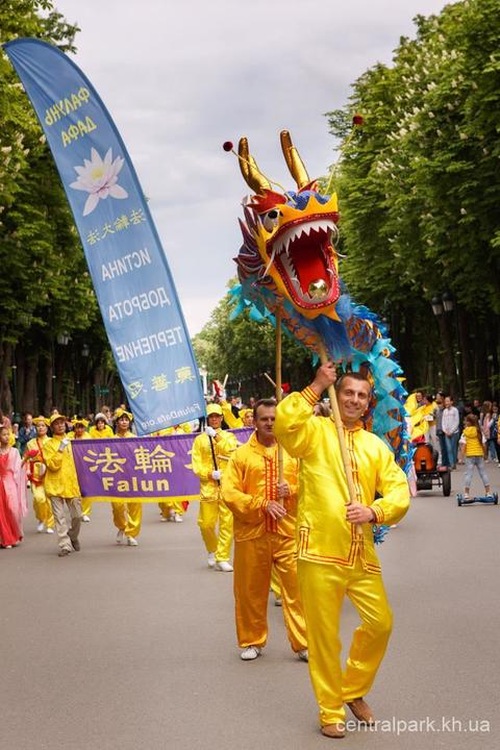 Dragon dance picture on the website of the event organizer
Practitioners in Kiev also celebrated this special day with a dragon dance, waist drum dance, and exercise demonstration in the busy downtown area on May 12. The performances attracted tourists and local residents who got a chance to learn about the benefits of Falun Dafa, and express their support. A tourist couldn't help saying, "What you are doing is marvelous!"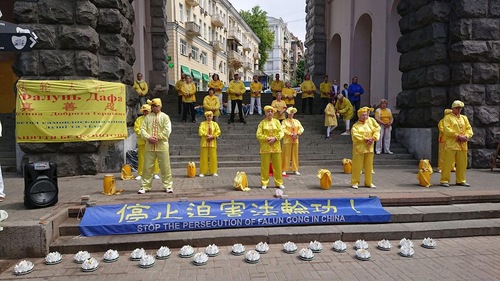 Falun Gong exercise demonstration in Kiev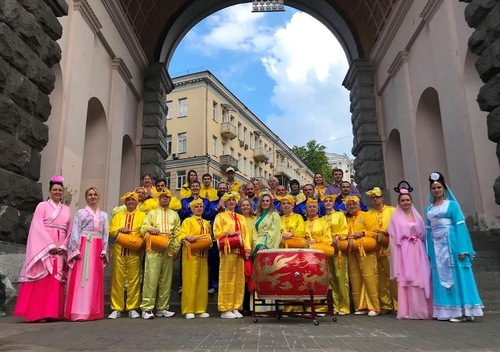 Falun Gong practitioners at the celebration
Moscow, Russia
Practitioners in Moscow celebrated World Falun Dafa Day with a parade in Sokolniki park on May 11. There were practitioners dressed as celestial maidens, others demonstrating the exercises, still others wearing Tang Dynasty costumes, a dragon and a lion dance, and a waist drum team.
As they walked along the main road of the park, the tourists could hear the music "Falun Dafa Is Great." Many came to watch the parade and took pictures. They were happy to receive paper lotus flowers on which were printed "Falun Dafa Is Great" and "Truthfulness Compassion Forbearance."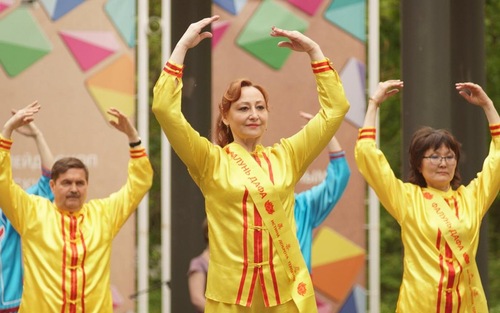 Exercise demonstration on stage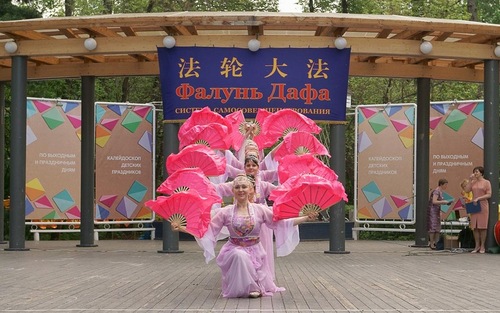 Practitioners' dance performance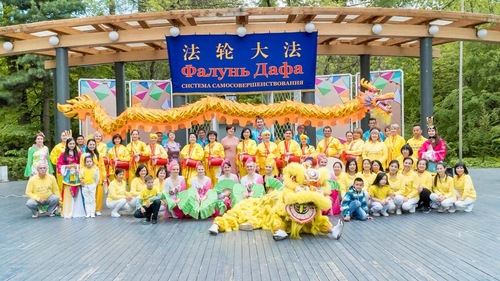 Falun Dafa practitioners wish Master Li a happy birthday.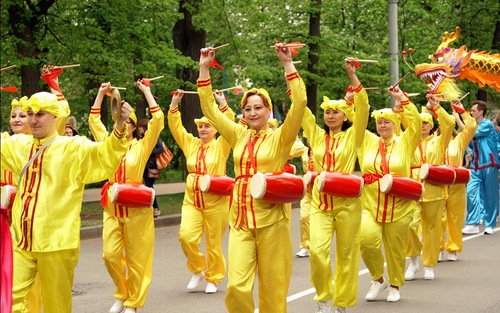 Waist drum team in the parade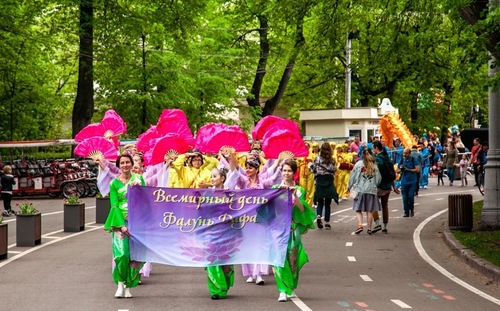 Beautiful parade with music and dance in Sokolniki park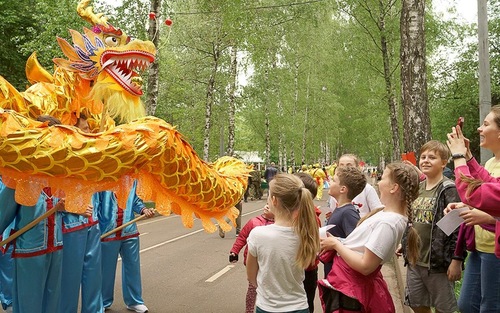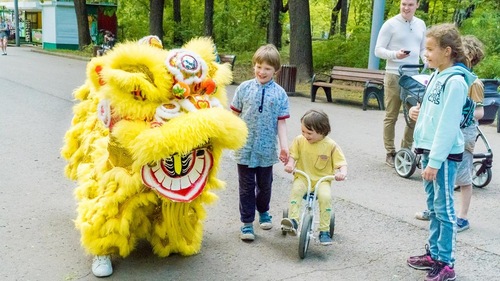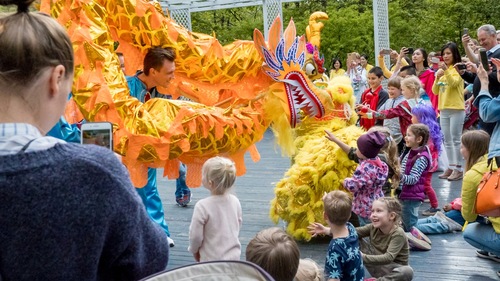 Adults and children love the dragon and lion dances.
After the parade, practitioners performed on the stage of the park. The host told about Falun Dafa's ancient origins, its great health benefits, and the principles of cultivation. Practitioners presented dances including "White Lotus," "Ethnic Dance of Xinjiang," "Udumbara Flowers," "Fan Dance," and "Umbrella Dance." The audience was fascinated and warmly praised after their performances.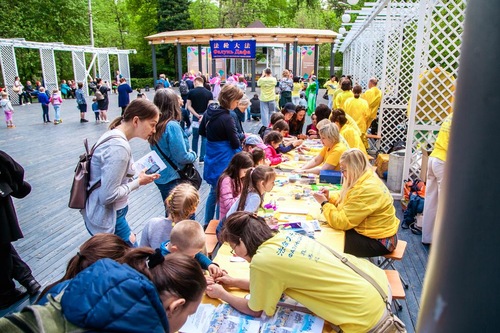 Falun Gong practitioners teach children how to fold paper lotuses next to the stage.
Many people became interested in learning Falun Gong after watching the exercise introduction and demonstration. Some learned the exercise movements on the spot.
Warsaw, Poland
Practitioners in Warsaw held a group Fa study, a group exercise session, and introductory activities in Old Town on May 12. They celebrated World Falun Dafa Day and sent Master Li a happy birthday greeting.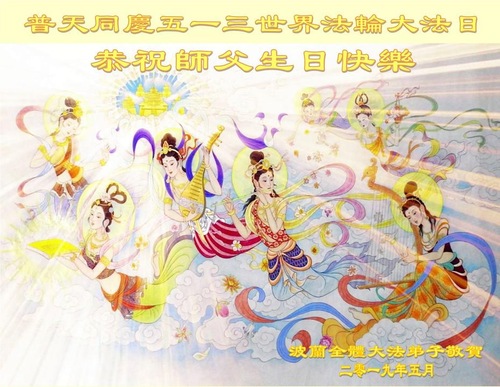 Polish practitioners' birthday greeting card to Master Li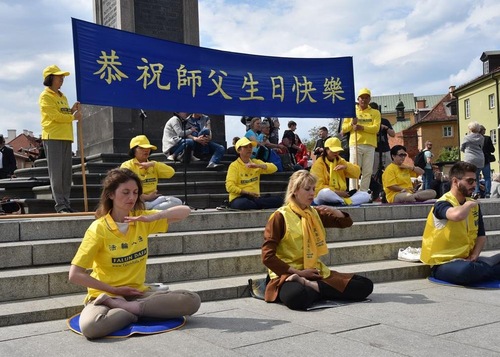 Practitioners in Poland demonstrate the Falun Gong meditation exercise in Warsaw Old Town.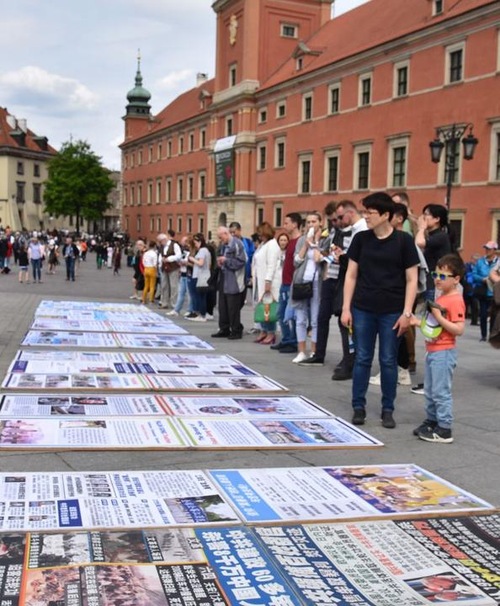 Tourists read Falun Gong information.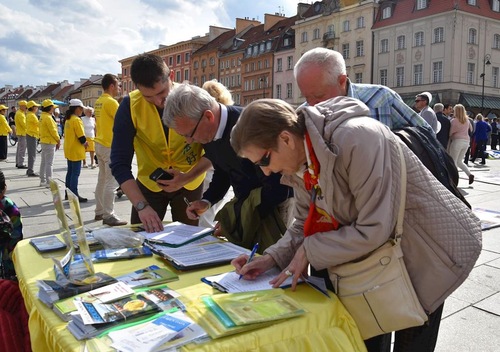 Tourist sign the practitioners' petition to condemn the Chinese Communist Party's persecution of Falun Gong.