(Minghui.org) Falun Dafa practitioners celebrate May 13 World Falun Dafa Day every year, which is the 27th anniversary of Falun Dafa's public introduction, as well as the birthday of Master Li Hongzhi, the founder of Falun Dafa.
Practitioners in Philadelphia, Los Angeles, Chicago and Dallas held celebratory activities, and received proclamations and congratulatory letters from their local government officials.
Philadelphia
A group exercise and a rally were held next to the Liberty Bell in Philadelphia on May 11. Twenty-two elected officials from Pennsylvania and Delaware had issued proclamations or congratulatory letters to the event, including Governor Tom Wolf, Governor John Carney, U.S. senators and house representatives, state senators and house representatives, the mayor of Philadelphia and city councilmen.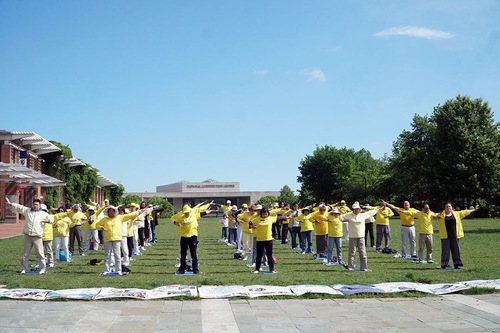 Falun Dafa exercises
Alex, the host of the rally, spoke of the introduction of Falun Dafa in 1992, the persecution of Dafa practitioners by the Chinese Communist Party (CCP) and how Falun Dafa had benefited millions of people in over 100 countries.
Pennsylvania State Representative Mary Isaacson gave a speech at the rally and issued a proclamation to Falun Dafa practitioners. She said during her speech that she was especially happy to join the celebration of World Falun Dafa Day at the Liberty Bell, which symbolize the freedom of belief in the United States. She expressed her appreciation to the Falun Dafa Association for bringing the traditional culture to Philadelphia. She urged everyone to remember that people have been deprived of their freedom of belief in China, and hoped Truthfulness-Compassion-Forbearance would guide everyone in their daily life.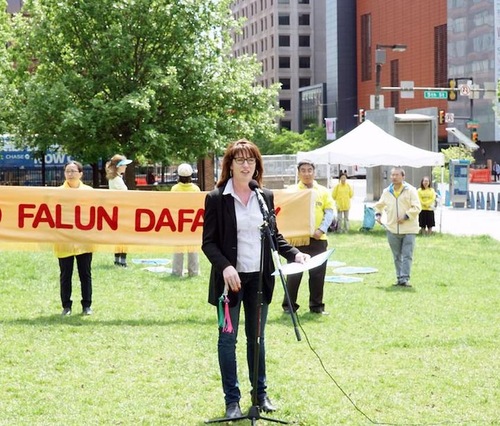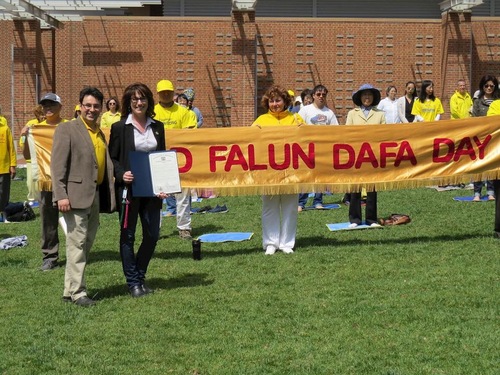 Representative Mary Isaacson gives a speech at the rally and issues a proclamation to Falun Dafa practitioners.
Los Angeles
Practitioners in Los Angeles celebrated this special day at the Santa Monica Pier, a famous tourist site in Southern California on May 12. They held an exercise demonstration, and dance and music performances to celebrate this special day.
Practitioners in Los Angeles send a happy birthday greeting to Master Li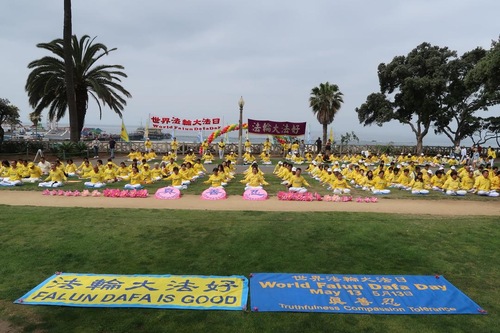 Group exercise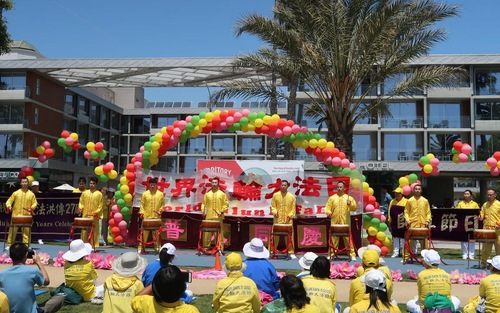 Art performances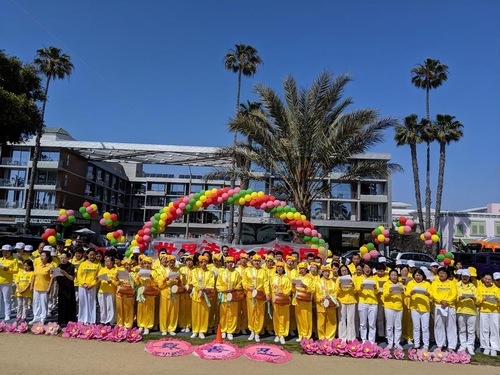 Falun Dafa choir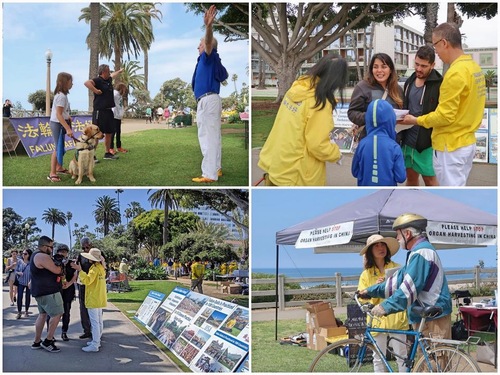 Tourists learn the Falun Dafa exercises, and sign a petition to support practitioners' call to end the persecution in China.
Many tourists learned the facts about Falun Dafa and the persecution in China by reading the displays, informational fliers, and by talking with practitioners. Some people learned the exercises on the spot.
Chicago
Practitioners in Chicago held a group exercise and introductory activities at Buckingham Fountain on May 11 to celebrate World Falun Dafa and Master Li's birthday.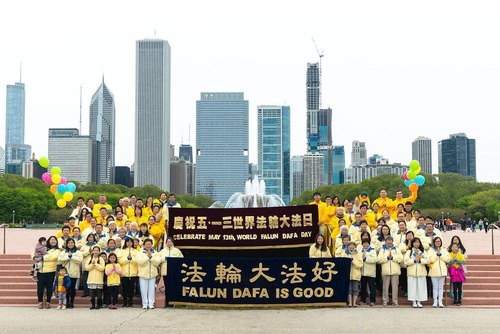 Falun Dafa practitioners in Chicago celebrate World Falun Dafa Day and Master Li's birthday.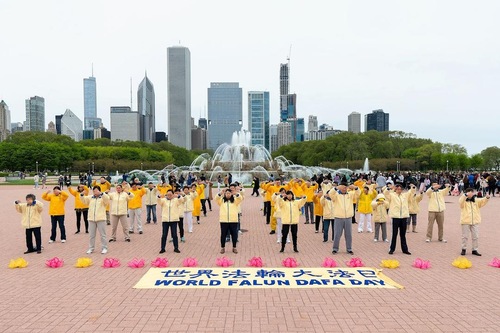 Group exercise at the Buckingham Fountain
As a landmark of Chicago, large crowds of tourists from all over the world come and see the Buckingham Fountain every day. During the Falun Dafa activities on May 11, tourists from Scotland, Germany, Belgium, Laos, Malaysia, and different parts of the United States learned about the benefits of Falun Dafa from practitioners.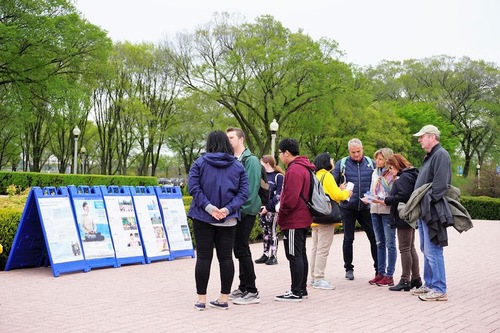 Tourists stop to learn about Falun Dafa
Many people were attracted to the beautiful exercises and the soothing music. Slina from Indiana said she had been looking for a stress-relieving exercise. She was very interested in Falun Dafa and planned to learn it when she got home.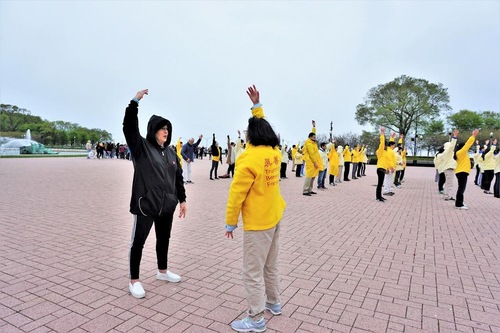 Julie from Minneapolis learns the Falun Dafa exercises on the spot.
Dallas
Despite the rain, Falun Dafa practitioners in the Dallas-Fort Worth area held a group exercise and celebration in Russell Creek Park of Plano on May 11.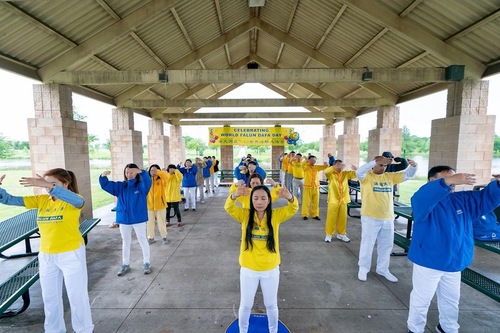 Falun Dafa group exercise in Russell Creek Park.
Ever since Falun Dafa was introduced to Dallas-Fort Worth in 1996, more and more people have started to learn this self-cultivation practice. They feel fortunate and thankful to Master Li.
Ms. Li, a local practitioner, said her entire family benefits from practicing Falun Dafa. Her daughter became a very thoughtful person ever since she started following the Dafa principles of Truthfulness-Compassion-Forbearance.
Ms. Li said, "When her daughter's classmate's mother was critically ill and she was asked to come home right away, even though it was night time, my daughter drove for four hours to take her classmate home so she could see her mother before she passed away. My daughter drove back to her college on the same night so that she could make it to the final exam."
She continued, "More people in my family have begun to cultivate in Falun Dafa. We encourage each other to cultivate diligently and help Master with the Fa rectification. We would like to wish Master a happy birthday!"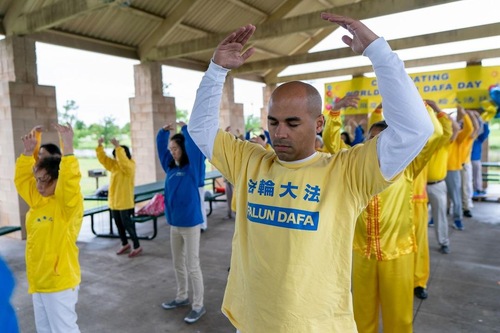 Practitioner Jason at the group exercise site
Jason started cultivating a couple of years ago. This is the first time he participated in the celebration of World Falun Dafa Day.
He said, "I started cultivating after I read the book Zhuan Falun, the main book of Dafa, and Falun Gong, the introductory book. I have personally experienced what Master has described in the books."
More importantly, Jason found answers to his questions about life and the universe from the books. He was very thankful to Master and thrilled to celebrate this special day with his fellow practitioners.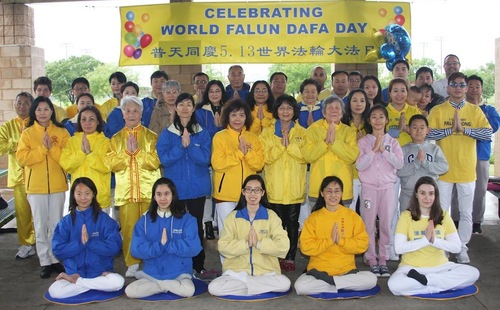 Practitioners in Dallas-Fort Worth wish Master a happy birthday.
Chinese language articles of the individual cities:http://www.minghui.org/mh/articles/2019/5/15/费城庆世界法轮大法日-州议员到场褒奖(图)-387384.html
http://www.minghui.org/mh/articles/2019/5/15/洛杉矶学员欢庆法轮大法日-民众敬仰真善忍(图)-387368.html
http://www.minghui.org/mh/articles/2019/5/14/芝加哥学员庆祝法轮大法日(图)-387303.html