Seoul, South Korea: Grand Rally and March to Celebrate World Falun Dafa Day
May 17, 2019
|
By a Falun Dafa practitioner in South Korea
(Minghui.org) Falun Dafa practitioners in South Korea celebrated World Falun Dafa Day on May 12, 2019, at Seoul Plaza. About 1,000 practitioners gathered for group meditation and held performances by the Tian Guo Marching Band, and waist drum team, which was followed by a three-mile-long parade.
The event was held to celebrate the 20th World Falun Dafa Day and the 27th anniversary since the practice was introduced to the public. Practitioners also took the opportunity to wish Mr. Li Hongzhi, the founder of Falun Dafa (also known as Falun Gong), a happy birthday.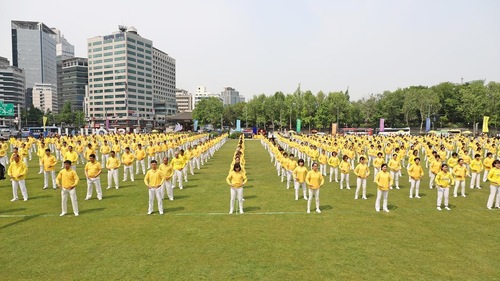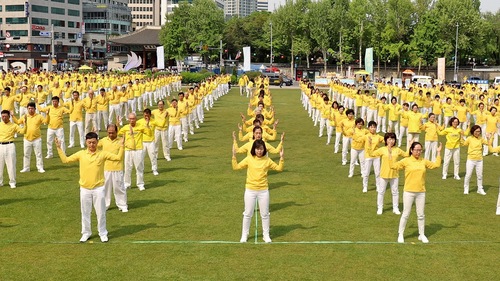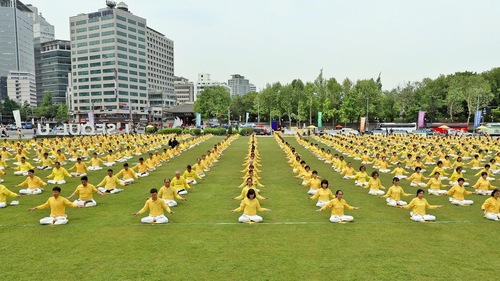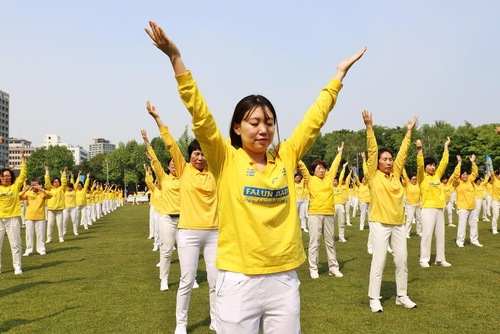 Group exercise practice by Falun Dafa practitioners at Seoul Plaza
Courage and Determination
Kim Jung Min, director of the International Institute for Strategic Studies (IISS), attended the rally and said that he deeply admired Falun Gong practitioners for their steadfast belief. He first heard about Falun Dafa when he studied in China in 2000.
"But," he said, "the news related to Falun Dafa was all negative. Later, I looked up Falun Dafa information on the internet, and found the Communist Party had been persecuting and defaming Falun Dafa."
Kim praised practitioners for their efforts to expose the brutality, including the organ harvesting, happening in China. He said it was wrong for nations to remain silent regarding such important human rights issues, because of concerns over trade relations with China.
"Please," he said, "keep it up, and I believe the general public will one day know about the persecution."
Feedback from Spectators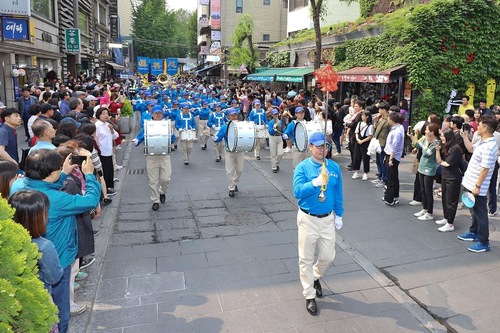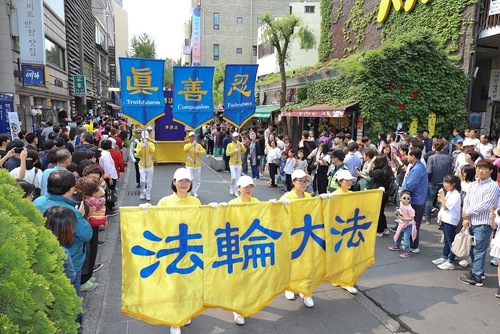 Parade on May 12, 2019, to celebrate World Falun Dafa Day
The parade started at 2:30 p.m. and was led by the Tian Guo Marching Band. Many people were glad to see the practitioners and amazed by the performance of the band.
"This looks great, magnificent and beautiful," said Jae-won Lee. His friend agreed, "It brought me warmth and happiness."
Seon-seok Choi, who was there with his mother, was shocked to hear about the persecution of practitioners in China for their belief. Noticing many South Koreans doing the practice, he was curious and decided to give it a try also.
A group of Chinese tourists were surprised to see the practitioners. "This is amazing," one of them applauded. One woman said she had seen activities of Falun Gong practitioners in Canada and supported the freedom of belief.
Grateful Practitioners
Jung In-iik, former officer at Hanguk Cheoldo Gongsa, the national railway company, came with his family. "Falun Dafa is extraordinary," he remarked. Before practicing Falun Gong, he had pain in his shoulders and arms, which disappeared within a short time. His wife, who worked for Gyeongsangbuk-do, said that Falun Dafa teaches her to be patient, and to look within to improve herself.
Kang-ming Lee, 78, had been working as a police officer for 30 years. Intense work, along with smoking and drinking, led to liver cirrhosis. His doctor could only give him medication to prevent his condition from getting worse. After taking up Falun Gong in 2005, Mr. Lee's health improved immediately. He went to a clinic for a checkup, and his doctor was surprised. "Your liver and bone density are very healthy," said the doctor, "they are just like those of a person in his 30s."
Ying-biao Kim used to be an alcoholic and was often drunk. This damaged his health significantly, and made him lose weight. After beginning to read Zhuan Falun, his addiction to alcohol diminished and his daily life turned very productive. Witnessing these positive changes in him, both his parents and coworkers supported his belief. "Falun Dafa is really wonderful, and I thank Master Li for everything," he continued, "Happy Birthday, Master Li!"