(Minghui.org) What happens when fundamental human rights are denied? This is the question that students at four Manitoba schools asked themselves at the Canadian Human Rights Museum in Winnipeg on February 28, 2019.
The national museum, which opened in 2014, is the first one of its kind dedicated to human rights in Canada. Its mission is to promote respect and understanding for human rights, and thus lead to positive change in the world.
The students (grades 7-11) spent a day of thoughtful reflection and activities, learning about violations of rights around the world and their impact on Canada.
Anastasia Lin, Miss World Canada 2015, was on-hand to share her own story of exposing abuses in China, and the young students were touched by her brave journey of confronting the Chinese regime.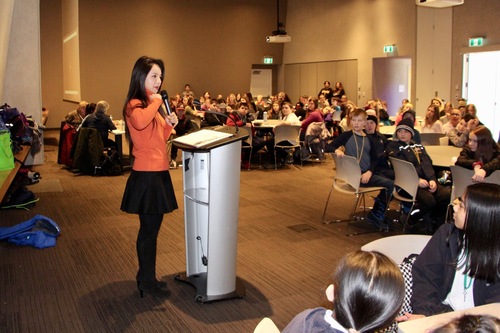 Presented by the Manitoba Association of Rights and Liberties (MARL) in collaboration with the Ministry of Education, the event was a rare opportunity for local schools to teach their students about human rights violations and genocide in an interactive, engaging manner.
The event's organizer, Estelle Lamoureux, MARL representative and Chair of Education Sectorial Commission for CCUNESCO (The Canadian Commission for UNESCO) is a former principal who is committed to bringing human rights awareness to children.
"What I found is that a lot of the younger students don't get many opportunities to talk about human rights. And that's a target group that we're missing," said Lamoureux who believes children are very open to learning about these important issues.
"Within a week or two, the places were filled already. The response was overwhelming," said University of Manitoba professor Maria Cheung, an expert on human rights violations in China who was invited to participate in the event.
Lessons from Past and Present
The students started the morning with a lecture to help them understand the concept of human rights violations. Museum staff then helped guide them to explore stations in the museum galleries that featured different aspects of genocide, including origins and propaganda. The students filled out worksheets and then returned to the museum classroom to reflect on their experiences, as well as learn about the Declaration of Human Rights.
In the afternoon, they had the opportunity to meet Lin and listen to her story of speaking out against human rights atrocities in China, especially the persecution of the Falun Gong meditation discipline. She told the students how her own father in China was threatened by the local authorities because she defended human rights. She also recounted how the Chinese regime banned her from entering Sanya, China where the Miss World 2015 competition was being held.
The students also had the chance to experience her journey through the short documentary "Anastasia Lin: The Crown." Produced by Toronto-based filmmaker Kacey Cox, the film shows Lin's determination to represent Canada in the competition, as well as her refusal to stay silent in the face of human rights abuses, despite threats to her family.
Students watched and listened eagerly to Lin's story of staying true to her convictions. Her presentation was followed by a demonstration of the Falun Gong exercises, which she also practices, and students joined in to learn the movements.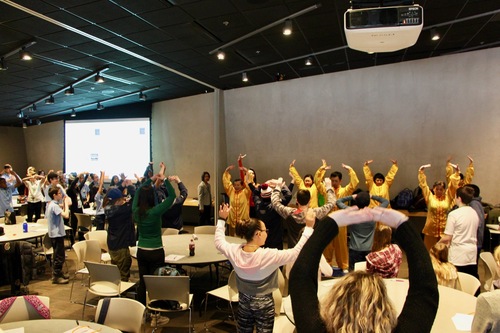 Falun Gong (also known as Falun Dafa) is a Chinese practice focused on improving mind and body. It consists of four gentle exercises and a sitting meditation, as well as character improvement based on the principles of Truthfulness, Compassion, Tolerance. However, since 1999, the Chinese communist regime has targeted the peaceful practice, imprisoning, torturing and brutally murdering its practitioners. The persecution, now starting to become recognized as a genocide, is one of modern-day's worst human rights violations, impacting tens of millions ordinary Chinese citizens.
"I asked the students how to make sense of why this peaceful group of meditators are being persecuted by the Chinese regime. Not everyone could answer that question, but I remember one of them actually answered that [the regime wants] power and control of people's minds. That was quite right on," said Cheung.
Yolanda Papini-Pollock, a human rights filmmaker and former teacher, was in the audience that day. Papini-Pollock's films have focused on exposing genocide, such as the Holocaust and the persecution of Falun Gong. At the event, she was particularly touched by the effect of the meditation on the children."Every school should start with (Falun Gong exercises) in the morning … it would greatly help with classroom management," she said.
Cheung agreed. "There has been a lot of empirical evidence that these mindfulness practices have increased students' wisdom and regulated their behavior and their emotions. There is scientific proof that it works for children," she said, noting there are many schools in India teaching students the Falun Gong exercises.
Lamoureux said she was very pleased with the impact of the event on the young students because it was both engaging and relevant to their own lives. "At the end, a whole bunch of them came up to me and wanted to know more about human rights."
"I think there's sort of this feeling that these kids aren't mature enough. But that's not true," added Lamoureux, who hopes to organize more events of this kind to help children understand genocide and its implications.