(Minghui.org) Falun Gong practitioners held a rally at Hong Lim Park in Singapore on April 15 to commemorate the 20th anniversary of the historic "April 25 Appeal" in Beijing.
On April 25, 1999, in Beijing, over 10,000 Falun Gong practitioners quietly lined the streets outside of the National Public Complaints and Proposals Administration (also known as the Appeals Office), the official agency for receiving petitions, in peaceful protest. They were there to call for the release of 45 practitioners from Tianjin, and for the right to practice Falun Gong unmolested.
Prior to that day, Falun Gong practitioners in multiple major cities in China had been harassed during their morning exercises and seen slanderous propaganda articles in the state-run media. Their right to practice their spiritual belief was being increasingly violated. The "April 25" peaceful protest was their way of calling attention to a potential national campaign of persecution. As soon as the Tianjin practitioners were released, the protest ended, and the practitioners quietly left.
The world saw China in a different light that day. After the Tiananmen Massacre a decade earlier, the fact that a peaceful protest could happen in China and be resolved the same day seemed positive.
However, Jiang Zemin, then head of the Chinese Communist Party (CCP), was determined to stamp out the practice. He claimed the peaceful protest was Falun Gong practitioners attacking the CCP central compound in a group and used it as the main excuse to start the campaign of persecution in July 1999.
This persecution has resulted in the deaths of thousands of Falun Gong practitioners and torn apart millions of families in China. The CCP said it would free them and return their possessions if they denounced their spiritual belief.
In the spirit of "April 25," practitioners the world over, including China, have stayed true to the principles of Truthfulness-Compassion-Forbearance and have been clarifying the facts about the persecution ever since. The rally in Singapore was one such example.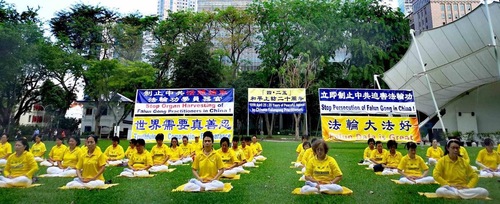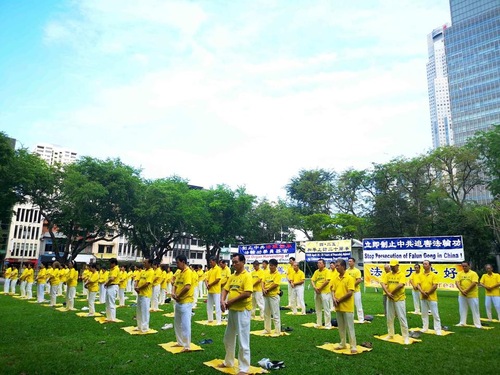 Practitioners demonstrated the Falun Gong exercises in Hong Lim Park on April 15.
Tourist: "April 25" Spirit Should Carry Forward
Jimmy, a teacher from Australia, was sightseeing in Singapore when he saw the practitioners' rally. He said that he knew of the human rights violations in China, but this was the first time he had heard about the persecution of Falun Gong.
He said he'd avoided visiting China during his six-month tour of Asia. He felt that if more Chinese were aware and stood up to the tyranny, the CCP would collapse. He added that the spirit of "April 25" should carry forward.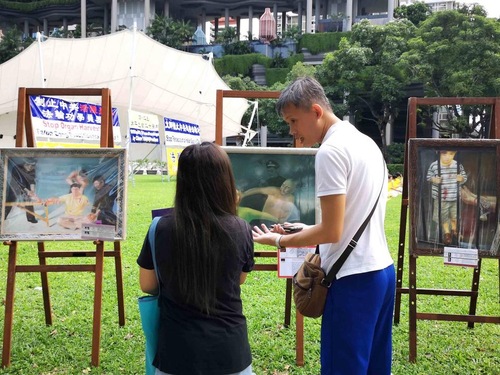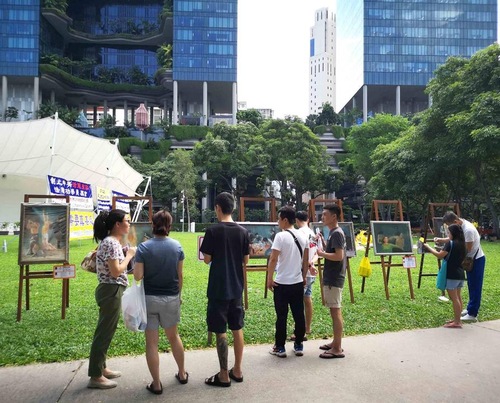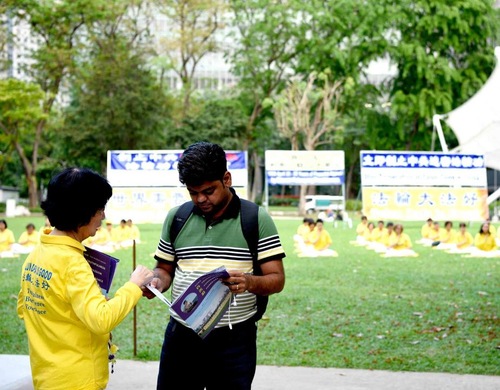 Tourists and locals stopped to chat with practitioners. Some read the displays, while others took photos and videos.
Ahish has worked as a sales manager in Singapore for three years. He was against the CCP's forced organ harvesting. Wanting to learn more, he took some printed information.
Because many tourists knew that rallies are rare in Singapore, the event sparked their curiosity. Mr. Li from northwest China said that his wife practices Falun Gong. At first he was against it but became supportive after he witnessed how her health and outlook improved. He said, "If practitioners could do the exercises out in the open just like they are doing here, that would be great!"
When a couple from Latvia asked why practitioners were being persecuted, they were told, "Falun Gong quickly became very popular because it taught people to be kind and honest. The head of the CCP at that time became jealous of Falun Gong's popularity."
The couple said that they were children when the communist regime controlled Latvia, so they knew how oppressive and controlling the Communist Party is. They took information and asked about the exercises.
Practitioners Recall "April 25"
Mr. Sun was one of the practitioners who petitioned on April 25, 1999. "What struck me most was the peaceful and magnanimous mood," he said. Having lived in Beijing all his life, he had seen firsthand many of the CCP's campaigns and was well aware of the terror when the CCP targeted certain groups.
"I was 60 years old in 1999." Mr. Sun recalled, "and had practiced Falun Gong for five years." He said he was calm and unconcerned on his way to the Appeals Office. "I decided to go to the administration. I saw thousands of practitioners that morning. Even though there were many of us, we were polite and orderly. We didn't even litter. There were few police officers. They seemed very relaxed and smoked and chatted with each other."
"I felt at peace," he added. "The atmosphere that day was peaceful and dignified. I was not afraid." When he heard that the Tianjin practitioners had been released, he left with everyone else.
Prior to coming to Singapore, Mr. Sun was imprisoned in China. "Dafa (another name for Falun Gong) has helped me become a better person. I owe my health and happiness to Dafa. How can I not practice? I read Master Li's teachings and they are my guide. His words are the truth."
Ms. Gao was studying in Singapore in April 1999. Practitioners in Singapore organized themselves to clarify the truth to major newspapers. They visited the Chinese embassy with a petition and visited the Singapore government to provide background information about Falun Gong.
"I worried about practitioners inside China. I knew all too well how the CCP has persecuted its own people for decades," recalled Ms. Gao. "I was shocked by the event. Peaceful protests are very rare in Chinese society, especially after the Tiananmen Massacre."
She saw a reenactment of the "April 25" appeal held outside the Chinese embassy in Singapore. Practitioners felt compelled to do something. "It was touching to see so many practitioners there. Some were from Beijing, Henan Province, or Shandong. Some were studying in Singapore; some were just visiting. There were a few from Malaysia."
Recalling that day Ms. Gao said, "We didn't know then that an organized campaign of persecution would begin a few months later and last over 20 years. Throughout these years, practitioners have persevered in their belief. I feel it was an amazing and rare event in human history.
"I think the 'April 25' protest has had the effect of stirring the conscience of the people of China and the world. Whatever took place during those 20 years, kind or evil, will be a part of history."