(Minghui.org) It is April and the cherry trees are in bloom in New York City. On a sunny spring day – April 7, 2019 – New York Falun Gong practitioners welcomed the arrival of spring with music and dance performances in Sara Delano Roosevelt Park in Manhattan's Chinatown.
The activity was also a vehicle to raise awareness about the ongoing, nearly 20-year persecution of Falun Gong in China. Colorful flags and banners were hung around the park and a beautiful lotus flower was displayed on the main stage. Many Chinese people attended the celebration, and upon learning how the Chinese Communist Party (CCP) has so brutally persecuted this traditional mind-body cultivation practice, 469 people quit the CCP and its affiliated youth organizations.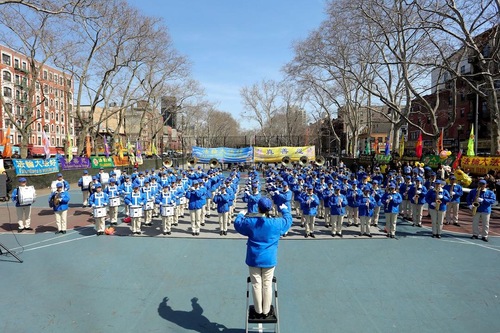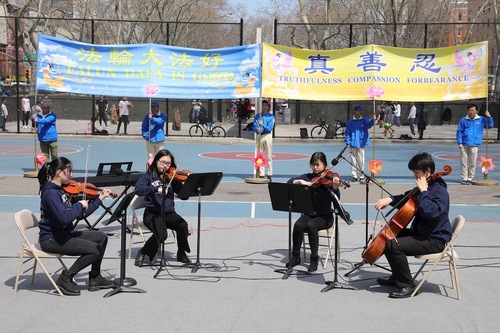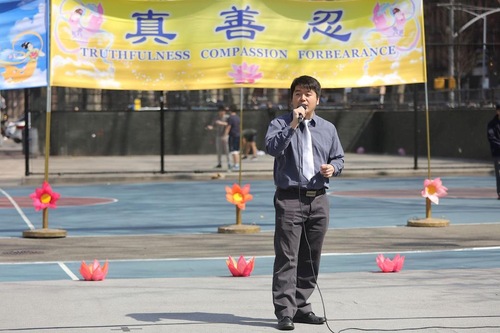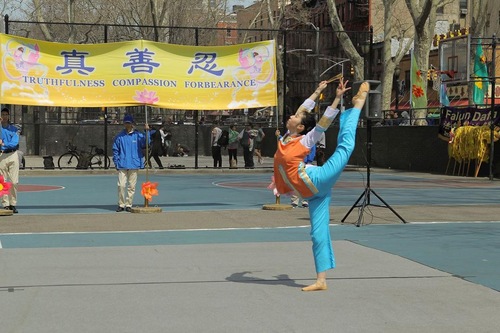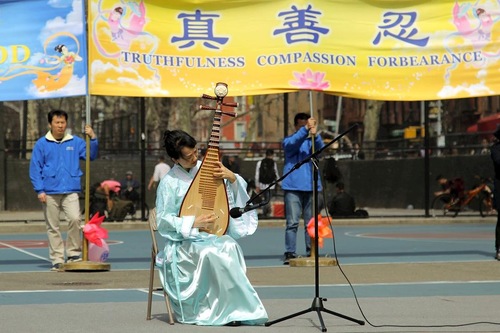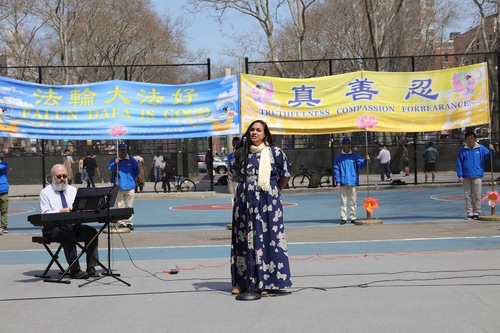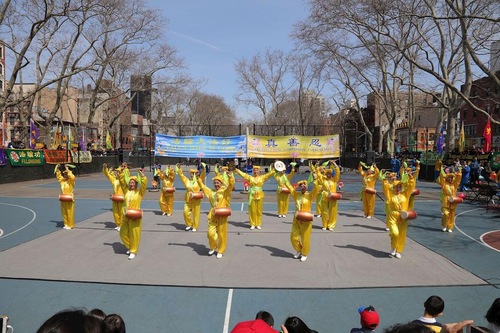 New York Falun Gong practitioners celebrate the arrival of spring and share traditional Chinese culture through music and dance in Manhattan's Chinatown on April 7, 2019.
Traditional Chinese Values of Justice and Kindness Promoted through Music and Dance
The celebration started at 11:00 a.m. The day's program featured the Tian Guo Marching Band, traditional dragon and lion dances, waist drum performances, singing, dancing, Chinese instrumental performances, as well as Falun Gong exercise demonstrations. Several spectators learned the exercise movements during the demonstrations.
Composer Tony Chen sang the award-winning song, "The Courage to Believe." Mr. Chen composed the song for the documentary "Free China" and won the best song award at the 2013 Hollywood Music in Media awards. The "Free China" documentary delivers a first-hand view of the persecution of Falun Gong practitioners in China. Mr. Chen said, "I believe the persecution will end soon and one can have freedom of belief in China."
Vivian Liu performed on the pipa (a traditional Chinese stringed instrument), presenting the composition "Female Warriors from the Yang Clan."
"This song narrates the story about female warriors," she said, "fighting to protect the country. I hope my performance will inspire people to follow their conscience and to do something for justice."
Spectators Enjoyed the Performance and Show Support for Falun Gong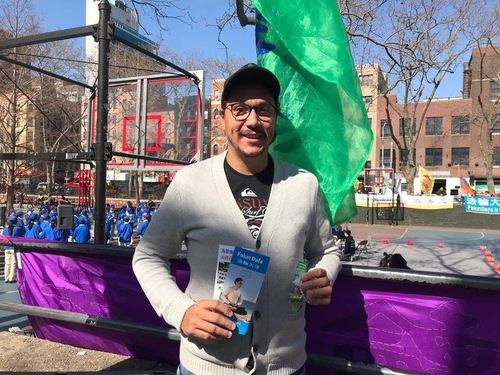 Rica, from Brazil, enjoys the show and is interested in Falun Gong.
Several people arrived before the start of the festivities. Rica, from Brazil, told the practitioners, "I had heard about today's festival, and decided to arrive 30 minutes earlier to be sure to see the show."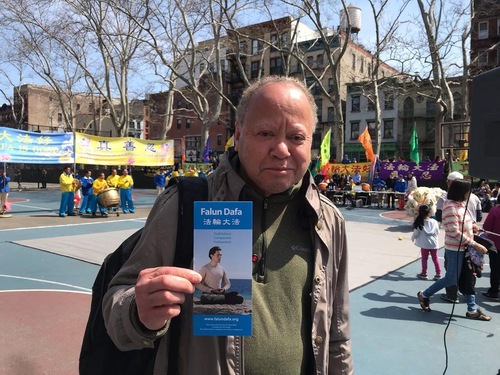 Ken was happy to take information about Falun Gong.
Ken had once watched a Falun Gong parade on Broadway. He told practitioners that he had heard about the spring celebration the day before, and wanted to see if it would be different from the parade. He gladly accepted a Falun Gong brochure and took photos of the celebration.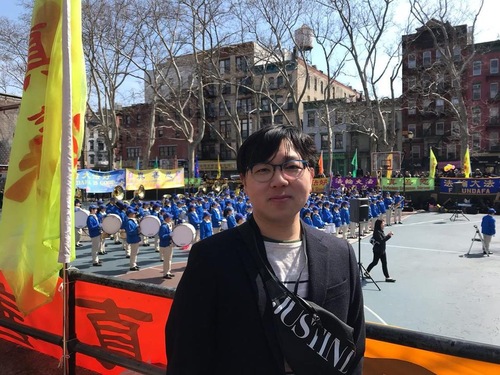 Tommy from San Francisco was among the spectators.
Tommy is a Korean residing in San Francisco. He stayed to watch the performances for a while. He said, "All of the performances are very traditional and filled with positive energy. Although I don't know much about Falun Gong, I know that these people are returning to their true self."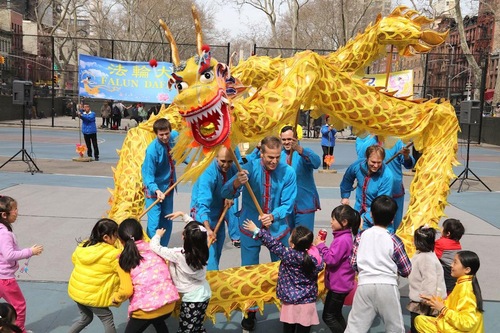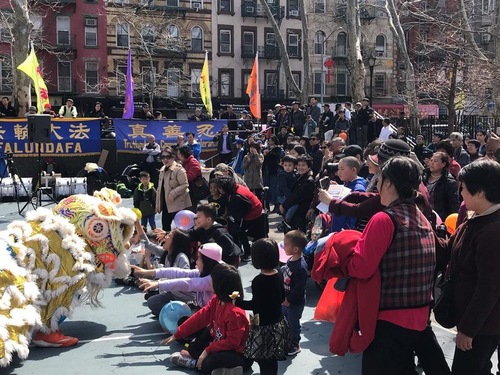 Practitioners interact with the audience during the dragon and lion dance performances.
For kids, the highlights of the festival were the dragon and lion dances. They loved the interaction with the golden, sparkling dragon and lion. Mr. Wu, a New York resident, brought his children to see the performance. He explained, "I wanted to introduce them to traditional Chinese customs and culture."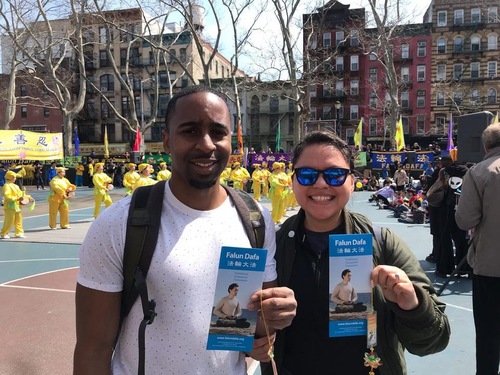 Spectator Chris from Brooklyn and his girlfriend loved the performances.
The vibrant waist drum performance attracted the attention of many passersby. Chris, who lives in Brooklyn, and his girlfriend took in the waist drum dance. He said, "We were out walking and heard the sound of drums. We decided to come and check it out. What a wonderful performance! The music is soul moving."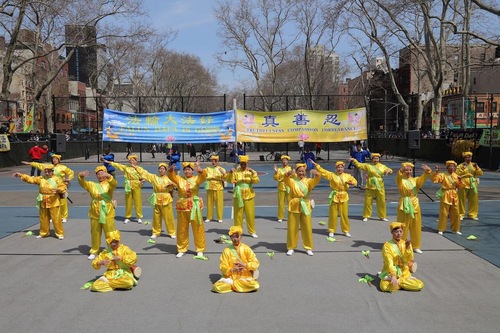 Falun Gong exercise demonstration
Practitioners also demonstrated the Falun Gong exercises. Several people stood and followed along with the exercise movements. New York resident Mr. Ye commented, "I think this would be good for me, physically and mentally." Another spectator said, "Watching the exercise demonstration makes me want to do the exercises too."
A family from New Jersey attended the festival to show their support for Falun Gong. Mrs. Luo said, "I think Falun Dafa [another name for Falun Gong] is a form of belief and it is a basic human right to have a belief. Everyone should support Falun Dafa."
Local resident Mr. Jin commented, "I know the Chinese communist regime is killing Falun Gong practitioners for their organs. I knew all too well the CCP is capable of such atrocities."
Mr. Huang who lives in New York told practitioners, "I have been feeling down since coming to the U.S. The other day I learned a few Falun Gong exercise movements from practitioners and I felt much better afterwards. I know this is good for one's health and I want to learn it. Seeing how energetic these performers are today makes me even more keen to learn Falun Gong."
Council Member Sends Congratulatory Message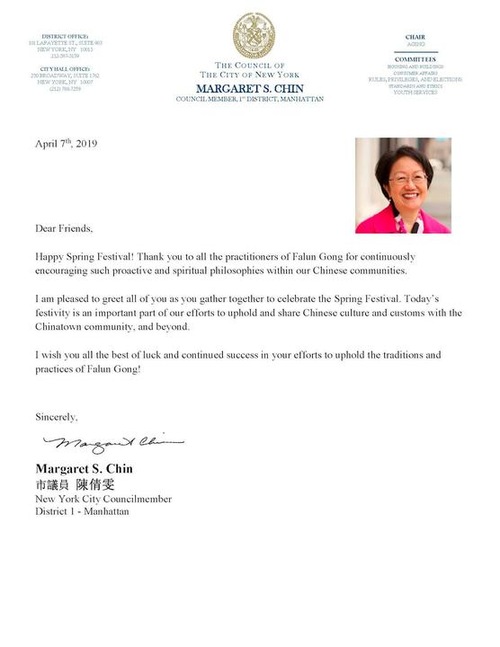 City of New York Council Member Margaret Chin sends a congratulatory message for the festival.
City of New York Council Member Margaret Chin sent a congratulatory message complimenting Falun Dafa practitioners' efforts in promoting traditional values and upholding human morals.
Ms. Chin wrote:
Dear Friends,
Happy Spring Festival! Thank you to all the practitioners of Falun Gong for continuously encouraging such proactive and spiritual philosophies within our Chinese communities.
I am pleased to greet all of you as you gather together to celebrate the Spring Festival. Today's festivity is an important part of our efforts to uphold and share Chinese culture and customs with the Chinatown community, and beyond.
I wish you all the best of luck and continued success in your efforts to uphold the traditions and practices of Falun Gong.