Visitors Express Support for Falun Gong at Popular Tourist Destination in Paris
March 30, 2019
|
By Zhou Wenying, a Minghui correspondent in Paris
(Minghui.org) Falun Dafa practitioners in Paris held their regular activities during the afternoon of March 24, 2019, demonstrating the exercises and setting up display boards on Human Rights Plaza.
It is early spring in Paris and the weather is gradually warming up. People are increasingly taking the opportunity to enjoy the outdoors. On this particular day, a constant flow of visitors came to Human Rights Plaza. Many were drawn by the sight of practitioners doing the exercises accompanied by peaceful music and stopped to obtain information about the practice. People were shocked when they learned that practitioners in China are arrested for their faith and their organs are removed and then sold for profit. Many people felt compelled to sign the petition calling for an end to the persecution.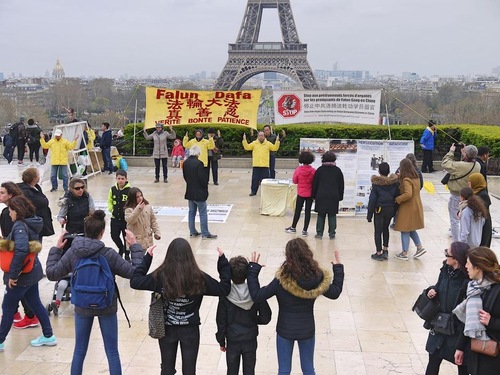 Tourists imitate the practitioners' exercises movements.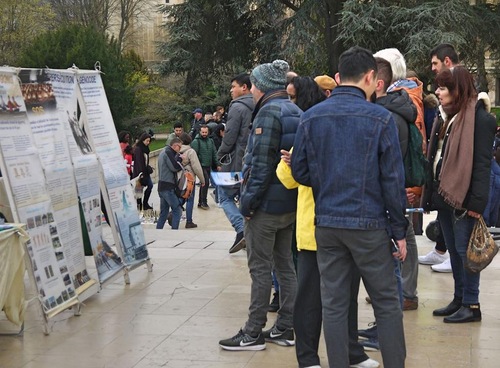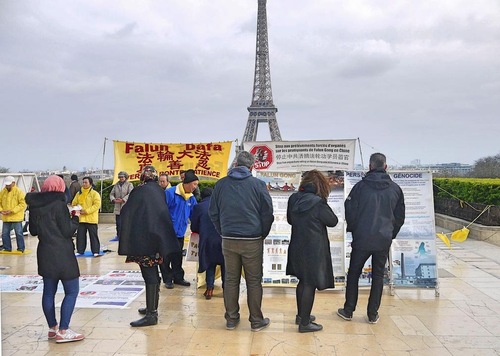 People stop to read the information on the display boards.
Marcelle Roux is a retired biology teacher. "It is completely inhumane to detain healthy Falun Dafa practitioners," she said. "They suffer the pain of having their organs removed while still alive and subsequently lose their lives. This is even more barbaric than beasts, an immoral act. How can one treat life, the human spirit with such contempt."
She believes that people must respect others. "Medical science has made considerable improvements," she said, "but in this instance it has gone to the extreme – using advancements in medical science to kill people. I hope the international community and the French government will stop bowing to the Chinese government. It makes me feel ashamed as a French citizen."
Miss Tran is a Vietnamese human rights activist. "Falun Dafa is a healthy form of exercise," she said. "The Chinese Communist regime lies--don't believe what they say. Look at the things they do. My heart is with you, Falun Gong practitioners. Keep up the good work."
Francoise and Micky are good friends. After speaking with practitioners about the persecution in China, Francoise said, "Those who manipulate organ harvesting behind the scenes should be thrown in jail and punished for what they have done. We are a country that values human rights."
Micky said that people should have the right to lead a normal life and be free to pursue their faith. She believes the principles of Falun Dafa – "Truthfulness, Compassion, and Tolerance" – are the path to a happy life.
Soren is an after-school activities instructor. He was distressed to learn about the persecution of Falun Dafa practitioners in China. He signed the petition calling for an end to the persecution and told practitioners that he will tell other people about it.
Sara, Mirmounir, and Selma are university students. They had not heard about the harvesting of organs from prisoners of conscience in China previously. They were shocked to learn the truth. When told that Chinese president Xi Jinping will visit France soon, they said they will ask for an end to organ harvesting and the persecution of Falun Dafa practitioners.