Practitioners in Central Taiwan Come Together for Study and Sharing
March 29, 2019
|
By Liu Wenxin, Minghui correspondent in Taichung
(Minghui.org) Falun Gong practitioners in central Taiwan held an experience-sharing meeting and studied the Falun Gong teachings together at Wenxin Elementary School in Taichung on March 17, 2019. Practitioners from Taichung, Changhua County, Yunlin County and other nearby counties attended this bi-monthly conference and took the opportunity to make collective improvements in their cultivation.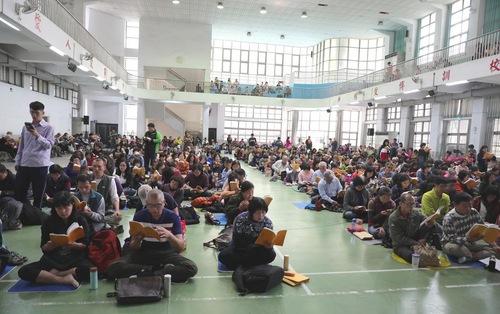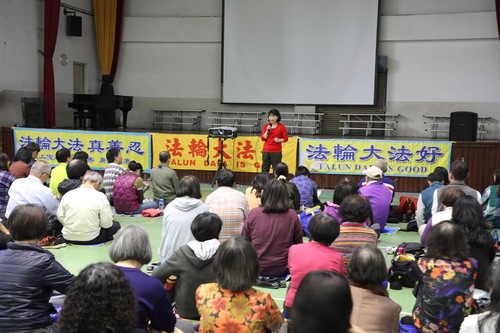 Practitioners in central Taiwan held a group Fa study and experience sharing conference at Wenxin Elementary School in Taichung on March 17, 2019.
Whole Family Benefitting from Spiritual Cultivation
Mrs. Li Shuhui suffered a knee injury when she was young. After having her children, her knees started to be painful and swollen. She hardly went out of the house because of her difficulty with walking. Her endometriosis caused serious bleeding sometimes. She also had a panic disorder and insomnia. Her life was plagued with all these diseases.
One day, Shuhui's sister-in-law told her about Falun Gong's great health benefits. Shuhui said she wanted to practice it without hesitation. Since her first day of practicing Falun Gong, her health has become better and better every day. Her cheeks look rosy and radiant.
Shuhui's husband, Wu Zhongkuan, and their two daughters joined her to practice Falun Gong. Mr. Wu said the cultivation practice gave him a bigger heart and broadened his view of life. He became more thoughtful of others including his employees and customers.
Their daughters started practicing Falun Gong when they were young. Their eldest daughter, Wu Dianyu, has been one of the top students in school. She said she had been following the principles of Falun Gong, Truthfulness-Compassion-Forbearance, looked inward in the face of conflicts, and made high grades in school even though she did not focus on her grades. The family enjoys a happy and harmonious relationship.
Mr. Wu Zhongkuan (left), Mrs. Li Shuhui (right) and their eldest daughter, Wu Dianyu.
Life Saved by Falun Gong
Mrs. Chen Qiying grew up in a traditional Taiwanese family. Her parents valued sons more than daughters. To earn her parents' attention, Qiying worked hard in school and had a strong desire to excel. She never knew how to admit defeat.
After getting married, Qiying and her husband often fought. Both of them refused to give in. Their marriage was almost broken several times. In the meantime, her health became a serious problem. She had two major surgeries. Tortured by her poor health, Qiying thought her life would probably end soon.
She remembered having attended a nine-day Falun Gong workshop years ago. She thought it was great, but she couldn't continue practicing it because of her busy schedule of working full-time and raising her two daughters. At this time of despair, the idea of spiritual cultivation returned to her mind.
Ever since Qiying started cultivating herself according to Falun Gong, her health continued to improve, and her relationship with her husband turned a new page. Qiying learned from Falun Gong the principles to look within herself for faults whenever anything arose. The couple trusted each other and forgave each other. The harmony between them was something they had dreamed of for more than 10 years. Their little daughter also reads Falun Gong books and does the exercises. She is able to see wonderful scenes with her celestial eye. Qiying is so grateful for Master's encouragement to her and her family!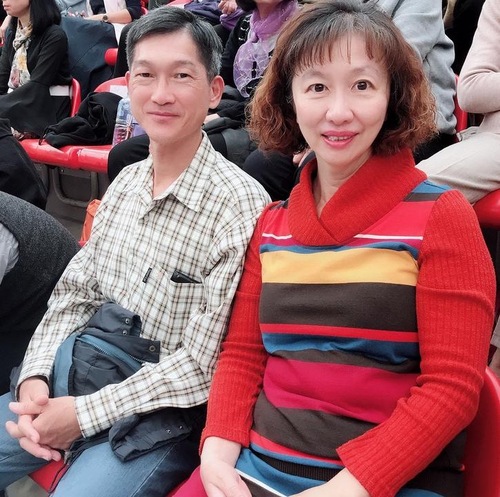 Chen Qiying and her husband.
Experience Sharing by Practitioners from Changhui County
An elderly practitioner from Changhui County shared how practicing Falun Gong had helped her get rid of her numerous ailments. She told her neighbors about her personal experience of benefiting from Falun Gong. More than ten people decided to start doing the exercises. Their group exercise was at 4 a.m. every day, rain or shine. She and her neighbors watched out for each other. If one didn't show up at group practice, others would make a call or visit the person. There have been very few absences over the past three years.
Mrs. Wang, another practitioner and schoolteacher from Changhui County, shared how Shen Yun shows had changed her children. She had taken her five-year-old son and elementary-school-age son to watch the Shen Yun show. The little one concentrated on the entire show and didn't make any noise. Her older son asked her the next day if he could watch it again. Mrs. Wang was amazed how Shen Yun had fascinated people of all ages. Almost every member of her family and every student of hers has watched Shen Yun. A troubled student said Shen Yun taught him not to do wrong things. The student indeed made strides improving his behavior.
Another practitioner named Ruxin talked about the facts of Falun Gong to legal professionals in mainland China through phone calls every day. She said that the screening of the documentary Letter from Masanjia in Taichung the week before had received very positive feedback. It's only the tip of the iceberg, however, compared to the scope of the persecution that has occurred over the past 20 years. She encouraged more practitioners to spend time clarifying the facts to the Chinese public security entities, procuratorates, and courts.