(Minghui.org) On the eve of Chinese New Year Eve, February 3, a group of Falun Gong practitioners from Paris assembled in front of the Eiffel Tower and sent a heartfelt New Year greetings to the founder of this mind-body self-improvement practice, Master Li Hongzhi.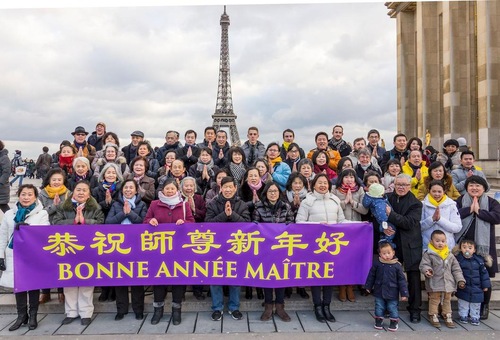 Practitioners in Paris wish Master Li a Happy New Year and express their appreciation for his teaching and guidance in cultivation.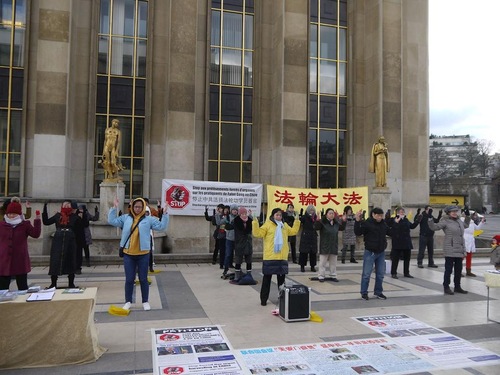 Group exercises, talking to tourists about Falun Gong.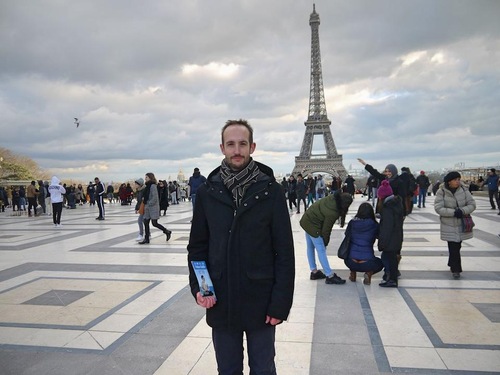 Mathieu Fouassier wishes Master Li a Happy New Year.
Local realtor Mathieu Fouassier, 32, said, "Practicing Falun Gong keeps me healthy and happy. I am clear about the direction of my life. Every morning, I know why I get up, and I know what my future is.
"I am really grateful for Master Li, especially at the beginning of this new year. For all I did wrong and all the attachments I didn't give up in the past year, I will have a new beginning in the new year. I will be more diligent in cultivation. I thank Master Li for his guidance.
"Cultivating Dafa taught me how to be a good person. Many people in this world no longer know about this. In the Falun Gong books, we have the teaching of how to be a good person. We gain a lot for every good thing we do in daily life, and we have to pay for every bad thing we commit."
Ms. He, who works for Dior, thanked Master Li for teaching her what the real purpose of life is.
"It is to go back to your true self," she explained, "I am no longer preoccupied with fame and money. I do not contend for these things at work, and I have put down the attachment to personal gain. Master Li has taught me the purpose of life. I wish him a Happy New Year!"