(Minghui.org) A Falun Dafa nine-day lecture seminar was held in Nizhny Novgorod, Russia on January 21-29, 2019. Participants watched the video lectures of Mr. Li Hongzhi, the founder of Falun Dafa, teaching the cultivation practice. They also learned the five sets of exercises, shared experiences, and asked questions.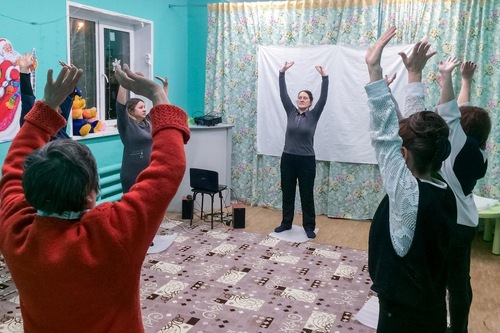 Seminar attendees learn the Falun Dafa exercises during the nine-day seminar.
Valentina Nikolaevna said that she was having an especially bad day when she learned about the seminar. "I was taking the bus home just after I had received a diagnosis from the hospital. I had an unnamed disease. While I sat there wondering how much longer I had to live, someone handed me a small calendar and invited me to attend this seminar. Death was a very real prospect. Because of my thyroid condition, I frequently had to rest throughout the day. However, after watching just three lectures I no longer felt tired and forgot that I needed to rest! I'm so thankful."
Irina Yapparova is a consultant for a feng shui website. She traveled to Nizhny Novgorod from Kazan City for the seminar. "I'm so thankful to Master Li and the seminar organizers. I feel at home. I was amazed by the practitioners' sincerity and firm faith - especially the elderly practitioners. Their mindset, determination to cultivate, and wish to help others are very impressive."
Irina said that every day was different during the nine-day lecture series. She found the answers to questions that had puzzled her for many years. She felt that cultivation will be a natural step for her. She also noticed a significant improvement in her health with each passing day as she attended the seminar.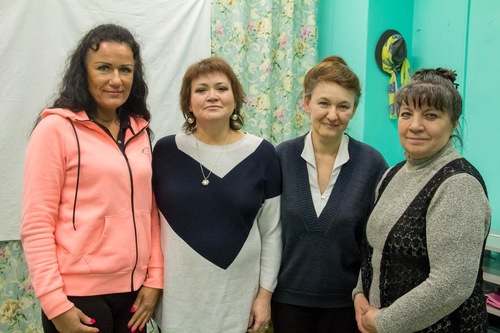 Irina Yapparova (second on the left) traveled from Kazan City to attend the seminar.
"The issue of eliminating karma deeply impressed me," said Margarita Malov. "My mind and body feel peaceful and harmonious after attending the seminar."