Cyprus: Introducing Falun Dafa in the Coastal City of Limassol
February 05, 2019
|
By a Falun Dafa practitioner
(Minghui.org) Practitioners held activities in Limassol, Cyprus, on January 27, 2019, to introduce Falun Dafa and raise awareness of the Chinese Communist Party's (CCP) persecution.
Many people walked along the seaside road of this popular tourist area, enjoying the warm sun. Several were drawn to the practitioners as they demonstrated the exercises and they accepted informational flyers about the ancient spiritual practice. The practitioners also told them about the CCP's persecution throughout the past 19 years.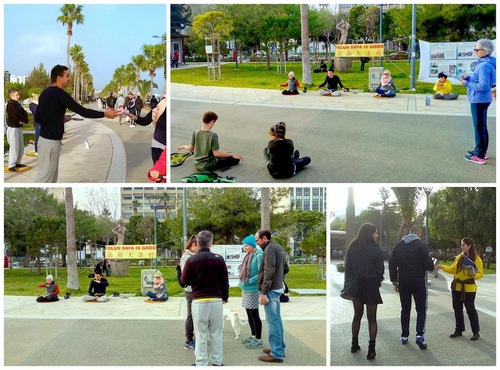 Falun Dafa practitioners distribute flyers and tell people about the CCP's persecution.
A lady and her son stopped to watch practitioners demonstrate the exercises. Intrigued, she wanted to learn how to do them and signed the petition that condemns the persecution.
An elderly lady said that she had traveled to China a few years ago. She had heard of Falun Dafa and knew it was being persecuted there. She and her friend watched the exercise demonstration for a long time, and she said she was impressed by the practitioners' dedication.
She said, "Meditation is important to maintain a clean and healthy spirit." She signed the petition to protest the persecution. She and her friend said they would go to the local practice site to learn the exercises.
As two children rode by on their bikes, they stopped to watch the practitioners meditate. One said he would like to learn to do it and sat down and imitated a practitioner's hand gestures. The other boy also joined them.
Before the boys left, a practitioner gave them a flyer and told them to visit the website: www.falundafa.org to watch the video demonstration of the Falun Dafa exercises and learn more about the practice.