Blessings of Falun Dafa Spread Far and Wide, Falun Dafa Practitioners in China's Countryside Send New Year Greetings to Master Li
February 04, 2019
|
By a Minghui correspondent
(Minghui.org) As the 2019 Chinese New Year is fast approaching, many Falun Dafa practitioners are extending their warmest greetings to the founder of the practice through the Minghui website. These practitioners thank Master Li for teaching them the practice that has brought them happiness and health and wish Master Li a very Happy New Year.
This article is a collection of greetings sent from Falun Dafa practitioners in China's countryside.
A woman from Wuchang City, Heilongjiang Province wrote: "I was so lucky to be introduced to Falun Dafa in 1998. Dafa's principles purified my mind and freed me from the sufferings of the mundane world. With Dafa's guidance, I'm traveling light on the path to return to my true self."
Another practitioner from Zhaoyuan City, Shandong Province, thanked Master for giving him good health. "I was bedridden for four years because of lower back problems. I also suffered from a heart problem and high blood pressure. It is Falun Dafa that helped me stand up and enjoy life again. Thank you, Master, for everything you've done for me!"
A practitioner from Liaoyuan City, Jilin Province, saw in his meditation a magnificent ship sailing fast forward, with a full load of sentient beings saved by Dafa. "In my more than 20 years of cultivation practice in Dafa, I witnessed Master's boundless compassion and grace, as well as the Fa's profound powers. No words can express my gratitude to Master."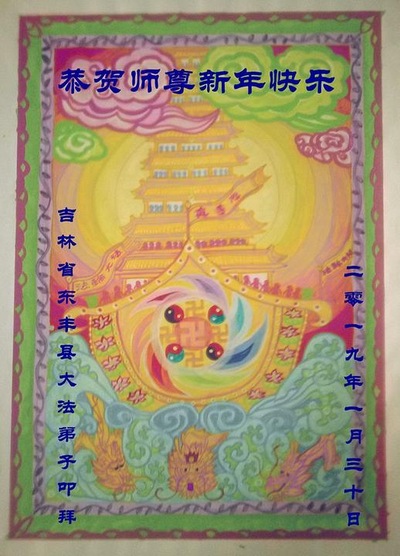 The practitioner's drawing of the golden ship he saw while in meditation.
Other greetings come from the following areas:
Lingyuan City, Panjin City, and Huludao City, Liaoning ProvinceGong'an County, Jingzhou City, Hubei ProvinceInner MongoliaChongqing CityZhoukou City, Henan ProvinceJilin ProvinceDazhou County, Sichuan ProvinceAn'da City, Heilongjiang ProvinceHunyuan County, Datong City, Shanxi ProvinceBaoding City, Tangshan City, and Shijiazhuang City, Hebei ProvinceChaocheng County, Yantai City, Laizhou City, and Dezhou City, Shandong Province