Tian Guo Marching Band Performs at Taoyuan Lantern Festival Parade
February 26, 2019
|
By Huang Yu-sheng, a Minghui correspondent in Taiwan
(Minghui.org) The Tian Guo Marching Band was invited to perform in the second annual lantern festival parade in Yang Mei District of Taoyuan City on February 17, 2019. Forty-five groups, representing schools, local communities, and organizations, participated in the parade, which was a major event at the 2019 Beautiful Yang Mei Lantern Festival celebrations.
The Tian Guo Marching Band is entirely composed of practitioners of Falun Dafa, which is also called Falun Gong. With nearly 200 performers, the band was the largest group performing in the parade and received the most cheers from spectators.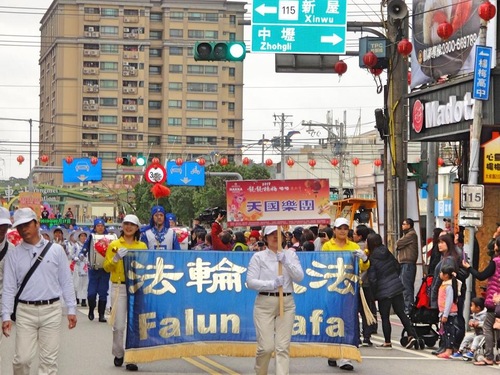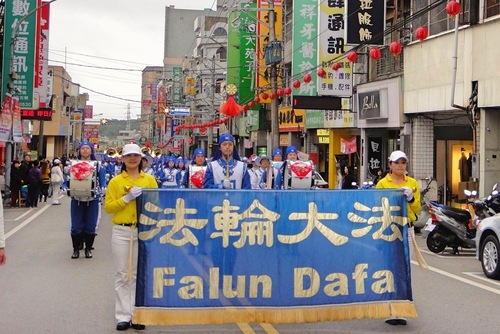 Tian Guo Marching Band at the 2019 Beautiful Yang Mei Lantern Festival parade in Taoyuan City, Taiwan.
The Beautiful Yang Mei Lantern Festival celebrations started in 2018, and the Tian Guo Marching Band participated in the event's inaugural year. Its performance left a good impression on both event organizers and local spectators.
Crowds along the route this year could be heard cheering, "Falun Dafa!" and "The Tian Guo Marching Band is great!" Some spectators said they remembered the band's performance from last year.
Hearing that some of the band members had spent six hours on the road from Pingtung and Kaohsiung, locals told practitioners, "You work so hard! Thank you so much!"
Yang Mei is a district in Taoyuan Municipality and has a historical feel. Local New Year traditions have continued in Yang Mei for more than a century, including burning incense on the ninth day of January on the lunar calendar and welcoming Mazu, a Chinese sea goddess who is known by several other names and titles, on the twelfth day..
The lantern festival celebrations in Yang Mei also aim to revive traditional values based on faith. Falun Dafa is a high-level cultivation practice of the Buddha school and is based on the principles of Truthfulness-Compassion-Forbearance. Practitioners received a very warm welcome in this pure and uncomplicated city.
The band performed melodies including "Falun Dafa is Great," "Triumph," "Green High Mountain," "New Year's Suite," and "Drums and Trumpets Shake Ten Dimensions."
Practitioners in Song Dynasty costumes were also part of the procession, leaving an impression of vigor and positive energy upon those who watched the parade.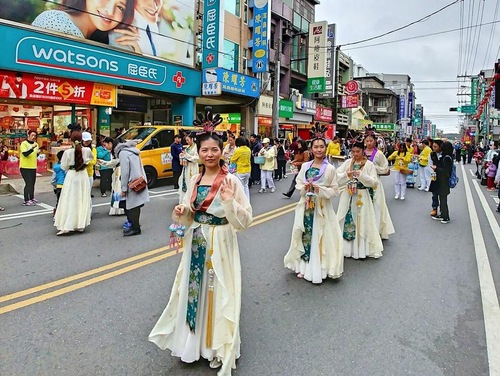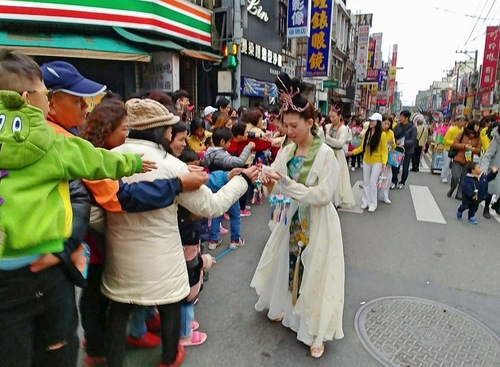 A team of "celestial maidens" pass out paper lotus flowers and Falun Dafa bookmarks along the parade route.
Ms. Sha, a Malaysian who married a local and moved to Taiwan more than a decade ago, said this was her first time to see a performance by the Tian Guo Marching Band and that she was very impressed.
Miss Zhang, an eyewear store clerk, praised the band as "very orderly" and "very disciplined."