(Minghui.org) Mr. Wang Jiang never recovered from the injuries he sustained while serving a ten-year prison term for his faith in Falun Gong, an ancient spiritual and meditation discipline that has been persecuted by the Chinese communist regime since 1999.
After two years of struggling with poor health and enduring constant police harassment, the Harbin City, Heilongjiang Province resident passed away on May 18, 2018. He was 57 years old.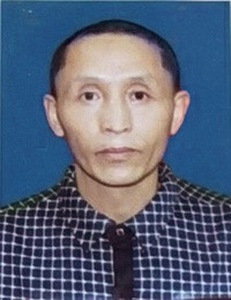 Mr. Wang Jiang
Two Years of Forced Labor
Mr. Wang's passing put an end to his two decades of suffering. For upholding his faith in Falun Gong, he served two years of forced labor and ten years in prison. The torture to which he was subjected eventually claimed his life.
Mr. Wang was first arrested for appealing for the right to practice Falun Gong in Beijing in November 1999. The police beat him and didn't provide him with food or drink for four days.
Although Mr. Wang was released after three months of tireless rescue efforts by his family, he was arrested again in January 2001. The police extorted 10,000 yuan from his family and gave him two years of forced labor.
Guards at Wanjia Forced Labor Camp beat him and injected him with unknown drugs, causing his entire body to turn black. Due to the filthy environment in the labor camp, he developed pus-filled scabies all over his body.
Because he refused to renounce Falun Gong, the guards denied him family visits and transferred him to the Changlinzi Forced Labor Camp.
Mr. Wang held a hunger strike to protest the persecution. The labor camp guards and inmates beat and tortured him for several hours, until he could no longer walk.
The guards moved him back and forth between the first and fifth ward at Changlinzi Labor Camp, and constantly and beat him everywhere he went, attempting to pressure other detained Falun Gong practitioners into giving up their faith.
The labor camp extended Mr. Wang's term for one month because he didn't renounce Falun Gong.
Paralyzed and Incontinent Shortly After Another Arrest
Mr. Wang was arrested for the third time on January 7, 2006 while passing out informational materials about Falun Gong. The police confiscated his Falun Gong books and related materials, before sending him to the local detention center.
His arrest was approved on January 12, 2006.
The detention center contacted Mr. Wang's wife a few days later and said he had been hospitalized. They asked her to bring 4,000 yuan to pay for his medical expense. She borrowed 1,000 yuan and came to the hospital. He was lying in bed, unable to move or talk. He was incontinent, and shackles were still fastened to his ankles.
Mr. Wang was sent back to the detention center shortly afterwards.
Sentenced to Ten Years in Prison
Mr. Wang appeared in Acheng District Court on April 18, 2006. He was sentenced to ten years in prison two months later. His appeal was rejected by the local intermediate court.
The authorities kept Mr. Wang's family in the dark regarding where he was imprisoned. After asking around, his loved ones discovered that he was first held at Hulan Prison, then transferred to Daqing Prison, about 100 miles from Harbin.
Mr. Wang's family traveled to Daqing several times, only to be denied visits with him. With persistent efforts, they finally met him on March 15, 2007.
Health Ruined
The guards at Daqing Prison ordered the inmates to beat Mr. Wang. His arm was broken and badly swollen; there was a swelling under his ribs; his wrists, chest, and back festered; he had blood in his stools; and he also developed bone and cavernous tuberculosis. He couldn't sleep because of the pain, and he was just skin and bone.
A drunken guard once gathered all the detainees at the second ward and forced them to respond to a roll call. Mr. Jiang and a few other Falun Gong practitioners refused to comply. The guards slapped them in the face and said they didn't respect him.
Mr. Wang was sent to a solitary confinement cell with no windows on May 16, 2014, for protesting the persecution. In the dark and chilly room, he was given only a thin layer of clothing and had to sleep on wood planks without any bedding. The food was also very poor.
The terrible living conditions caused Mr. Wang's health to further deteriorate. He had persistent blood in his stools and was in serious condition. Only then did the prison authorities send him to the hospital for medical care.
When his family visited him during that time, they noticed that he had many scars on his body, and also had a severe liver condition that led to excessive fluid accumulation in his abdomen. They were even more infuriated when the guards didn't allow them to talk to Mr. Wang.
Shortly after their visit, the prison agreed to grant medical parole to Mr. Wang.
He returned home in early 2015, after serving nine years in prison. He resumed practicing Falun Gong and his health quickly recovered.
Only a few months later, several police officers broke into Mr. Wang's home, on May 27, 2015, and took him to a hospital for a physical checkup. Even though he was still very weak, the doctor said he had fully recovered and no longer qualified for medical parole. He was taken back into custody and served the remaining time of his term.
Harassment after Release
After Mr. Wang was released on January 6, 2016, the police never stopped harassing him and his wife. Whenever the police called his wife, she had to go back home right away. Sometimes the police knocked on his door when he was home alone. When he refused to open the door, they broke in to check on him.
Fearing more persecution, Mr. Wang's family no longer let him contact local Falun Gong practitioners. His neighbor also monitored him and called his wife as soon as he left home.
The deep fear and mental pressure aggravated his health condition. In despair and tremendous suffering, Mr. Wang passed away on May 18, 2018.