Japan: Falun Gong at the Hiroshima Peace & Love Festival
November 08, 2019
|
By a Falun Gong practitioner in Japan
(Minghui.org) Falun Gong practitioners in Hiroshima participated in the Peace & Love Festival in the city's Central Park on October 27, 2019. Practitioners demonstrated the Falun Gong exercises on stage during the event and also taught people the exercises one-on-one. Many people took the opportunity to learn more about Falun Gong.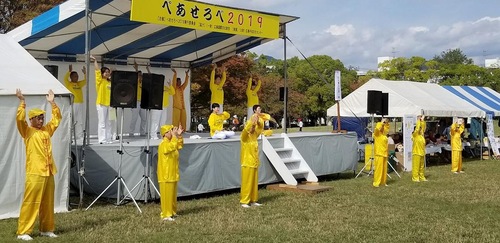 Falun Gong practitioners demonstrate the exercises at the Peace & Love Festival in Hiroshima.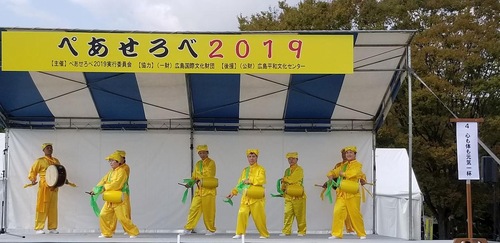 Falun Gong practitioners perform a waist drum dance.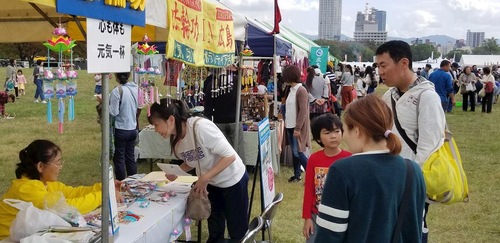 Festival visitors stop by to learn about Falun Gong.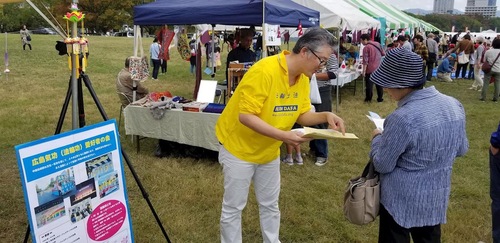 A practitioner introduces Falun Gong to a festival attendee.
A display banner explains Falun Gong's spread around the world and the practice's peaceful resistance to the Chinese Communist Party's (CCP) persecution.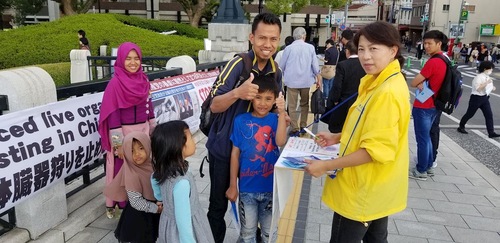 Signature collection calls for an end to the CCP's persecution.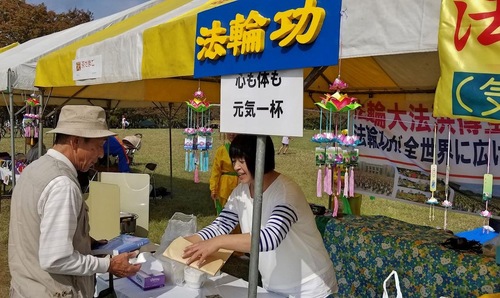 Mr. Kamei buys a copy of the main book of Falun Gong, Zhuan Falun.
Local resident Mr. Kamei had learned the Falun Gong exercises the previous Sunday. He came to the Falun Gong information booth at the festival to buy the main book of the teachings, Zhuan Falun, and said that he wanted to continue learning the practice.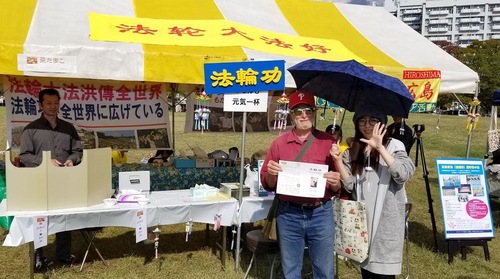 A retired professor from Hiroshima University and his wife enjoyed watching the Falun Gong exercises.
An American professor, who retired after 30 years of teaching at Hiroshima University, and his wife wanted to learn more about Falun Gong after watching practitioners' exercise demonstration. They said they very much enjoyed the demonstration and encouraged practitioners to keep up their great work.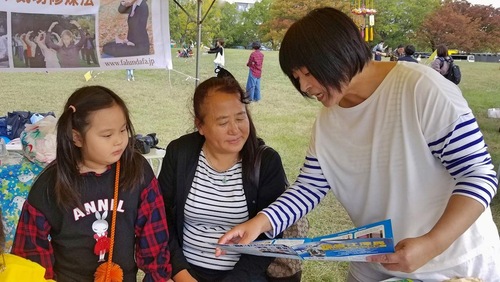 A Chinese woman (middle) decides to quit the Young Pioneers, a communist organization for children in China, which she joined while in elementary school.
Falun Gong practitioners in Japan have persistently exposed the CCP's persecution of Falun Gong in China. The CCP had put pressure on the Peace & Love Festival organizers to deny Falun Gong's participation in 2002 and 2003, but practitioners didn't give up. They continued to clarify the facts of the persecution to the festival organizers, and since 2004, Falun Gong practitioners have participated in the festival every year. Many people have expressed their support for Falun Gong during the festival activities.
After their exercise demonstration, practitioners went to Peace Park and collected signatures for a petition that calls to bring former head of the CCP Jiang Zemin to justice and to end the CCP's atrocities of harvesting organs from living Falun Gong practitioners. Jiang launched the nationwide persecution of Falun Gong in 1999 and also gave the order to his subordinates to kill Falun Gong practitioners for their organs.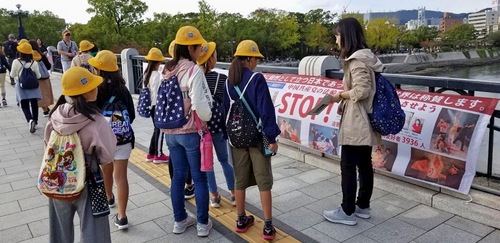 A schoolteacher tells her students about the Falun Gong banner.
For more than 10 years, practitioners have had the opportunity to tell an increasing number of visitors to Peace Park about Falun Gong.