Taipei, Taiwan: Tian Guo Marching Band's Drums Brings Positive Energy to Tamsui Environmental Arts Festival Parade
October 30, 2019
|
By a Falun Dafa practitioner in Taiwan
(Minghui.org) More than 1,600 performers of 45 groups marched down the old narrow streets of Tamsui, a historical district of New Taipei City, on October 20, marking the start of the 2019 New Taipei City Tamsui Environmental Arts Festival.
The last group in the parade was the Tian Guo Marching Band composed of Taiwanese Falun Dafa practitioners. Their blue and white uniforms, and majestic performance received warm applause from the spectators.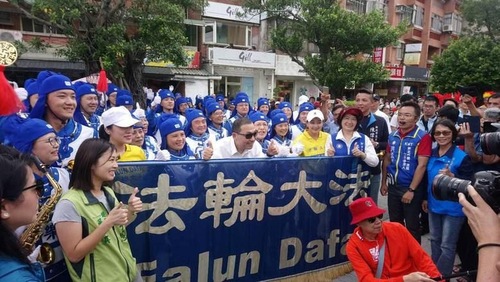 Mayor of New Taipei City, Mr. You-yi Hou with the Tian Guo Marching Band
The Tamsui Environmental Arts Festival is held in October every year in the Tamsui District, New Taipei City. The event originated as a celebration of art staged by local residents, artists, schools, neighborhoods, and art groups. The event is renowned as one of Taiwan's most distinctive local festivals.
Ms. Huang, the coordinator of the Tian Guo Marching Band of north Taiwan, said it was the third time the band participated in the Tamsui Arts Festival. "We brought beautiful melodies to the event, emitting positive energy. We also have a team of Falun Gong practitioners dancing in celestial maiden costumes. We could feel the warmth and excitement of the spectators." Mr. Huang said.
Mr. Cai, a performer of the Tian Guo Marching Band, participated in the parade for the second time. "We were the last of the 45 groups," said Cai. "Many people packed the narrow street, so we had to move slowly. It took more than an hour to complete the Tamsui old street, which is only several hundred meters long."
Spectators applauded after each music performance, and many of them came close enough to take photos with the band performers.
A band member drove about 250 km from Chiayi to join the performance. "The parade is getting bigger every year when compared to the past 3 years. Tamsui is a historical town and attracts visitors from all over the world. Our performance displays the merits and beauty of Falun Dafa, especially to those from mainland China." He commented. "I am delighted, and not at all feeling any tiredness after the long distance driving."