Renyitan Dam, Taiwan: Shattering the Lies of the Communist Regime (Part 13)
October 10, 2019
|
By a Minghui correspondent in Taiwan
(Minghui.org) (Continued from Part 12) Renyitan Dam is a well known scenic spot in Taiwan's Chiayi District. Many tourists visit the area every day. The area is a relay station for mainland Chinese visitors traveling up and down the Alishan National Scenic Area, another popular tourist attraction. There is a lodge next to the dam, and guests often take a stroll after dinner to see the dam in the evening.
Falun Dafa practitioners stand on a stretch of path that is almost 100 meters long, distributing fliers and talking to mainland Chinese visitors about Dafa and the 20-year persecution of Falun Dafa in China. This is a rare opportunity for many visitors from China, as many have heard nothing but the Chinese regime's slander and negative propaganda.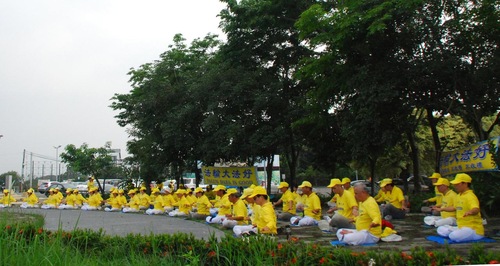 Group exercise next to Renyitan Dam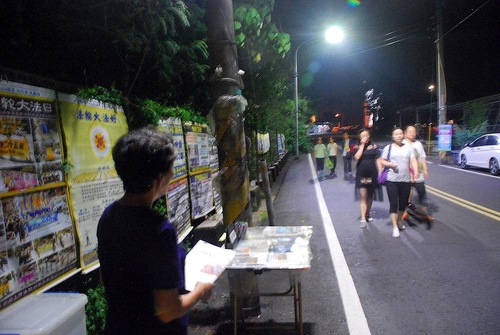 Groups of tourists from mainland China take a walk to the dam after dinner, passing by the displays set up by Falun Dafa practitioners.
Practitioners hand out information and talk to people about the persecution in China.
Renyitan Dam is located in Fanlu Township, Chiayi County. It is shaped irregularly, with a long embankment. The surface of the dam is calm, like a mirror, with the occasional fish jumping out of the deep waters. Adding to the beauty of the dam is a far away majestic mountain, where wild birds can be observed.
Tourist Information Site at Renyitan Dam
Falun Dafa practitioners have persisted in raising awareness about the persecution at Renyitan Dam for the past five years. They are there every day, regardless of the cold of winter, or during the hottest summer days, from sunset to late at night. They visit with tourists from mainland China, sharing the benefits gained from practicing Falun Dafa, and clearing up any misconceptions. They also encourage people to quit their membership in the Chinese Communist Party (CCP) and its affiliated youth organizations.
On one side of the path, practitioners demonstrate the Falun Dafa exercises, while information boards and banners are displayed on the other side of the path. A small sound system is placed next to the signs to play programs from the Minghui radio station.
Treating Tourists with Candidness
Ms. Li goes to this tourist spot every evening because she feels that she can get closer to tourists from mainland China this way and share important information about Falun Dafa and the persecution.
She explained that people from China live in an authoritarian society, unlike Taiwan's democratic system. Many are afraid to get close to practitioners, especially since they have been warned not to accept fliers or listen to what practitioners tell them. Consequently some Chinese tourists swear at practitioners.
However Ms. Li does not worry about it, but instead shows her concern for them. She reminds them that it is cold at Alishan Mountain, and advises them to wear warm clothing. "Once they feel that we truly care for them, they let down their guard and listen to what we say," said Ms. Li. She shared that a tourist once said to her privately that they love visiting Taiwan and enjoy spending time with Dafa practitioners.
Duty Bound to Tell Chinese Citizens the Truth about Falun Dafa
Ms. Cai is a retired teacher who has been coming to the dam to clarify the truth since the onset of the persecution. She said that this is an excellent place to reach out to Chinese tourists, for there are no tour guides interfering with the practitioners.
Sometimes there are many visitors from China and every night they pass by the information center as they walk to the dam after dinner. Ms Cai said she'll walk along with them and slowly tell them the facts about Dafa and the persecution. She shares with them how practicing Falun Dafa has improved her health and made her a better person.
Helping People Renounce the CCP
Ms. Liu has been coming to Renyitan Dam for about five years. At first, she did not know how to talk to people, and simply handed out fliers. Later on she tried to explain to people from China how the communist regime persecutes and tortures practitioners. She tells them that people throughout the world know about the atrocities committed by the Chinese government. Only people in China don't know the facts, due to the CCP's censorship. Gradually, Ms. Liu was able to say more, and she has helped many people renounce the CCP.
Demonstrating the Dafa Exercises
Mr. He drives a long way from Minxiong Township every day to participate in the group exercise demonstration. He feels that in addition to the benefits of doing the exercises, tourists from China have the opportunity to see Falun Dafa being practiced by people all over the world. He shared that sometimes when he opens his eyes, he sees tourists intently watching them do the exercises. The calm atmosphere created by practitioners shows tourists how wonderful Falun Dafa is, and shatters the lies spread by the communist regime.