(Minghui.org) In the morning on the first day of 2019, practitioners in Hong Kong and nearby regions gathered at Edinburgh Place outside City Hall to celebrate the special occasion and wish Mr. Li Hongzhi, the founder of Falun Gong, a Happy New Year.
Activities included performances by the Tian Guo Marching Band and the waist drum team, as well as singing. An afternoon march started from Maple Street Playground, went through the popular shopping areas of Mong Kok and Jordan, continued at Tsim Sha Tsui, and ended at the Hong Kong Cultural Center.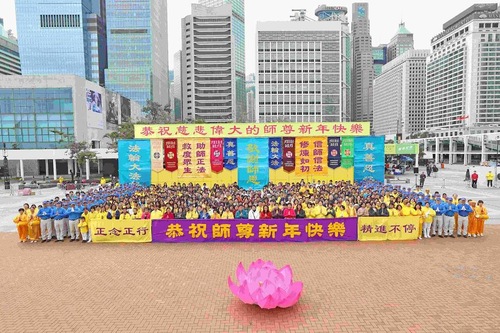 Falun Gong practitioners rally at Edinburgh Place on January 1, 2019.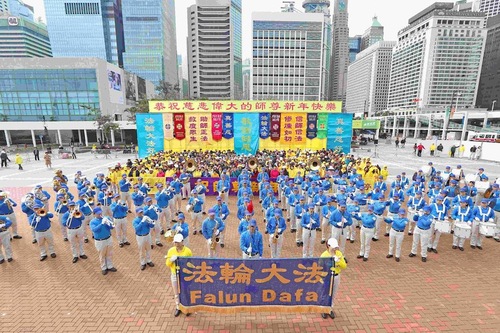 Performance by the Tian Guo Marching Band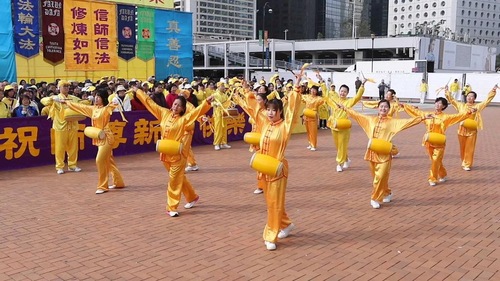 The waist drum group in the rally
Elected Officials: A Spiritual Practice That Benefits All
Lam Cheuk-ting, a member of the Legislative Council, spoke at the event. He wished the Falun Gong practitioners health and success. He also emphasized the importance of the freedoms of belief, speech, and assembly.
Tsoi Yiu-cheong, vice-chairman of the Hong Kong Alliance in Support of Patriotic Democratic Movements of China, sent greetings to Mr. Li and all Falun Gong practitioners. He encouraged practitioners to keep up their efforts.
Former district council member Lam Wing Yin conveyed New Years' wishes to Master Li and hoped that more people would hear about and learn this spiritual practice.
Joseph Cheng Yu-shek, a former professor at the City University of Hong Kong, said that 2018 was a difficult year for Hong Kong residents. Impressed by the perseverance and courage of Falun Gong practitioners, he hoped that the coming year would be better and more prosperous.
Mainland Visitors Surprised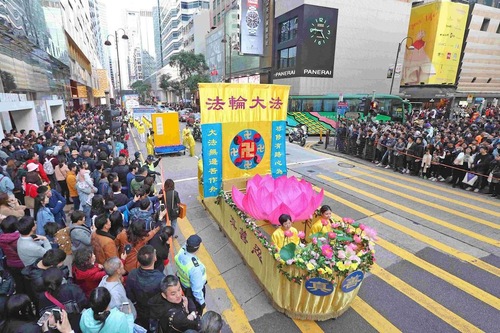 The Falun Gong float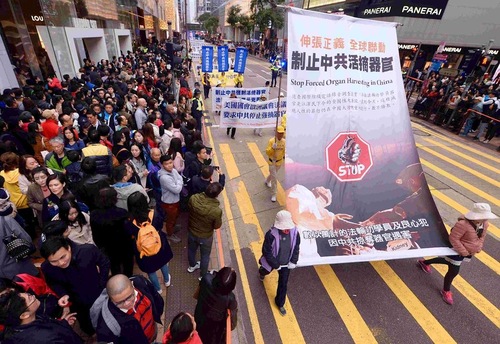 A banner draws attention to the state-sanctioned harvesting of organs from living Falun Gong practitioners in mainland China.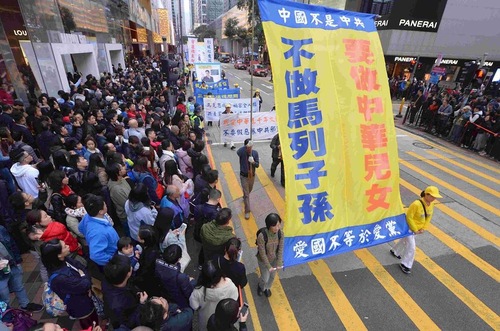 Another banner calls on people to say no to the Communist Party.
The three-hour march drew the attention of many residents and tourists alike. Ms. Kang from Shenzhen, Guangdong Province, said that she was astonished by the parade. She took quite a few pictures and said that she would share them with her friends. Mr. Chen, also from Guangdong Province, said that he felt fortunate to see such an event. "Truthfulness-Compassion-Forbearance makes a lot of sense to me," he commented. "Being a better person is always good. Right?"
Mr. Zhu, also from Shenzhen, is an IT professional. He was surprised but glad to see such activities and appreciated the "breath of fresh air" in Hong Kong.
One recent immigrant from the mainland took lots of pictures and videos. Influenced by the Chinese Communist Party (CCP) hate propaganda, she asked questions. After listening to a practitioner explain how the Party has systematically persecuted so many innocent people in numerous political campaigns, she agreed to renounce her CCP membership.
'The Most Important Thing in My Life'
A Chinese girl was moved to tears after hearing the practitioners' song. "I do not practice Falun Gong, but my grandmother does," she said. "The music goes straight to your heart."
Heng Heng, a young practitioner who participated in the waist drum performance, said that she practiced Falun Gong with her mother before the suppression began in 1999. "I used to be in poor health and had to see the doctor every few days. Reading Falun Gong books and doing the exercises changed all that," she recalled.
Her illnesses disappeared, and her insomnia was also cured without medication. Currently working in a news media organization, she often goes to tourist sites in her spare time to tell people about Falun Gong.
"There are so many people who have been deceived by the Communist Party's lies—I have to tell them the facts so that they will know what is right from wrong," she explained.
Another practitioner, Ashi, felt the same. "Time passes quickly, and tourists from mainland China are now more open to accepting Falun Gong materials, and sometimes they even ask for them," she said. Having seen many young people who did not know the true history of their country, she felt the urgency to help them understand the facts.
Ms. Gu, 85, attended the lectures Master Li gave in Guangzhou in 1994. She said that Falun Gong taught her to become a better citizen by following the principles of Truthfulness-Compassion-Forbearance. "This means a lot to me, and I truly believe it is the most important thing in my life. I miss Master Li because he has done so much for me and for society."