(Minghui.org) Of the 4,848 Falun Gong practitioners known to have been abducted by the Chinese Communist Party (CCP) regime in 2018, at least 403 were over the age of 65, with the oldest being 90 years old. At least 180 of the 4,217 practitioners harassed by the CCP were over 65, with the oldest being 91. It is apparent that elderly Falun Gong practitioners continue to be persecuted.
A report titled "82-Year-Old Woman Dies Hours After Being Arrested for Distributing Falun Gong Informational Materials" was posted on Minghui.org on January 17, 2019. It detailed the death of Ms. Guo Zhenxiang, who'd been arrested in Zhaoyuan City, Shandong Province, for handing out information about Falun Gong, a spiritual discipline that has been persecuted by the Chinese communist regime since 1999.
She was seized by Mengzhi Police Station officers at a bus station on January 11, 2019. When her family was summoned to the police station a short while later, they were told that she had died.
According to the report: "The police claimed that Ms. Guo became ill after being taken to the police station and died in a local hospital despite attempts to revive her. Her body was taken to Zhaoyuan City Funeral Home without her family's consent.
"Ms. Guo had been very healthy in the past few years and did not exhibit any symptoms when she left home in the morning. Her family suspects that her death was related to mistreatment in police custody, as Falun Gong practitioners are routinely tortured in detention.
"Ms. Guo's body remains at the funeral home as her family seeks justice for her. The police have been monitoring the family since her death."
Ever since the CCP began persecuting Falun Gong nearly 20 years ago, thousands of elderly people have been abducted, detained, sentenced to prisons, and subjected to brainwashing sessions. Some were even tortured to death or killed to harvest their organs. The depths to which the CCP can sink of is often beyond belief. Below are just a few examples.
Ms. Chen Zixiu
Ms. Chen Zixiu, age 59, died as a result of the persecution in Shandong Province. She was arrested on February 16, 2000, and taken to the "Falun Gong "Transformation" and Detention Center," operated by the Chengguan Street Office.
Officials repeatedly hit her head, legs, back, and feet with rubber batons and shocked her with electric batons.
The other detained practitioners could hear her screaming in pain throughout the night. The entire time they were beating her, they demanded that she renounce her belief, but she firmly refused.
On the morning of February 20, 2000, Ms. Chen was at the end of her endurance, but she was forced to crawl in the snow. The two days of torture she'd endure had injured her legs. She vomited, fainted, and never regained consciousness. The Wall Street Journal reported this at length.
Ms. Chen Zixiu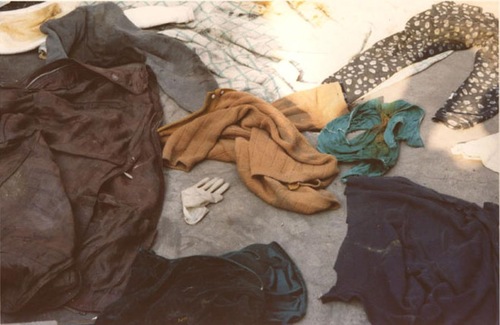 Ms. Chen's bloody clothes.
Ms. Zou Jin
Ms. Zou Jin was tortured and harassed by the CCP. She died in extreme pain in March 2011 at the age of 77.
Police officers arrested Ms. Zou on February 20, 2001, and took her to the Changsha City No. 1 Detention Center. On November 18, 2001, she was sentenced to nine years in prison on a fabricated charge.
She was tortured in the detention center. During several interrogations, the guards shocked her with electric batons and slammed her head against the wall. They deprived her of sleep and made her stand for the entire night. She was also deprived of food and water and tortured in other ways.
Two guards went to Ms. Zou's cell and interrogated her for an entire night, but she did not cooperate. They pulled her onto the bed and tied her arms and legs to the bed. They took off her pants and raped her. Then they shoved an electric baton into her vagina and shocked her. Ms. Zou screamed in pain. The guards only took it out after she lost consciousness. Her vagina was bleeding and swollen and she was in excruciating pain. Ms. Zou could not sit or walk for more than a month.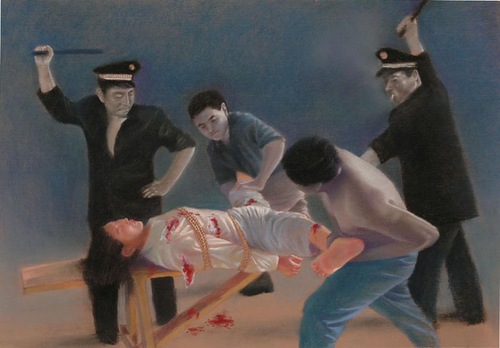 Reenactment of sexual torture.
Mr. Liu Dianyuan, 80
Mr. Liu Dianyuan from Lingyuan City, Liaoning Province, was forced to leave home for four and a half years to avoid being persecuted for his spiritual belief. He was later imprisoned for seven years for talking to people about Falun Gong and the persecution.
In November 2015 when Mr. Liu was 79, he was arrested and sentenced to 11 and a half years in prison. His wife, Liu Yufang, 61, was sent to a forced labor camp for three years. She was later arrested and imprisoned for four more years.
Professor Zhang Luyuan
Ms. Zhang Luyuan, an associate professor at the Chongqing Social Work Vocational College (formerly Chongqing Civil Affairs School), was repeatedly persecuted by the CCP for practicing Falun Gong. She was incarcerated in a forced labor camp for one year and tortured.
She was held in a brainwashing center for nearly three months and forced to sleep between two metal beds. She was harassed repeatedly and her home was ransacked. As a result of torture and constant harassment, her health began to deteriorate. She died in May 2018 at the age of 76.