Fourth Greek Experience Sharing Conference Held in Athens
January 02, 2019
|
By Greek Falun Gong practitioners
(Minghui.org) Falun Dafa practitioners from all over Greece gathered in Athens to attend a Falun Dafa Experience Sharing Conference on December 8-9, 2018 and participate in activities to tell the public about the 19-year persecution of Falun Dafa in China, which continues to this day.
Practitioners held an event in Constitution Square (Syntagma Square) on Saturday, December 8 in the center of Athens. The tranquil Dafa exercises attracted the attention of locals and tourists alike, many of whom stopped to learn about the persecution of Falun Dafa in China.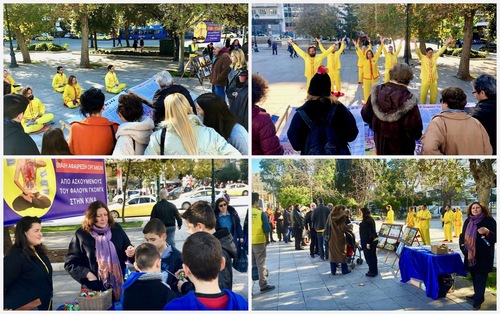 Falun Dafa practitioners demonstrate the exercises in Syntagma Square in Athens.

During the event, a journalist passed by and asked practitioners what their event was about. A practitioner explained to him the human rights crisis in China and the communist regime's killing of Dafa practitioners for their organs. Intrigued, the journalist asked practitioners for an on-camera interview.
An elderly Chinese woman and her son stopped to see the exercises. A practitioner started to chat with them. They lived in Singapore and came to Greece for vacation. They said they knew about the human rights crisis in China but didn't have in-depth knowledge about Falun Dafa. The practitioner explained further and answered their questions. At the end of the conversation, the son asked to take a selfie with the practitioners and thanked them for informing him.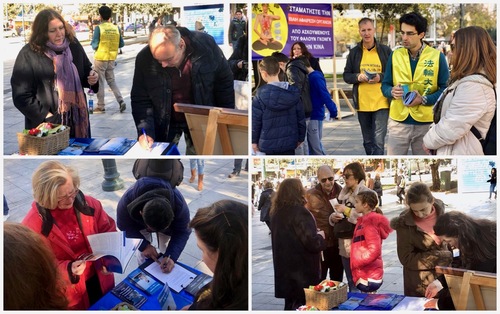 Greek practitioners hold an activity in Syntagma Square in Athens.

Practitioners also collected signatures calling for an end to the persecution of Falun Dafa in China. Many people signed the petition and wished practitioners luck in their efforts to expose these crimes against humanity.
The practitioners also gave out informational materials about Dafa and handmade origami lotus flowers.
Experience Sharing Conference
The 4th annual Greek Experience Sharing Conference was held at the public conservatory in the region of Moschato on Sunday. Fifteen practitioners shared their experiences of improving themselves based on Dafa teachings and their self-cultivation journey.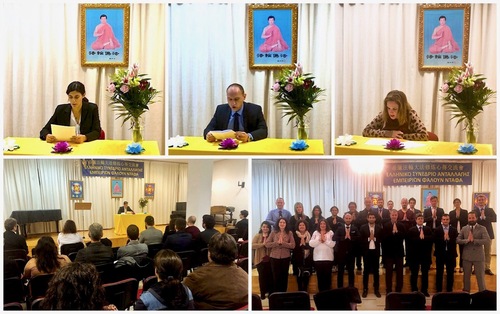 Fourth Greek Falun Dafa Experience Sharing Conference

Ioanna, a practitioner from Athens, shared how she figured out that one of her deep attachments was her desire to find a partner in life. Whenever she tried to find one, something would happen and block her from getting closer with someone. She realized that this attachment and the sense of loneliness she was experiencing had to do with her competitive mentality and the way that her father raised her, as someone special. She exposed these attachments so they could be eliminated and raised her xinxing while progressing on her path of cultivation.
George, another practitioner from Athens, shared two experiences that helped him look within and find the attachment of anger. He realized that the anger was being triggered as a form of defense when he felt that someone was judging him and he didn't want to lose face.
Natalia, also from Athens, shared her journey of creating the Greek edition of the magazine Taste of Life, a practitioners' project that aims to display traditional values and ways of life in the East and West. She described how difficult it was at first to cooperate with other practitioners to get things done. Although at first there was some interest for everyone to participate in the project, at the end practitioners started to have other priorities. Through this, she discovered her attachment to perfection and for having an easy and comfortable path. She also realized that she shouldn't blame anyone and should not get angry despite the problems she faced. She said she would try to have a bigger heart.
Efi, a practitioner from Athens, described how she started practicing Dafa in August 2017. She quickly started attending a weekly Fa-study group and found that she became happier, more secure, and her health had improved. She also came to understand that kindness is the key to unfolding the process of cultivation. She found that having kindness in everything she does in daily life makes it easier for her to look inside, realize when a conflict is her fault, and leave attachments behind. As a piano teacher, she tries to be kind with her students at all times. She said that with Dafa in her heart, her mind was cleansed and she knew how to behave.
At the end of the conference, attendees shared how the speeches helped them improve in their cultivation and how they motivated them to continue more diligently in their cultivation practice.