North Carolina, USA: State Employees Learn Falun Gong at 2018 Wellness & Safety Expo
August 05, 2018
|
By a Falun Gong practitioner in North Carolina
(Minghui.org) The North Carolina State Employees' Wellness & Safety Expo was held in the Jim Graham Building at the N.C. State Fairgrounds on August 1, 2018. Falun Gong practitioners were invited to participate and introduce the health benefits of the practice, also called Falun Dafa, at the expo.
The Wellness & Safety Expo is held once every other year for current and retired state employees and their families, to provide a wide variety of wellness, health and safety information. There were about 180 exhibitors, including government departments, companies and non-governmental organizations.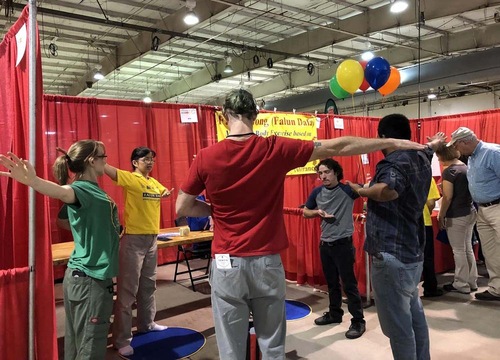 People learn the Falun Gong exercises at the 2018 Wellness & Safety Expo for North Carolina State employees.
Over three thousands people attended the event this year. There were many visitors to the Falun Dafa booth, where practitioners introduced the benefits of this traditional mind-body discipline from China.
Many people picked up Falun Gong flyers and tried out the exercises during the expo. As so many visitors were interested in learning Falun Gong, practitioners generally taught several people at a time.
A state employee stopped by and said that he often meditated. He was interested in Falun Gong and learned the first Falun Gong exercise. He said that he would learn the other four exercises from the online teaching materials. Upon hearing about how Falun Gong is being persecuted in China, he said emotionally, "They [the Chinese Communist Party] must be afraid of Falun Dafa because so many people are learning it."
Belinda Edwards, who works in the Department of Transportation, listened to the introduction to Falun Gong and said that it was what she had been looking for. She said she felt great after learning the first exercise. Belinda left her phone number and asked the practitioners to contact her, as she was interested in practicing Falun Gong.
Krish Allu who works for the Department of Health had learned about Falun Gong earlier this year during the World Falun Dafa Day (May 13) celebrations. He said that practicing the Falun Gong exercises helped his back every time he did them.
Many people expressed an interest in learning Falun Gong after hearing that it is taught for free in a local park. They also said that they planned to read more about the practice online.