The Art of Zhen, Shan, Ren Exhibition Well-Received in Cleveland, Ohio
August 30, 2018
|
By practitioners in Cleveland, Ohio, U.S.A.
(Minghui.org) The Art of Zhen, Shan, Ren (Truthfulness, Compassion, Forbearance) International Exhibition was displayed in Cleveland, Ohio, at the Josaphat Arts Hall on July 5 through August 5, 2018.
"A beautiful collection of paintings that most importantly bring to all the history of Falun Dafa and how the Chinese Communist Party has destroyed millions of lives," wrote a local artist in the exhibition guestbook.
"A must-see exhibit for all," wrote another visitor.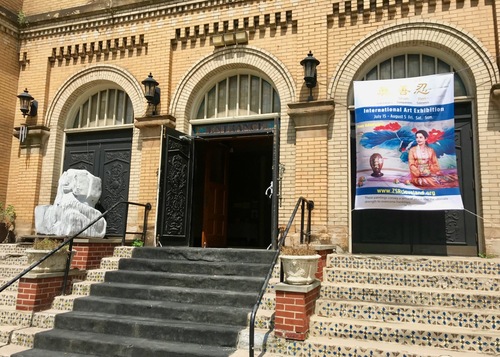 Josaphat Arts Hall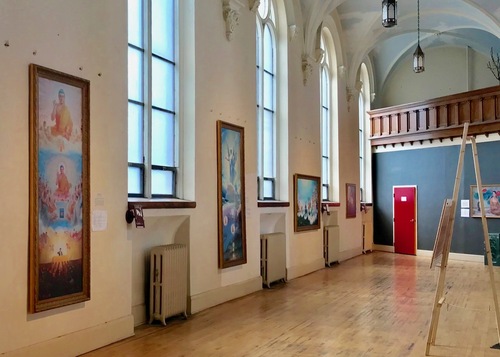 The Art of Zhen, Shan, Ren International Exhibition displayed in Cleveland, Ohio July 5-August 5, 2018.
Inna, one of the organizers of the exhibition, said, "This is the first time this exhibition has been presented in Cleveland. The paintings present a very powerful and unique medium to depict the peace and beauty of Falun Dafa cultivation in contrast with the horrors of the persecution these practitioners in China are enduring."
Before entering the gallery, visitors watched "The Persecution of Falun Gong," a ten-minute documentary about the meditation practice and its persecution by the Chinese Communist Party. This introduction seemed to enhance visitors' experience of the artwork.
Many painting descriptions were specially translated into Russian for this event, allowing several Russian-speaking senior groups and attendees from Cleveland's Russian community to better understand the paintings.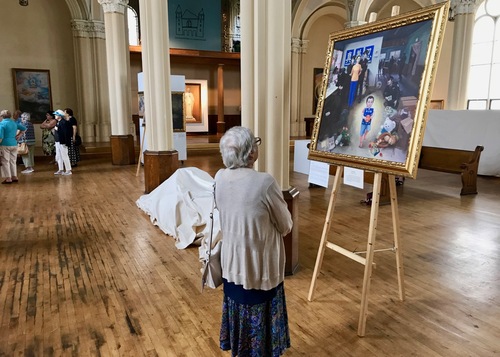 A visitor views a painting depicting the police raiding the home of a Falun Dafa practitioner in China.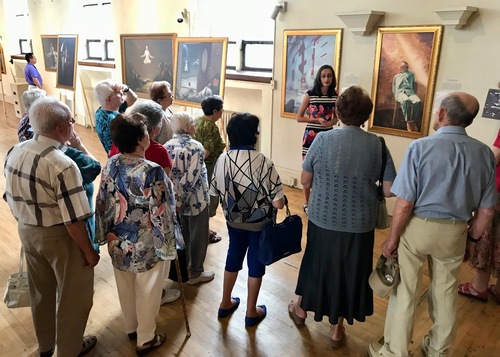 Inna, an organizer of the exhibition, helps visitors understand the paintings.
Some of the exhibition guides were Falun Dafa practitioners from mainland China who had personally experienced the persecution. They shared their stories with the visitors. Many visitors shed tears and hugged these practitioners.
A visitor named Hiem commented, "I am very grateful that we are in a country where we can practice religion freely! We should spread the word about this movement so we can put the persecution to an end!"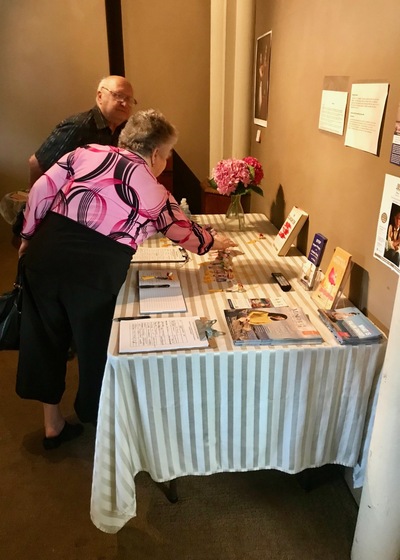 Guests write comments on the guest book and choose lotus flower bookmarks and flyers.
For many visitors, the exhibition was their first introduction to Falun Dafa, and many expressed interest in learning the practice. A member of a senior citizen center said, "All of this is so inspirational. Maybe learning this will be a good start of a new life!"