London: Falun Gong Exercise Class Offered Weekly at Merton Civic Center Library
August 26, 2018
|
By a Falun Dafa practitioner in UK
(Minghui.org) It usually takes Joy 20 minutes to drive to Morden Library after work and she believes it is an important mission. "Those who come to the Falun Gong class really seem to like it. I can't disappoint them."
Joy is a school teacher and has been a volunteer to teach Falun Gong, also called Falun Dafa, at Morden Library every Tuesday since 2011.
Morden Library is the main library of Merton, a city of south London. The main gate of the library directly faces the main entrance to Merton Civic Center. There is a free weekly Falun Gong class here on the ground floor by the windows.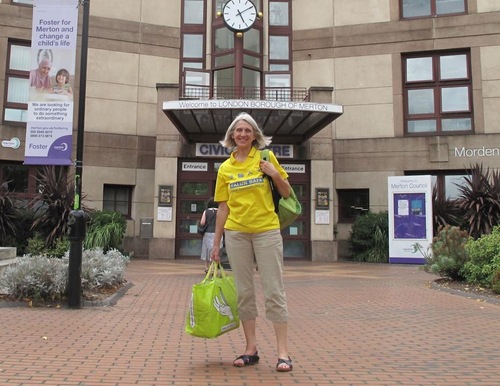 Joy arrives at Morden Library of Merton Civic Center on the evening of August 14, 2018 to teach a Falun Gong exercise class.
A display board of Falun Gong at the entrance of the Morden Library.
Fourteen people showed up for the Falun Gong class on August 14. In addition to Britons, there were also students originally from Bangladesh, one from Malaysia and several Chinese.
Before starting the Falun Gong sitting meditation, Joy reminded new students to "let go of any thoughts that come into your mind. Keep your mind clear and have compassion in your heart."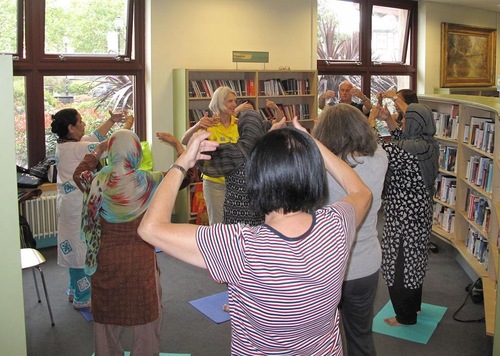 New and returning students do the Falun Gong exercises along with Joy at Morden Library.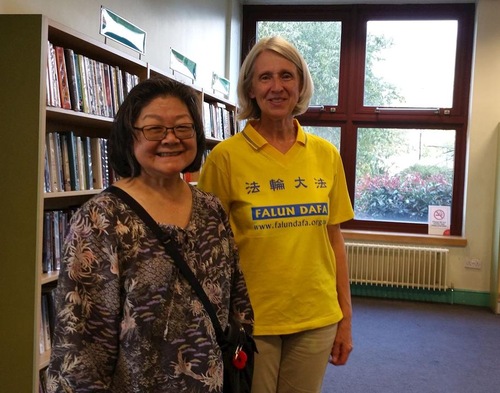 Mei, a Chinese American who has been attending the Tuesday evening class for the past 7 years.
Mei, an 80-year-old Chinese American, lives in London and has attended the weekly class for the past 7 years.
"I liked Falun Gong right away, but I couldn't keep my mind focused," said Mei. "Gradually, (the exercises) had an effect on me and I felt peaceful."
Mei said she couldn't stay long with any other meditations, but that "Falun Gong is easy to learn and quickly shows results. I had an upset stomach on the first day. After the exercises, the pain disappeared. Now I can better discipline myself and the effect of meditation is better. I really like it," said Mei.
Five years ago, Christina introduced the Falun Gong class to her friend Ian. Since then, they have been frequent visitors to the class. Practicing Falun Gong has helped them feel relaxed and calm, they said.
Christina said that the meditation has given her inner peace which helps her face day-to-day challenges.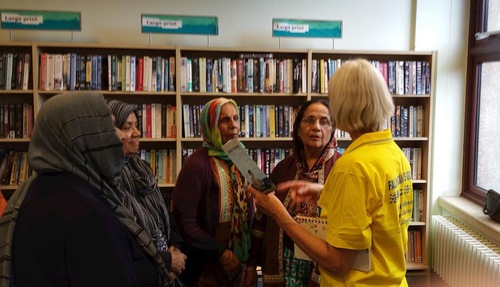 Joy talks with Suraya (right 2) and her friends from Bangladesh.
Suraya, originally from Bangladesh, lives near the library. She brought a friend a few weeks ago and eventually two more Bengali ladies joined as well.
After finishing the exercises, they asked Joy how they could keep learning the exercises at home. Joy told them how to download the exercise music from the Falundafa.org website.
The four ladies were excited to find Zhuan Falun in the Bengali language on the website.
After several Falun Gong classes, Suraya said she could feel a difference. She said, "I feel peace. I know I am just a beginner, but it made me more concentrated."