Belated News: Woman Dies Three Years After Being Injected with Unknown Drugs
August 16, 2018
|
By a Minghui correspondent in Heilongjiang Province
(Minghui.org) A Jidong County resident was arrested in August 2011 for refusing to renounce Falun Gong, a spiritual discipline being persecuted by the Chinese communist regime. She went on a hunger strike in protest and was injected with unknown drugs.
A big bump emerged on the injection site and began to fester. Ms. Yang Fenglian became unable to walk shortly afterwards, and it only then that she was released. When her son arrived at the local detention center, he was heartbroken to see her left lying on the ground and unattended. He called a taxi to drive her to Jixi Coalmine Hospital, which declined to take her due to her critical condition.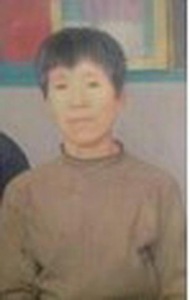 Ms. Yang Fenglian
The young man then took his mother to Jixi Weixiao Hospital, where she was diagnosed with a brain hemorrhage. Upon seeing no improvement in her after twenty days, the doctors there said she had depression and referred her to a mental hospital.
As soon as Ms. Yang was brought to the mental hospital, she was tied up to a bed. Her husband checked her out of the hospital two days later, as she didn't have any history of mental problems. By then, Ms. Yang's family had spent more than 20,000 yuan in total on her treatments. They didn't try a new hospital afterwards because they had run out of money.
Ms. Yang had trouble keeping food or water down. The injection site kept festering and oozing out fluid. She lived the last three years of her life in extreme pain.
She died on December 24, 2014, at the age of 59.
Ms. Yang's death was a tragic end to her years of suffering for holding firm to her faith in Falun Gong. She was first arrested in December 1999, while appealing for Falun Gong in Tiananmen Square in Beijing. Police hit her so hard that she passed out. She was later given forced labor and sent to a labor camp in a southern province. Her hometown police forced her family to pay 5,300 yuan after taking her back to Heilongjiang Province.
In the years that followed, Ms. Yang kept up her efforts of raising awareness of the persecution of Falun Gong. She was arrested again in August 2011 after being reported for distributing Falun Gong informational materials. She was injected with unknown drugs and died three years later.