(Minghui.org) Despite the ongoing suppression in mainland China, Falun Gong is well-received throughout the world. The following are brief reports on recent events in Southeast Asia that commemorated the 19-year peaceful resistance to the persecution in China.
Malaysia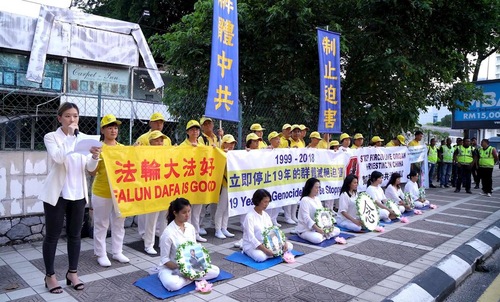 Rally by Falun Gong practitioners outside Chinese Embassy at Kuala Lumpur on July 20, 2018.
Practitioners gathered in front of Chinese Embassy at Kuala Lumpur on July 20 to raise awareness of the suppression in China. Cai Baoyi, a representative of the group, said at least 4,200 practitioners were confirmed to have died because of torture in police custody, according to reports by the Minghui website.
Ms. Cai, an interior designer, learned the meditation six years ago at college from a friend. "The book of Zhuan Falun taught me a lot and helped me lead a happy life. Seeing the positive changes in me, my mother became a practitioner too and her health improved significantly."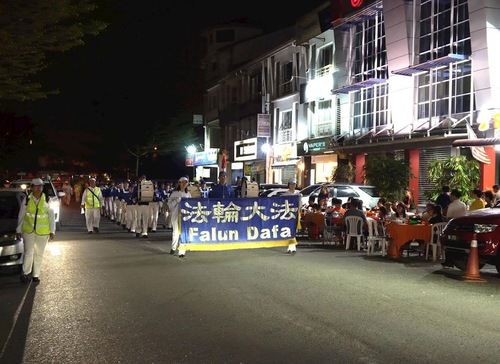 March at Shah Alam in Selangor on July 14, 2018.
Another march took place at Shah Alam in Selangor on July 14. Local resident Mohd Alif was appalled by the forced organ harvesting atrocities in China. "This is severely violating human rights and is against humanity."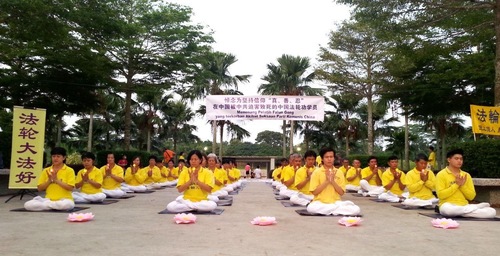 Activity at Adda Height Park in Johor Bahru on July 15, 2018.
Another event took place at Adda Height Park in Johor Bahru on July 15 that included group exercises and a candlelight vigil. Many people approached to learn more information. Shocked by the brutality of forced organ harvesting, they took materials and signed petitions calling for an end to the crime.
Indonesia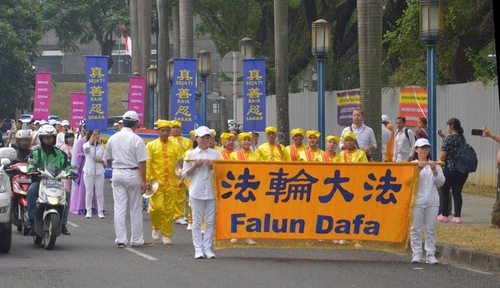 March through the central business district of Mega Kuningan in Jakarta on July 21, 2018.
A rally started outside Chinese Embassy in Jakarta on July 21. Practitioners called for support to end the ongoing persecution. In the march that followed, practitioners went through the central business district of Mega Kuningan and returned to the Chinese Embassy.
The waist drum performance and banners drew attention from spectators. One middle-aged woman said she had heard about the persecution and signed a petition to support the movement to take legal action against former communist leader Jiang Zemin for suppressing Falun Gong.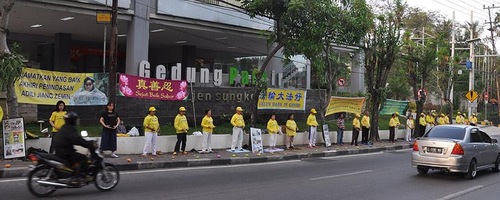 Group exercises outside the Chinese Consulate at Surabaya.
Outside the Chinese Consulate at Surabaya practitioners displayed banners and distributed flyers to pedestrians, telling them about Falun Gong as well as what is going on in China. The event concluded with a candlelight vigil in memory of practitioners who had died in the persecution.
Singapore
At Hong Lim Park in Singapore, practitioners did the meditative exercises on July 17 followed by a candlelight vigil to call attention to the persecution that has gone on since 1999.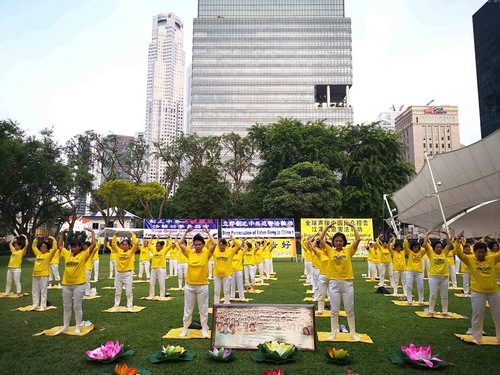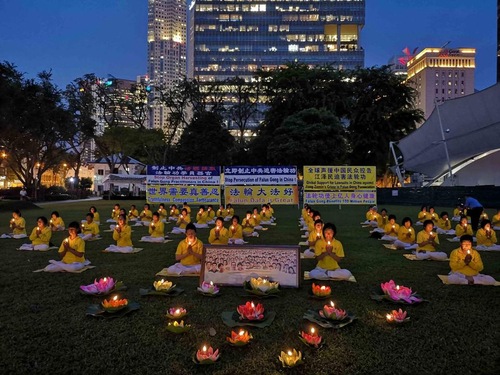 Group meditation and candlelight vigil at Hong Lim Park on July 17, 2018.
Miao Xiang comes from Vietnam and she works in Singapore. When browsing a Vietnamese website in 2016, she came across forced organ harvesting in China. Curious about such brutality in the modern society, she continued reading and knew more about the persecution against Falun Gong. Several months later, a friend brought her a copy of Zhuan Falun and she was very impressed by the principles of Truthfulness-Compassion-Forbearance. "Wow! I have never read a good book like this," she exclaimed. Later she read more Falun Gong books and decided to join the practice.
Ms. Zhang, 74, comes from northeastern China. "After my father began to practice Falun Gong, he almost became like a different person—very kind and considerate. Because of that, my grandfather, mother, sisters, and I all began to practice it," she recalled. Through these years of persecution, her father was harassed and arrested numerous times. "But he did not waver and told police officers facts of Falun Gong. There are many determined practitioners like him in China," added Ms. Zhang.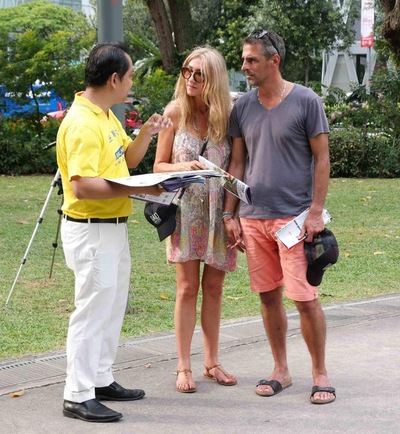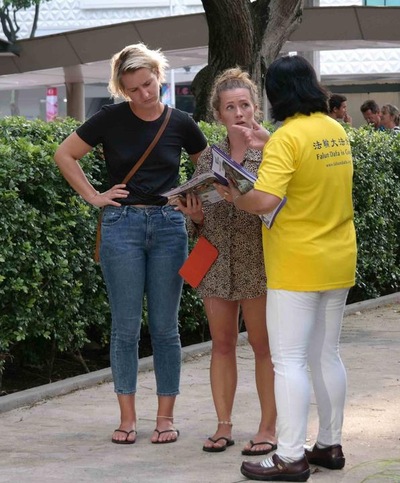 Passersby learn about Falun Gong from practitioners.
Mr. Tang, in his 30s, came from Shandong Province in China. He talked with practitioners and praised their efforts. "The communist party has distorted history and caused harm to Chinese people in political campaigns in the past few decades. They will be held responsible sooner or later." Before leaving, he agreed to quit the communist party's junior organizations, namely the Youth League and Young Pioneers that he joined when he was young.
Related articles in Chinese:http://www.minghui.org/mh/articles/2018/7/24/印度尼西亚法轮功学员烛光悼念-呼唤良知(图)-371509.htmlhttp://www.minghui.org/mh/articles/2018/7/23/反迫害十九年-狮城法轮功学员传真相(图)-371480.html