Introducing Falun Gong at Albany Tulip Festival
June 03, 2018
|
By a Falun Gong practitioner in New York State
(Minghui.org) Falun Gong practitioners in New York State participated in the 70th Annual Albany Tulip Festival in Washington Park on May 12-13, 2018. This signature event of Dutch heritage featured more than 140,000 tulips, handmade crafts, an arts show, delicious food, family activities, and two stages with world-class live entertainment. Falun Gong practitioners introduced this traditional Chinese cultivation practice to crowds of people, and exposed the Chinese Communist Party's (CCP) persecution of innocent practitioners in China.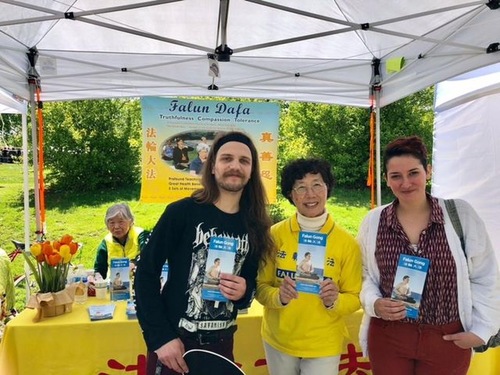 Festival patrons learn about Falun Gong.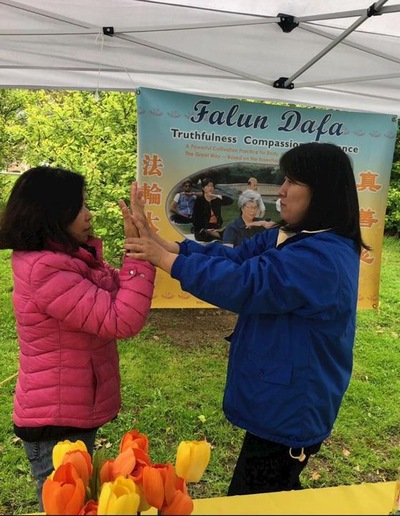 A lady from Taiwan learns the Falun Gong exercises during the event.
A lady from Taiwan had previously met a Falun Gong practitioner in a Chinese market. After hearing about the benefits of Falun Gong, she made an appointment with the practitioner to learn the exercises at the Tulip Festival. Despite the cold weather and rain on Saturday, she came to the festival and learned the exercises on the spot.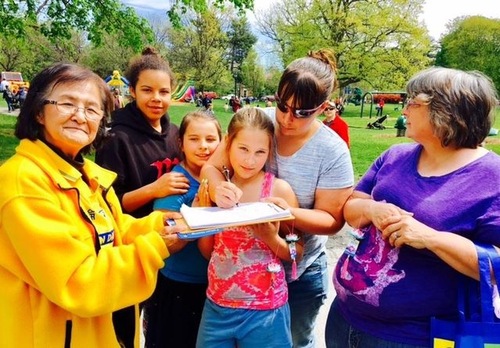 Many people sign a petition supporting Falun Gong practitioners' work to end the persecution.
Festival patrons were happy to receive Falun Gong introduction brochures and elegant origami lotus flowers.
The weather on Sunday was sunny, which brought crowds of people to the festival. Falun Gong practitioners distributed introduction brochures and origami lotus flowers, and told people about the CCP's persecution of innocent people who follow Truthfulness-Compassion-Forbearance. Upon hearing about the atrocities taking place in this modern age, many people signed a petition calling for their end.
A young artist had heard about the persecution. A practitioner told him more about the CCP organ harvesting from living Falun Gong practitioners. He listened with a heavy heart. After talking with the practitioner for thirty minutes, he solemnly signed the petition, and took many introductory brochures to read.
Everyone who learned the facts about the persecution said that it must stop immediately, and were willing to help spread the word. Several people also wanted to learn Falun Gong.