(Minghui.org) Mayor Buddy Dyer of Orlando, Florida marked the 26th year of Falun Dafa's public introduction and issued a proclamation declaring May 13 as World Falun Dafa Day in the City of Orlando.
Master Li first made Falun Dafa (also known as Falun Gong) public in Changchun, Jilin, China on May 13, 1992. The practice has since spread to over 100 countries. People of many races and professions benefit from the practice.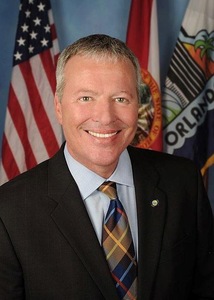 Mayor Buddy Dyer of Orlando.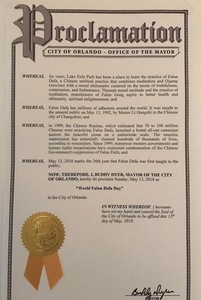 Proclamation
The proclamation stated, "For years, Lake Eola Park has been a place to learn the practice of Falun Dafa, a Chinese spiritual practice that combines meditation and Qigong exercises with a moral philosophy centered on the tenets of truthfulness, compassion, and forbearance. Through moral rectitude and the practice of meditation, practitioners of Falun Gong aspire to better health and ultimately, spiritual enlightenment."
The proclamation also condemned the Chinese Communist Party's persecution, "In 1999, the Chinese Regime, which estimated that 70 to 100 million Chinese were practicing Falun Dafa, launched a brutal all-out campaign against the peaceful group on a nationwide scale. The ongoing suppression has potentially claimed hundreds of thousands of lives, according to researchers. Since 1999, numerous western governments and human rights organizations have expressed condemnation of the Chinese Government's suppression of Falun Dafa."