(Minghui.org) May 13 marks the 26th anniversary of Falun Dafa being introduced to the public in 1992. On May 5, 2018, practitioners in Washington D.C. celebrated World Dafa Day, and the 67th birthday of the founder of Falun Dafa, Mr. Li Hongzhi. The activities included group exercises at the National Mall, along with dances, a chorus, waist drum and dragon dance performances, and other activities.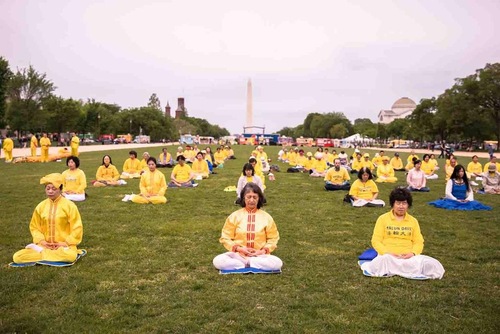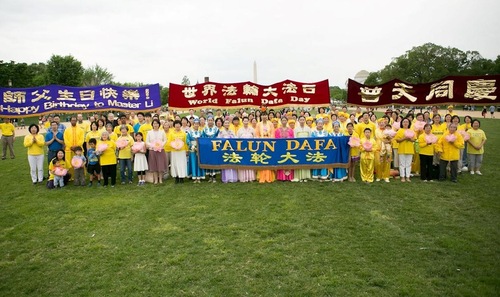 Falun Dafa practitioners celebrated World Falun Dafa Day and Mr. Li Hongzhi's birthday at the National Mall on May 5, 2018.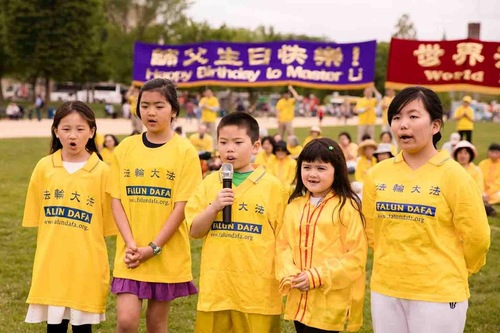 Young practitioners from Minghui School recite a poem in the event.
The peaceful and happy event drew a large number of pedestrians and tourists. Some read posters to learn about the practice, and some talked with practitioners, who shared their personal experiences. Many passersby watched the group exercises and some began to learn the movements.
Greetings from Elected Officials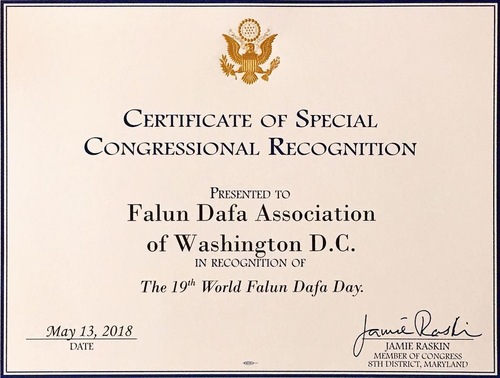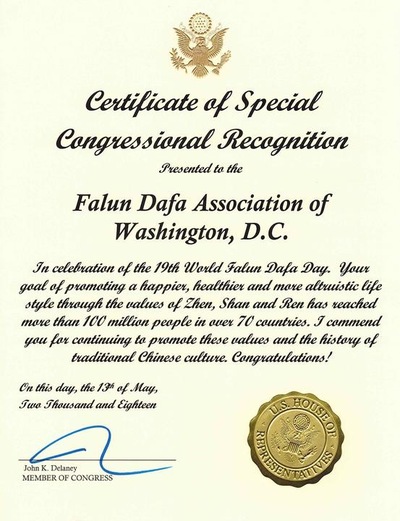 Proclamations from Jamie Raskin and John K. Delaney, two members of congress from Maryland.
Jamie Raskin and John K. Delaney, two members of congress from Maryland, issued proclamations honoring the 19th World Falun Dafa Day. Representative Delaney wrote, "Your goal of promoting a happier, healthier and more altruistic life style through the values of Zhen, Shan and Ren has reached more than 100 million people in over 70 counties. I commend you for continuing to promote these values and the history of traditional Chinese culture. Congratulations!"
Montgomery County Executive Isiah Leggett issued a proclamation saying, "Through consistent practice, Falun Dafa can enable one to reach a state of altruism, health, and inner balance." "It has proven to be immensely popular throughout the world." "Falun Dafa has transcended cultural and national boundaries to bring better health and inner peace to millions of people around the world."
Gratitude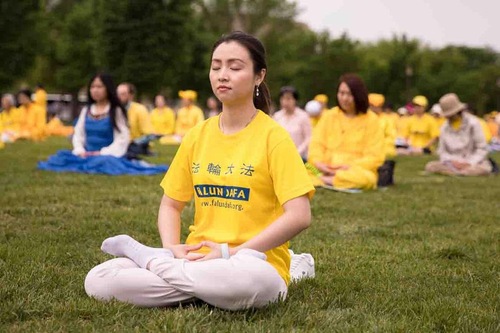 Linh Pham says Falun Dafa makes her a better, happier person.
Linh Pham, who works in an insurance firm, joined the Falun Dafa Day celebration for the first time. "My mother used to suffer from over 20 illnesses. She visited well-known doctors in Vietnam and even came to the Unites States for medical help. The doctors were surprised how a person could have so many illnesses, but they could not find the root cause or offer a cure."
After her aunt began practicing Falun Dafa in the U.S., she went back and told Pham's mother. "Mother became a practitioner and all of her illnesses disappeared. The experiences of my aunt and mother impressed me. After starting to do the exercises and following Falun Dafa's teachings, my insomnia, allergies, and other problems also disappeared within a week," explained Pham. Seeing the positive changes in herself, some of her friends also began to practice.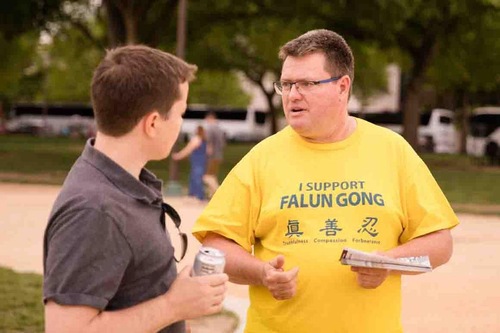 Bjoern Neumann heard about Falun Dafa in Frankfurt, Germany in 1998 and has practiced it since then.
Bjoern Neumann, owner of a pond and fountain business in Washington D.C., came with his 5-year-old daughter, and distributed materials to passersby. Back in 1998 in Frankfurt, Germany, he saw practitioners doing the exercises in a park and he began to learn the practice. He remarked, "It was February and the winter in Frankfurt is cold. But I felt warmth and energy when seeing the practice." Having practiced Falun Dafa for 20 years, he is thankful for the self-improvement system and wants to introduce it to more people.
Imprisoned for 13 Years for Belief
Liu Dexi and Luo Sujuan, husband and wife from Zhejiang Province, said World Falun Dafa Day means a lot to them, especially when thinking of the harsh suppression in China.
Both had decent jobs and incomes while living in China. Liu said, "Our income used to be hundreds of thousands of yuan each year. But because of believing in Truthfulness-Compassion-Forbearance, I was twice sent to a labor camp. I was also imprisoned for ten years, so I was detained 13 years in total for practicing Falun Dafa."
He said he is glad they can practice Falun Dafa freely in the U.S. and can tell others about the meditation system. "The persecution still continues in China. I hope more people can learn the benefits of Falun Dafa and oppose the severe suppression in China, so that the brutality can stop."
A Peaceful Mind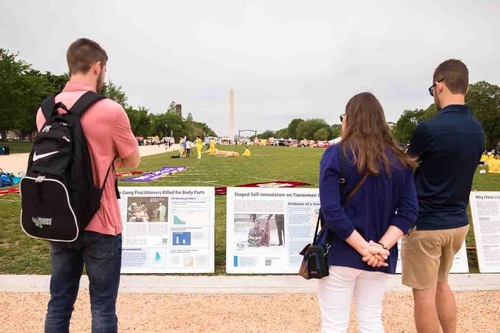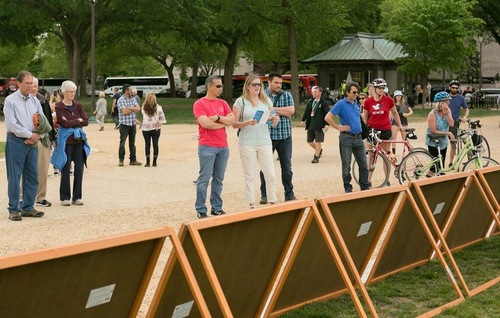 Passersby read information about Falun Dafa.
Many people coming by the National Mall saw the exercises and stopped to watch. Joy Fatooh works for a city government in California and came to D.C. for three months of training. She followed the movement with the practitioners and said, "The meditation looks very good. I will continue learning it after going back."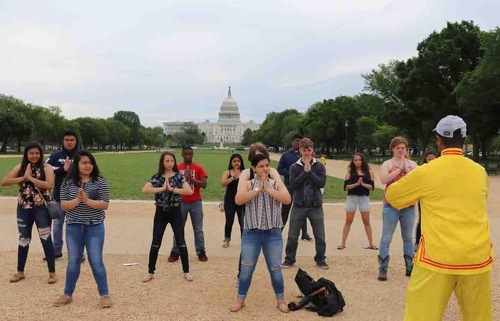 Middle school students from North Carolina learn the exercises.
Simone, a cartoonist from New York, said she often saw practitioners at Madison Square Park in New York City. "It is interesting that this meditation comes into my life again and again. I think it is not accidental and I should give it a try." She said everyone faces a lot of pressure nowadays, which affects their life and health, "Exercises like this [Falun Dafa] are very good because it helps us to achieve a peaceful mind."
One businessman said he was from Poland and was interested seeing an event like this. He took many pictures of the group exercises with his cell phone, he said he could not stay long because he was on the way to the airport.
"I have heard about Falun Dafa previously and have read a lot about it. I deeply admire these practitioners' courage," he remarked.