Celebrating World Falun Dafa Day in Malaysia
May 27, 2018
|
By a Falun Gong practitioner in Malaysia
(Minghui.org) World Falun Dafa Day, May 13, is observed across the globe to celebrate the public introduction of Falun Dafa (also known as Falun Gong) in China on May 13, 1992. Falun Dafa practitioners throughout the world hold events to celebrate this special day, introduce the benefits of the practice to others, and raise awareness about the Chinese Communist Party's brutal 19-year persecution of the practice in China. In this article, we share news of Falun Dafa Day events in Malaysia.
Falun Gong practitioners held a parade on Pulau Pangkor Island, a well known resort in Perak, Malaysia on May 20, 2018. It was their first time holding the parade there. The procession included the Tian Guo Marching Band, dragon dancing, fairy ladies, a waist drum team, and a Falun Gong exercise-demonstration team.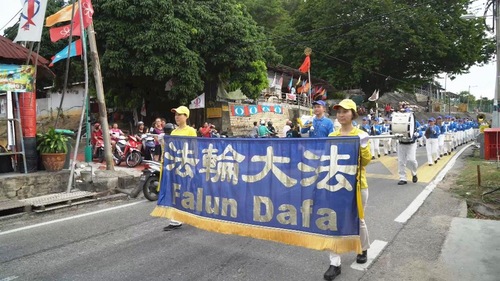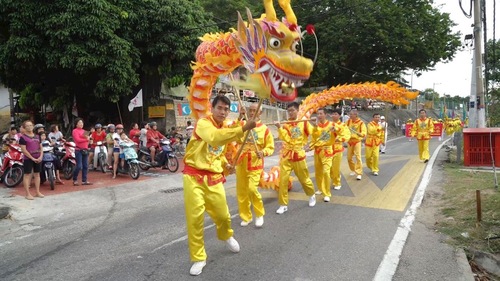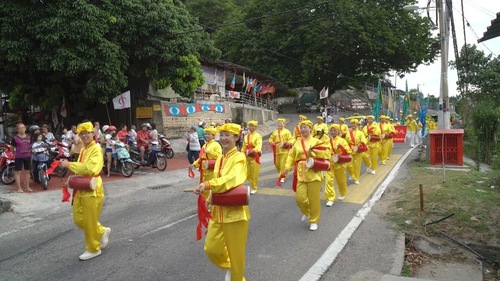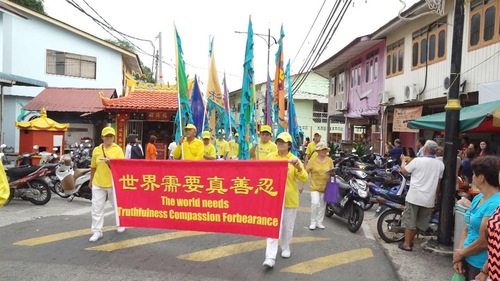 Parade in Pulau Pangkor celebrating World Falun Dafa Day.
Local resident Wang Wenbin came across with the Falun Gong practitioners on the ferry after riding four hours on his motorcycle returning home. After learning that the practitioners were holding a parade on the island, he offered help from the beginning to end of the parade. He help to distribute Falun Gong flyers to spectators.
He said, "It is our fortune to have you come here. Your dragon dancing is great. You work hard." He said that he had seen a Falun Gong parade a few years prior in another place.
He was impressed with the performance of the Tian Guo Marching band, as well as the fairy lady and waist drum teams. He felt that the practitioners worked sincerely from the bottoms of their hearts. He posed for a group photo with the practitioners after the parade.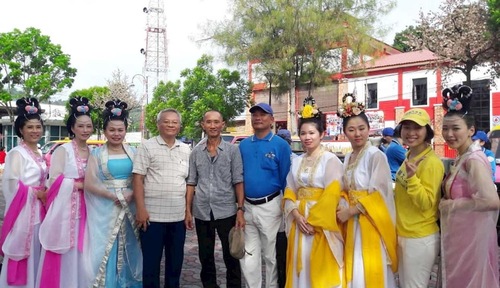 Local resident Wang Wenbin (fifth from left, dressed in gray) distributed Falun Gong flyers during the entire parade.
Local resident Osman is a fisherman. He said he was happy to see the parade. When he learned that the Chinese Communist Party (CCP) conducts state-sanctioned live organ harvesting, he said it was too inhuman and must be stopped. He condemned the atrocity.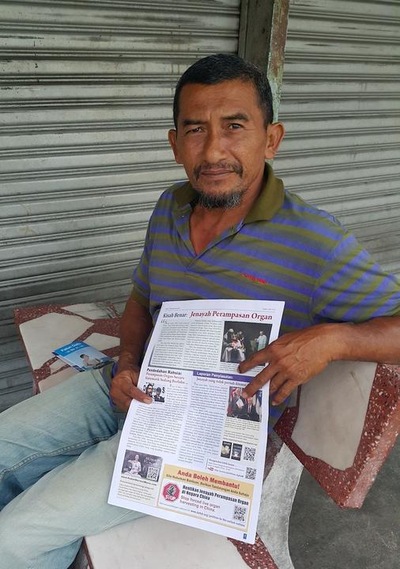 Local resident Osman condemned the CCP's live organ harvesting.
Group Practice in Kuala Lumpur
Falun Gong practitioners from Kuala Lumpur and Selangor had a group practice in Queenstown Park, Kuala Lumpur on May 6 to celebrate the 26th anniversary of Falun Dafa's public introduction. They took a group photo after the group exercise practice to wish Master Li a happy birthday.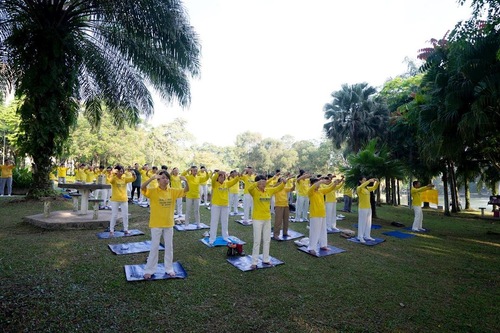 Group practice in Queenstown Park, Kuala Lumpur on May 6.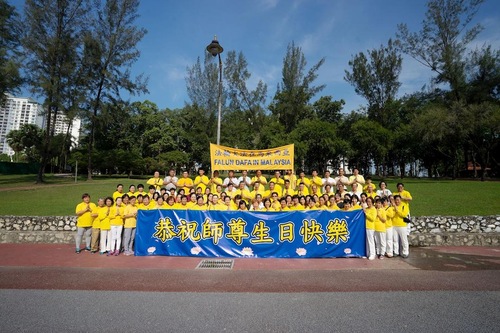 Falun Gong practitioners wish Master a happy birthday.
Practitioner Julie, who is from Taiwan and currently resides in Malaysia, was the secretary of the a former Singapore trade office in Taipei. She started practicing Falun Gong in Taipei in 1995.
Before practicing Falun Gong, she was diagnosed with lupus erythematosus, an incurable disease. She could not be exposed to sunshine from then on. She has four children and her husband was very worried about her. She knows that Falun Dafa is good and the only hope is Falun Dafa.
She began practicing the five sets of Falun Gong exercises seriously, and cultivated her character according to the principles of Truthfulness-Compassion-Forbearance. After her improvement in heart nature, she quickly became healthy. The doctors were surprised to see such a miracle. Falun Dafa's principles of Truthfulness-Compassion-Forbearance make her enjoy every day in dealing with others.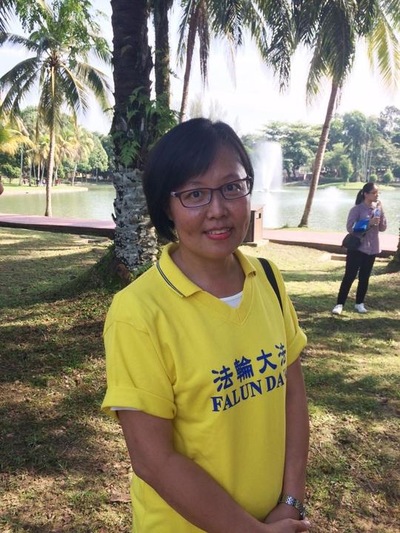 Julie has practiced Falun Gong for 23 years.